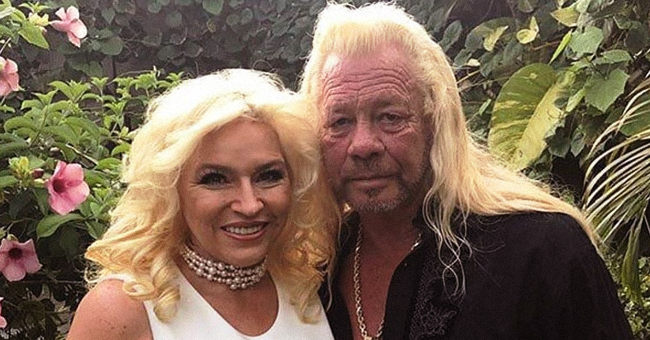 Instagram/dogthebountyhunterteam
Dog the Bounty Hunter Reveals Wife Beth Chapman Told Him 'Let Me Go' in Last Moments
Duane "Dog" Chapman shared his wife Beth Chapman's final words before her death.
Since 2017, fans have been watching anxiously as reality star Beth Chapman and her husband Duane "Dog" Chapman faced the challenge of her cancer diagnosis.
Sadly, Beth lost her final battle with that merciless disease on June 26, 2019, but her last words have offered her grieving husband some solace.
"For two to three years, she knew this might happen. So she would say, 'Who is going to sit next to you?' And I said, 'No one.' " Duane "Dog" Chapman
BETH AND DUANE'S LAST MOMENTS TOGETHER
Duane revealed that Beth had called him into the bathroom and asked him to look at her, to which he replied: "Yeah, you're freaking beautiful baby."
But Beth had an important request to make of her loving husband.
" 'Look at me, Duane Chapman.' And I did, I always saw Beth and she said, 'Please, let me go,' " he revealed.
DUANE "DOG" CHAPMAN REVEALS FINAL MOMENT
But Beth never heard Duane's reply to her heartrending appeal, she started having difficulty breathing and he called an ambulance.
"And I didn't even make a decision, I almost said, 'I can't.' Before I could say, 'Alright,' she couldn't breathe and I called the ambulance …" he said.
BETH CHAPMAN WAS RUSHED TO HOSPITAL
It was June 22, and the ambulance sped Beth to Hawaii's Queen's Medical Center, where she was placed in a medically induced coma. Four days later, Duane and his family bid their adored Beth farewell.
DUANE "DOG" CHAPMAN: "YOU ARE NEVER PREPARED"
Duane revealed that Beth did everything she could to prepare him for her death, giving him copious instructions on what do or say in various circumstances. But for Duane, her death was as devastating as if it was unexpected.
"Prepared? No, you're never, ever prepared. You can't prepare. There is no way. I did not know that this was going to happen that day," he revealed.
The Chapman family held a memorial service for Beth on July 13 in her native Colorado, attended by her grieving family and thousands of fans.
Beth is survived by daughters Bonnie and Cecily Chapman, and sons Garry Chapman and Dominic Davis.
BETH CHAPMAN'S FIGHT FOR LIFE
In September 2017 Beth Chapman, star of the reality show " Dog the Bounty Hunter" was diagnosed with stage 2 throat cancer.
Beth underwent surgery in Los Angeles and went into remission, but the disease later spread to her lungs resulting in a stage 4 diagnosis.
Beth refused further chemotherapy, and collapsed on June 22, and was rushed to hospital where was placed in a medically induced coma.
She passed away on June 26, 2019, at the age of 51, surrounded by her family.
R.I.P. Beth, we will miss you.
Please fill in your e-mail so we can share with you our top stories!