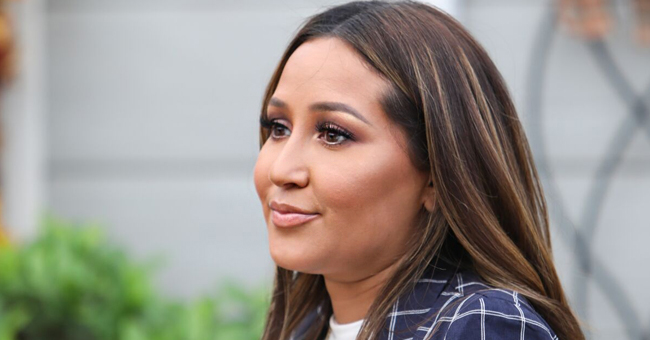 Adrienne Bailon on Making a Man Shed Happy Tears after Intercourse
The ladies of "The Real" recently opened up about their most vulnerable moments in bed, and Adrienne Bailon Houghton took pride in revealing she once made a man cry after being intimate.
As the name of the daytime talk show suggest, the ladies of "The Real" are known for never sugarcoating the issues they discuss with their audience, whether is hot topics or some of their most personal experiences, Tamera Mowry, Loni Love, Jeannie Mai and Adrienne Bailon always keep it one hundred percent real.
VULNERABLE INTIMACY
On a recent episode of the show, they were discussing a topic that comes up often—sex— when Jeannie Mai pointed out she loves when a man lets his guard down after being intimate because they can talk about anything without pretense.
"When a man is in bed with you, and he's happy, and he's satisfied, he opens up, and you get to talk to him about things where he's not trying so hard, he's just being him," Jeannie Mai said.
As the rest of the ladies agreed, Bailon interjected to ask, "Anybody ever cried after?"
"Oh girl…yes," Loni Love replied as the other two co-hosts hummed in agreement.
"Look at God, I will say… I love that. That's bomb," Adrienne said.
However, a confused Mowry then asked for clarification. "Well, wait. The guy cries after?" she said, prompting Bailon to explain the situation:
"They're just overwhelmed with how much they love you, or how they feel about you or how bomb you were. They're just like, 'That was amazing. God is good.'"
Then Mowry, outraged, confessed she's never experienced that with her husband, Adam Housley.
"Now I'm like oh my God, I'm going to ask him, 'Adam, come on, cry!" Mowry joked.
CRYING AFTERWARD
Adrienne then asked the ladies if they'd ever shed a tear during or after intercourse, and Tamera backed her up.
"Okay, I can't be the only one!" Adrienne said. "Literally a tear just comes out of your eye. It's not emotional."
Mai confessed that she'd never experienced that, to which Bailon said: "I pray that upon your life, I really do."
THE SPY TECHNIQUE
Adrienne is married to Israel Houghton and is known for always speaking candidly about her experiences with love and marriage.
Earlier this year, Bailon revealed that when she started dating Israel, she came up with a plan to spy on him and see if she had anything to worry about.
"So there's something called Voice Memo on your phone, and you can literally put it on Voice Memo, lock the phone, put it down, walk out the room, let y'all talk about me, walk back in, play it back outside the room, listen to what y'all said, walk back in and be like, 'So Tam, you would say that sometimes I talk a lot?' " Bailon Houghton explained.
"In the car, I left my phone on Voice Memo, put it into the side thing in the car, walked out and went into a store," she said of the time she used the app on her husband.
"I was like, let me see what phone calls he makes. Let me see if he talks to anybody on the phone. You're just getting to know each other," Bailon continued.
Luckily, she had nothing to worry about, as Houghton was just writing a worship song in the car:
"He was like, 'Lord, I love you! Jesus — Oh, hallelujah!' And I was like, 'Aw, there's nothing here.'"
Bailon said she eventually confessed her actions to Houghton.
Please fill in your e-mail so we can share with you our top stories!