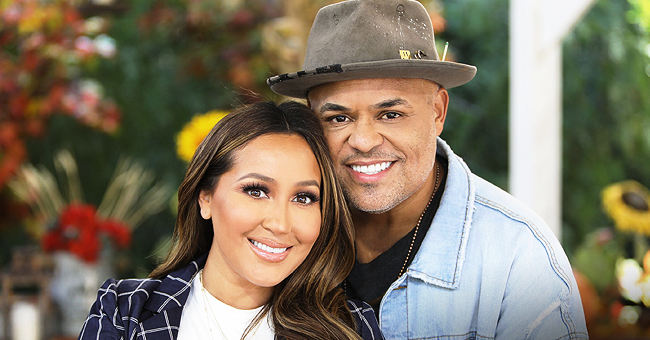 GettyImages
Israel Houghton on Wife Adrienne: 'I've Never Known a Love & Life like This'
Israel Houghton is melting hearts all over social media with a sweet message he wrote to wife Adrienne on Instagram, as they had fun at a pool. The couple will celebrate their third wedding anniversary this year, and they'd never been more in love.
Adrienne Bailon and Israel Houghton are couple goals, and the gospel singer most recent Instagram post is proof of that.
LIFE IN LIVING COLOR
On Wednesday, the 47-year-old took to his black and white Instagram to share a sweet photo where he and Adrienne are cuddling while enjoying their time at a pool in Hamptons, New York City.
Israel included the full-color version of the pic if you swipe right, a rare sight on his account but a fantastic metaphor to explain their relationship.
It was the caption, however, what caught fans attention.
It read: "LIVING MY BEST LIFE. I mean ok, yes, we do serendipitously find ourselves in beautiful & exotic locations around the globe often- truth is though: anywhere with her is truly HOME."
And continued:
"I've never known a love & life like this. thank you, God, for @adriennebailon - my purpose partner, my friend, my lover, my muse, my gift, my present, my future & my everything."
ADRIENNE'S AND FANS' REACTIONS
Adrienne, 35, didn't take long to reply to her husband's romantic message, writing in his comments:
"You... are... my whole world. 'In the morning when I rise... you bring a tear of joy to my eye.'"
Fans also took their time to gush about the couple, with most agreeing they are an example of what a marriage should be.
"See, and that's why I love you guys! People can be in relationships and even marriages for years and then find THE TRUEST love of their life later on, and you two are a perfect example of this," wrote one user.
And another added, "There's nothing quite as good as finding where home is."
THEIR LOVE STORY
Adrienne and Houghton had been friends and neighbors for three years before they started dating. The "The Real" co-host even used to set up her husband on dates in the early days of their friendship, but once she realized she had a crush on him, she made her move.
They got engaged in August 2016, and by November that same year, they had a beautiful wedding in Paris, France with only close friends and relatives.
"I genuinely just feel so blessed and grateful. I've honestly never been happier in my entire life," Bailon told PEOPLE at the time. "I've never felt what I feel right now. I can't even describe what it is, but it's such a peace mixed with total excitement."
A SENSE OF HOME
Discussing the ins and outs of their relationship with Madame Noire last October, Houghton revealed that before he started dating Adrienne, marriage was not in his life plan, as he had already experimented it and it ended in divorce.
However, he says Adrienne was the first woman that made him feel "celebrated and not tolerated."
"I'll walk into the house, and there's just this sense of truly, 'welcome home,' and I tell you what, a guy will break his neck to experience that kind of love, that kind of like, that kind of celebration," he added.
TRYING TO BUILD A FAMILY
Adrienne and Israel have been trying to expand their family for a while now, but it hasn't been as easy as they thought.
Bailon has been open about her struggles to get pregnant on "The Real," asking people to be more mindful when it comes to spreading rumors or making assumptions about a woman's body just because they look a "chubbier."
"I think that as an audience, we should be sensitive to the fact that everybody doesn't get pregnant right away," Bailon stated. "I think for myself I thought it would happen so easily for me and it just hasn't happened that way."
Bailon says she has come to peace with the situation and has started to accept that "it'll happen when it's God's timing."
Houghton has four children from his previous marriage: daughters Mariah and Milan and sons Jordan and Israel Houghton Sonny.
Please fill in your e-mail so we can share with you our top stories!