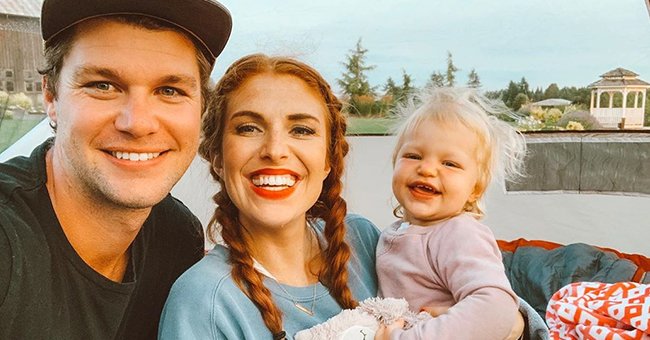 instagram.com/audreyroloff
Ember Roloff Competed in Her Very First Track and Field Competition at 22 Months Old
Genetics wins again! Ember Roloff showed off her athletic skills at her first track and field competition, and she is only 22-month-old.
Ember Roloff, the daughter of former stars of "Little People, Big World" and authors of "A Love Letter Life," Jeremy and Audrey Roloff, showed she's every bit as talented as her parents.
The little girl achieved a feat that most 22-month-old children can't, by competing in her first track and field competition, and getting to the finish line.
Audrey shared the beautiful moment on Instagram, and in the short video clip, the author and Jeremy are heard cheering on their daughter in the background.
The proud mother stepped in mid-way through the race, as little Ember kept stopping due to the distractions from those around her. Mother and daughter then raced hand in hand to the finish line, where Jeremy was waiting to give his little girl a high-five, which she missed.
Audrey, who has watched the video severally, wrote in the caption of the video that her little girl crushed the race which had mostly those in the 2 to 3 years age bracket.
Still gushing on Ember's performance, the former "LPBW" star wrote,
"Look at that form though, future 5ker right there, just like her mama."
The fans of the mother-of-one loved the video; some called the little girl's performance "Amazing," while others had words like "Cute," "Fierce Ember," and "First track event I've enjoyed watching."
The little girl, when she's not competing on the track, helps her father fix old motorcycles and work on the Roloff Farms. Jeremy shared an adorable photo of the two of them dressed in coveralls on Instagram, writing amid other things that his daughter has his heart, and he revealed that he showed her how to change a fuel tank.
The father-of-one also shared exciting news with his followers; he announced the launch of his preset product called "History." Preset is used for photo editing, and the author produced two sets, one for mobile devices and the other, for desktops.
On the week of the launch which was on July 9, the products had a $20 slash and sold for $40 instead of $60. Jeremy, who is a graduate of photography, revealed that many people had approached him to make his own presets, and he finally did.
The former "LPBW" star and Audrey have had a great year so far, and with a new baby on the way, Ember, in the not so distant future would have a sibling to take to the tracks with her.
Please fill in your e-mail so we can share with you our top stories!