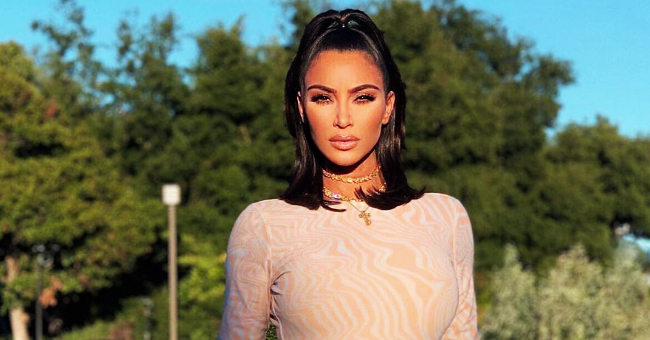 Instagram/kimkardashian
Kim Kardashian Shares Sweet Photo of Son Saint Cuddling Baby Psalm
Kim Kardashian is totally in love with her boys, Saint and Psalm West, and she recently made the internet swoon over the adorable kids by sharing a lovely photo of them cuddling in bed.
Now that Kim Kardashian and Kanye West extended their family to add one more kid to the count, the mother of four can't stop gushing about her adorable children on social media.
Whether is with photos of North and her developing makeup skills, or Chicago alongside her cousins True and Stormi, Kim is always ready to melt her fans' hearts and break the internet with a glimpse at the heirs of her empire.
THE KARDASHIAN-WEST BOYS
On Sunday, the 38-year-old reality star chose to share an adorable photo of her sons Saint and Psalm cuddling in bed, revealing that she snapped the pic at Saint's request.
In the pic, Saint, 3, is wearing a blue pajama with printed stars and moons, and he's holding his 9-week-old brother Psalm in his arm as they both stare straight at the camera. Psalm donned a white wrap around onesie and clenched his fist up adorably.
"Saint asked me to take a pic of him and his brother this morning," Kim captioned the pic, which has earned over 3.5 million likes on Instagram and comments from family, friends, and fans that can't stop gushing about the Kardashian-West boys.
FANS AND FRIENDS' REACTIONS
Proud aunt Kylie Jenner commented, "ugh I love them" with a series of heart eyes emojis; while model Winnie Harlow chimed in to say:
"He's so happy. Look at him holding his baby brother! Just what he wanted."
"Saint is a real nurturer... he is so precious with the babies! I love your beautiful children so much!" added one fan.
And another pointed out, "Saint is looking more and more like Kanye... Psalm looks like Chicago/Kim."
THE FOURTH BABY
Kim and Kanye welcomed baby Psalm via surrogate on May 9.
After confirming the news of the boy's arrival, the first thing Kim pointed out is that he was Chicago's twin. "I'm sure he will change a lot, but now he looks just like her," the KKW Beauty mogul wrote on Twitter.
"North won't even let Saint step foot in her room. If he does or if he's with me and I have to take care of both of them … it's like full war."
As for the inspiration behind the name, proud grandma Kris Jenner shared the details with Entertainment Tonight, explaining that Kim and Kanye got inspired from "the Book of Psalms in the Bible."
"I think it's just a wonderful way to celebrate how they feel. And he's such a blessing, so it's perfect," Jenner added.
SIBLING RIVALRY
And while most of the family is happy about Psalm's arrival, fans are wondering how Kim's eldest daughter North is coping, considering her reputation of not being kind to her other siblings, especially to Saint.
"North acts like an only child at all times," Kim told Ashely Graham in her podcast "Pretty Big Deal." And continued:
"I think she's a little confused. She's beyond jealousy now. She's just like, 'It's my world.' She said to me the other day, 'Mom…we just need to have another baby brother so that Saint can just leave me alone…so the girls can be on this side of the house, and the boys can be on that side of the house.'"
Kim revealed that North even has a "no boys allowed" sign on her bedroom.
"She won't even let Saint step foot in her room. If he does or if he's with me and I have to take care of both of them … it's like full war," she added.
Meanwhile, Kim says Saint is like her twin and the sweetest kid ever.
Hopefully, now the girls and the boys will settle down and get along nicely. Although a bit of sibling rivalry never hurt anyone.
Please fill in your e-mail so we can share with you our top stories!