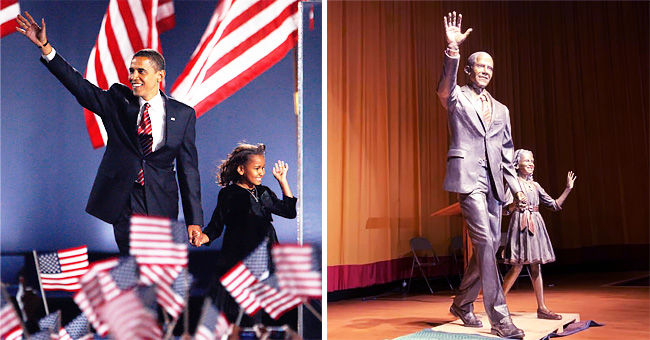 A Waving Barack Obama with Young Sasha Are Forever Memorialized by South Dakota Sculpture
A very unusual bronze statue of former President Barack Obama holding hands with his youngest daughter Sasha has been inaugurated in South Dakota.
Rapid City, South Dakota erected a bronze statue in honor of former President Barack Obama.
The statue, created by sculptor James Van Nuys, was unveiled and stunned by the unusual way it portrayed the 44th president of the United States.
STATUE OF BARACK OBAMA STUNS AUDIENCE
Everyone was expecting the usual presidential statue of Barack looking serious and statesmanlike, but they were in for a huge surprise.
Van Nuys captured Barack waving, and holding his hand is his youngest daughter, Sasha - not just a president, but a family man.
The Obama statue echoes the one of JFK, who was depicted holding the hand of his infant son, John Kennedy.
RAPID CITY - GATEWAY TO MT.RUSHMORE
Rapid City, with a population of 70,000, is best known for the nearby Mt. Rushmore, the massive 60-ft.-high granite sculpture of U.S. presidents George Washington, Thomas Jefferson, Theodore Roosevelt, and Abraham Lincoln.
HONORING ALL PRESIDENTS
Since Mt Rushmore has no more space for even more presidents, Rapid City decided to inaugurate the "City of Presidents" project in 2000, erecting privately funded statues of every US President in its streets.
CREATING THE STATUE THAT STARTLED SOUTH DAKOTA
Van Nuys had originally planned to sculpt Obama waving when his team asked him to try something different.
"One of us said, 'This is boring. This is not going to have the wow factor.' A man waving is not a showstopper," said Dallerie Davis, the group's co-founder.
Van Nuys inspired himself on a photo of the newly elected President walking with Sasha walking on a stage at Chicago's Grant Park, and the result is breathtaking.
Curiously enough, the Obama statue echoes the one of JFK, who was depicted holding the hand of his infant son, John Kennedy.
SASHA OBAMA IS ALL GROWN UP
The statue in Rapid City immortalizes Sasha Obama as a 7-year-old whose daddy had just become president.
But Sasha is now 17, and a lovely young lady who has just graduated from high school and will be headed for college in the fall.
Sasha spent eight of her 17 years living in the White House, under public scrutiny, and constantly accompanied by armed secret service agents - a tough life for a little girl, but she seems to have sailed through her unusual childhood serenely.
Sasha has made no public announcements about her future plans, but she has hinted that she will be joining the University of Michigan.
Please fill in your e-mail so we can share with you our top stories!