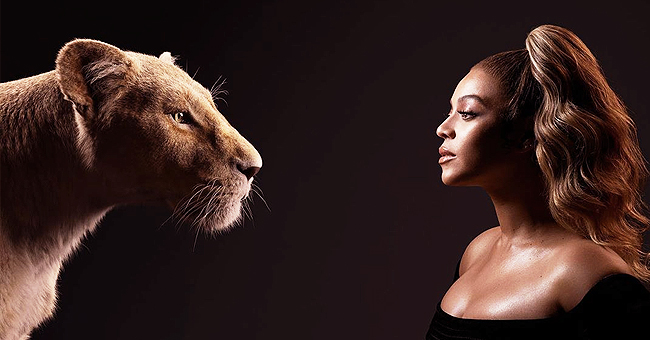 Instagram/beyonce
Beyoncé Calls 'Lion King' Music a 'Love Letter to Africa' Ahead of the Film & Album Release

Beyoncé's anticipated soundtrack album for Disney's remake of "The Lion King" is set to be released in a matter of days and the pop icon has described it as a "Love Letter to Africa" while dishing more details in a new interview.
Fans of "The Lion King" have so much to look forward to if Queen Bey's words on a new ABC television special are anything to go by.
In a sneak peek of the interview shared on Good Morning America, Beyoncé called "The Lion King: The Gift" a "love letter to Africa," revealing that she had input from African artists as well.
"I wanted to make sure we found the best talent from Africa and not just use some of the sounds and my interpretation of it. I wanted it to be authentic to what is beautiful about the music in Africa. A lot of the drums, the chants, all of these incredible new sounds, mixed with some of the producers from America, we've kind of created our own genre."
"I feel like the soundtrack, it becomes visual in your mind. It's a soundscape," she added. "It's more than just the music because each song tells the story of the film."
The soundtrack for the 1994 'Lion King' was phenomenal, earning four Grammys, two Academy Awards, and two Golden Globes
"The Lion King: The Gift," which is produced and curated by Beyoncé, is scheduled for release on Friday, July 19, the same day as the film's theatrical release.
"Spirit," a track Beyoncé created for the animated film, was released off the album last week and has since debuted at No. 1 on Billboard's Kid Digital Song Sales Chart, PEOPLE reported.
The outlet also notes that Beyoncé's "Lion King" album comes with input from other artists like her husband Jay-Z, daughter Blue Ivy Carter, Pharrell Williams and Kendrick Lamar.
According to Quartz Africa, the Grammy winner likewise enlisted the voices of African artists such as Nigeria's Yemi Alade and Tekno, Ghana's Shatta Wale, and South Africa's Moonchild Sanelly.
Besides creating a soundtrack, Beyoncé also voices Nala in "The Lion King" remake and previously had fans going wild as she covered one of the movie's original tracks "Can You Feel The Love Tonight" alongside fellow actor/singer Donald Glover.
Glover voices the lead character Simba and created musical magic with Beyoncé as they gave a rendition of the song initially performed by Elton John in the 1994 "Lion King" original.
The soundtrack for the 1994 "Lion King" was phenomenal, earning four Grammys, two Academy Awards, and two Golden Globes, so it's safe to assume that the bar is quite high for "The Lion King: The Gift."
Knowing who Beyoncé is, however, this soundtrack album is likely to be nothing short of excellence.
Please fill in your e-mail so we can share with you our top stories!