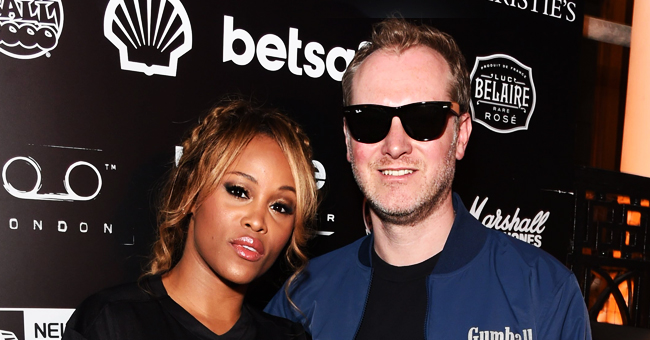 GettyImages
Eve Talks about Meeting Her Husband and What Attracted Her to Him
Eve and her husband Maximillion Cooper celebrated their 5th wedding anniversary last month, and even after all this time, the rapper is still wondering how she ended up with a white, British guy. It was attraction at first sight, she admitted in a recent interview.
They have received lots of criticism for being an interracial couple, but Eve and Maximillion Cooper's love and respect for each other has been latent from day one.
AN INTERRACIAL LOVE
According to what the "The Talk" co-host said in a new interview for the "Self Made Tastes Better" online show, there are days where she's still amazed at being married to a white man, although she admitted she sees herself in him in many ways.
"I never thought I'd be with a white guy," she admitted. "So for me, it was like, and you're British! Like, how? I'm like a girl from Philly. Like, how? But, on the core of our relationship — and other friends have said that to me, too, 'I never thought y'all two together,' but when they're with us, they so get it."
The couple met at Cooper's Gumball 3000 rally in 2010 when Eve was invited to perform as part of her partnership with Puma. The first time she saw Cooper was on the red carpet for the event's inauguration and their PR people made them take a pic together.
He sparked an interested in her almost instantly.
WHAT EVE SAW IN MAX
Max, who was married before and is a father of four, had a "quiet confidence" that made him attractive in Eve's eyes, especially because she came from the hip hop world, where most—if not all men like to brag and lack humbleness.
"It was nice and refreshing," Eve admitted. And continued:
"I'm not a romantic, but I remember meeting him and being like, 'I need to know what he does every day.' I was more interested in him than I'd ever been with anyone. That was nice. That was a big pull too because he wasn't in music but [it was] just him as a person."
WHAT MAX SAW IN EVE
When asked what Max saw in her that attracted him, Eve confessed she has no idea, taking into account he didn't even know who she really was.
"We tease each other. He always says, 'I knew I loved you when I saw you,' but men have to say s**t like that," she joked. "I don't know; maybe he saw my a**. I don't know. I don't know!"
FIND SOMEONE SUPPORTIVE
Either way, Eve says what she loves about Cooper is how supportive he is of her endeavors, something that she gives him in return.
"I've never been with somebody more supportive," she said. "I've never, ever had this in my life."
They also share a love for hard work and being resilient.
"He's my homie. He's my friend," she said.
And added:
"He's all the clichés, because I'm not a romantic, but he's all the clichés that I heard that are actually true. For some reason, we just have that core value of just being a hustler, working hard, believing in what you believe in and making it happen. And he's a good person."
This year, the couple celebrated their wedding anniversary in the same place they tied the know: Ibiza.
"It's our 5th wedding anniversary today! Great to be back in Ibiza to celebrate! I [love] you Mrs. Cooper," Maximillion captioned a sweet Instagram post to commemorate the occasion.
Please fill in your e-mail so we can share with you our top stories!