Emily Wickersham of NCIS Bids Farewell to Her Late Grandmother in an Emotional Message
The actress shared a long farewell message to her recently passed grandmother on social media, revealing the enormous influence she had on her during her entire life.
35-year-old Emily Wickersham, famous for her role as Agent Bishop on the police procedural "NCIS," recently experienced a significant loss with the death of her grandmother Doris Kaiser, who was always her role model.
On July 13, Wickersham posted a slideshow of photos of her grandmother over the years, dedicating a loving message to her, praising her for her personality and elegance.
HEARTFELT WORDS
"When my Grandma used to drink martinis... after one...or two... she would hold my arm as we were leaving a dinner and say "help me walk out with dignity"... with her head held high with style, grace and elegance she would walk out of the restaurant," the star started her touching caption.
"This little statement was something she lived by. She exuded style, grace, and elegance with ease. She was the ultimate lady. She had a quiet inner strength that I have always admired," Wickersham added.
The Kansas-born has also appeared in six theatrical films, making her big-screen debut in 2007 on "Gardener of Eden." Her latest film role to date was in 2015's comedy "Glitch."
The "The Sopranos" actress went on to share how her grandmother had the strength of character that made it unnecessary to her to raise her voice in order to have the people's attention.
Wickersham also wrote about her grandmother's witty remarks, and how she brought joy to the entire family with her responses.
"These one-liners have played over and over again in my head and out loud throughout my life and become my words to live by," the actress added.
HER ROLE MODEL
"I never heard her say a bad thing about anyone. She was one of the most stylish women I've ever met. Not a moment has gone by that I didn't want to be like my Grandma," Wickersham admitted.
"Always hoping that a little of that style, grace, and elegance would rub off on me. Today I raise my glass to you, Grandma. You've walked out with dignity and paved the way for us to follow your grace in life," she concluded.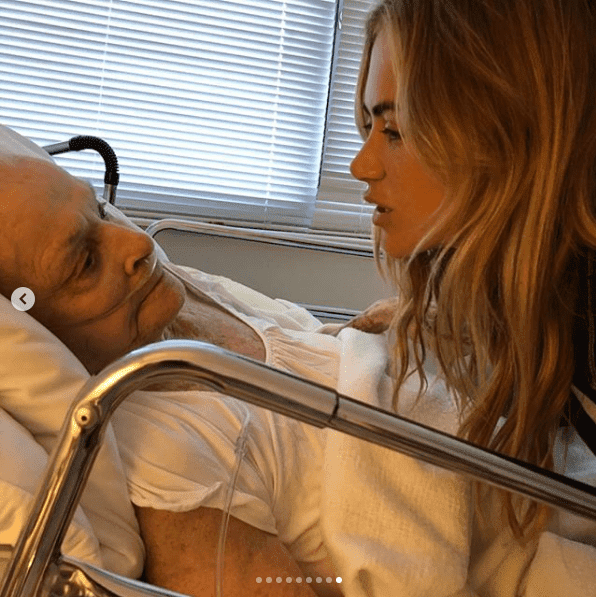 HER CO-STARS' SUPPORT
"NCIS" co-star Maria Bello was among the Instagram users that took to the comments section of Wickersham's post to give her words of support and acknowledging how much of Kaiser survived in her granddaughter.
"What an amazing woman. She passed that bit on to her Granddaughter. Love you Em and see you in a couple of days!" the 52-year-old wrote.
46-year-old Jennifer Esposito, who left the series in 2017, also took some time to comfort her friend.
A LITTLE MORE ON WICKERSHAM
Wickersham landed her career-defining role of Special Agent Elanor Bishop on the popular CBS show in 2013, but she has made appearances in many important TV series such as "Gossip Girl", "Law and Order: Criminal Intent", and "The Sopranos."
The Kansas-born has also appeared in six theatrical films, making her big-screen debut in 2007 on "Gardener of Eden." Her latest film role to date was in 2015's comedy "Glitch."
Wickersham is married to musician Blake Anderson Haley, from Palm Beach, Florida. The two tied the knot on November 2010.
"NCIS" SEASON 17
Fans of "NCIS" are anxious to see how the story develops on the upcoming Season 17, which will follow the shocking return of Cote de Pablo's character Ziva David on Season 16's cliffhanger finale, after been assumed death for several seasons.
Wickersham's character Ellie Bishop was in fact the first to find a clue about Ziva possibly being alive after she had been apparently killed-off on Season 11 when de Pablo left over disagreements with the way her character was been handled by the showrunners.
Wickersham was originally cast to fill the void left by de Pablo's departure, and ever since then, Wickersham has struggled to earn the favor of de Pablo's loyal fans who don't think she can compare with her.
This is why Wickersham could benefit from de Pablo's return to the show, no longer been expected to fill the shoes of such a loved cast member and character.