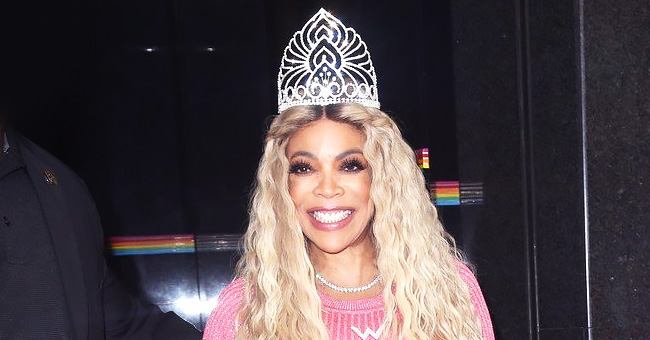 twitter.com/coledelbyck
Wendy Williams Wears Big Smile & Bigger Tiara Day before Turning 55 Amid Divorce

Wendy Williams wears a sparkly tiara to celebrates her 55th birthday in great spirits.
Wendy Williams has just turned 55, and she is glowing and sparkling with joy - and plenty of bling.
Wendy celebrated the big five-five on July 18 and spent the day as a true Queen with a blingy giant tiara perched on her head.
A CELEBRATION LIVE WITH HER GUESTS AND AUDIENCE
Wendy celebrated where she most loves to be: live on her show surrounded by her fans and friends.
Her work colleagues got her a two-tiered dessert cake with purple icing and a star, and of course, lots and lots of gifts.
Wendy has revealed that she is now in a new relationship, and very happy.
WENDY WILLIAMS' FIRST BIRTHDAY WITHOUT KEVIN HUNTER
This is Wendy's first birthday since her separation from her husband, Kevin Hunter. Wendy filed for divorce after 21 years of marriage after it was revealed that he had fathered a child on his long-term mistress whom he supported with his wife's money.
KEVIN JR. ARRESTED FOR ASSAULTING HIS FATHER
Following an altercation in June, Wendy's son, Kevin Jr. was arrested for assaulting his father, but the charges were dropped and the case dismissed. Kevin Jr.'s anger was reportedly triggered by his father's past treatment of Wendy and his demand for spousal support.
As The Blast reported, Kevin Jr. got into a physical altercation in June that resulted in cops being called. He went to court and the assault charges were dropped because the case was dismissed.
WENDY WILLIAMS' LOVE LIFE IS BLOSSOMING
It looks like her 55th year may be the best one ever, and Wendy has revealed that she is now in a new relationship, and very happy.
What a wonderful birthday gift: a new life, and a new love.
Happy Birthday, Wendy Williams! You deserve that joy.
WENDY WILLIAMS SUPPORTS THE LGBT MARCH
Wendy Williams stepped out at the LGBT march in a rainbow-colored skin-tight bodysuit that showed off her stunning figure.
Wendy accessorized with big sunglasses rimmed with pink rhinestones, her diamond "W" necklace, and white sneakers.
"How you doing New York? I'm blown away by the energy and the love in this city right now. Happy World Pride," she said.
Wendy showed her support for the LGBTQ community alongside her BFF, Blac Chyna, and she shared the moment on Instagram.
Please fill in your e-mail so we can share with you our top stories!