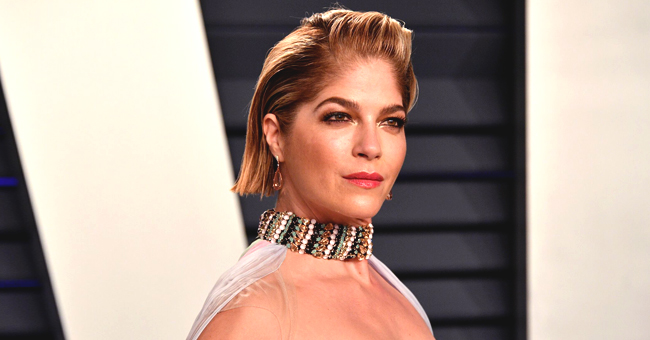 Getty Images
Selma Blair Sparks Debate after Sharing a Bathtub Photo with Her Son
The actress wanted to share a throwback intimate moment at the bathtub with her son, but some of her followers in social media found the image to be inappropriate.
47-year-old actress Selma Blair received some backlash for one of her recent Instagram posts featuring her 8-year-old son Arthur Saint, a product of her former relationship with fashion designer Jason Bleick.
A CONTROVERSIAL POST
The star appeared in a photo taking a bubble bath, sharing the bathtub with her boy, who looked at the camera while her mother seemed to sleep, and it rapidly prompted criticism among some of her fans.
"A throwback. We always make our day work. My dream is to jump in the ocean again with this one. #healing. #thankyou. Signing off. Going to sleep. We all walk the miles somehow. Together. Many the miles," Blair captioned her post.
Maybe she saw the controversy coming, since she tried to warn commenters about been wearing a bikini when the picture was taken, but it wasn't enough for some people who weren't shy to share their opinion on the snapshot.
"This is not normal for you to have your son that old in the tub with you, if you are wearing a bathing suit or not. It is just WRONG!" wrote a user. "Too old for that in my opinion," another one added.
"This picture makes me uncomfortable. Inappropriate. Legs agape? It's just not tasteful. Otherwise I'm a fan," was yet another unrequested opinion.
IN HER DEFENSE
The taboo around the innocent intimacy a mother and her child share proved to be too much for Blair to tolerate, and she responded to her critics.
"He came out of those gaping legs!!! Old news for this kid," she humorously wrote to the "mom-shamers."
Of course there were also fans that stepped out in defense of the star, expressing that they did not see anything wrong with the photo, and asking people to leave the mother and child alone.
"It says bikini bath people geez. Same as a pool," a person added, appealing to common sense.
"What people don't understand is even reacting to the negative comments only feeds the fire and makes the situation worse. To each their own their opinions. I think this is a beautiful memory/photograph that'll be treasured forever," another user conceded.
BLAIR'S ATTACHMENT PARENTING
Blair, who was diagnosed with Multiple Sclerosis (MS), has often displayed what is known as Attachment Parenting, a philosophy based on the fact that children and their mother "need to stay connected through touch" even as children grow older.
"All humans (including adults) thrive on touch and the reconnection it provides," reads the Attachment Parenting website's guide to the "nurturing touch" applied to older children.
Blair close bond to her son is evident in her social media feed, and she has found their relationship to be a shelter for her as her condition worsens with time.
SHE IS GETTING "SEEMINGLY SICKER"
Apart from the support of her beloved son, the "Legally Blonde" star also has counted with the friendship of her horse Skytop, which she credits with helping her learn about self love way before she had to face her diagnosis and symptoms.
In another recent throwback post, Blair paid tribute to her horse, and she used the opportunity to give her fans a touching update about her degenerative illness.
"Even as I get seemingly sicker. I will jump this horse around again," the actress wrote in her caption to a photo of herself giving Skytop a kiss.
Please fill in your e-mail so we can share with you our top stories!