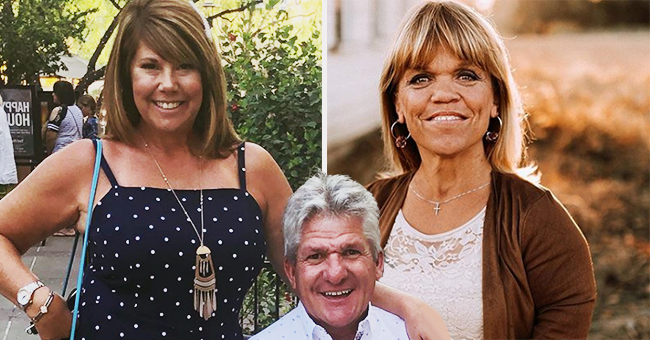 instagram.com/amyjroloff // instagram.com/mattroloff
Matt Roloff Responds to Follower Who Accused Caryn Chandler of Being with Him 'for the Money'
A week ago, Little People, Big World star Matt Roloff to share a picture of himself and his girlfriend out on a date. A fan tried muddying the girlfriend's name with accusations but Matt wasn't having it.
A cute picture of Matt Roloff, 57, posing with his girlfriend during a date to Glendale, Arizona to see Hugh Jackman perform was turned into something negative by a fan that made an allegation against Caryn Chandler. A fan with the handle @grimardsusana accused Chandler of "dating Matt" while "he was still married" to his ex-wife Amy Roloff, 54.
The troll also claimed that Matt's girlfriend, who happens to be of normal height unlike Matt and Amy, was with him for his money. The Roloff patriarch is a reality star on the show Little People, Big World.
Matt shut down both claims by writing that the fan "couldn't be further [from] the truth." A memoir called, A Little Me written by Amy claimed the couple started sending each other romantic messages before she and Matt divorced.
The book, which was published in May, became the talk of the talk this month. Fans were, once again, torn between the exes trying to figure out what was the truth.
Chandler was employed by Roloff Farms in Hillsboro, Oregon, as their farm manager before she started dating Matt. In her memoir, Amy shared: "Matt was spending more and more time at the tavern he often frequented in the evenings after filming and working on the farm, and our farm manager seemed to be around more and more often as well."
She wondered if anything "was going on" between the two. Amy also explained in the book that it "dawned" on her that Chandler "seemed to have more than just a working relationship or friendship," with her then-husband.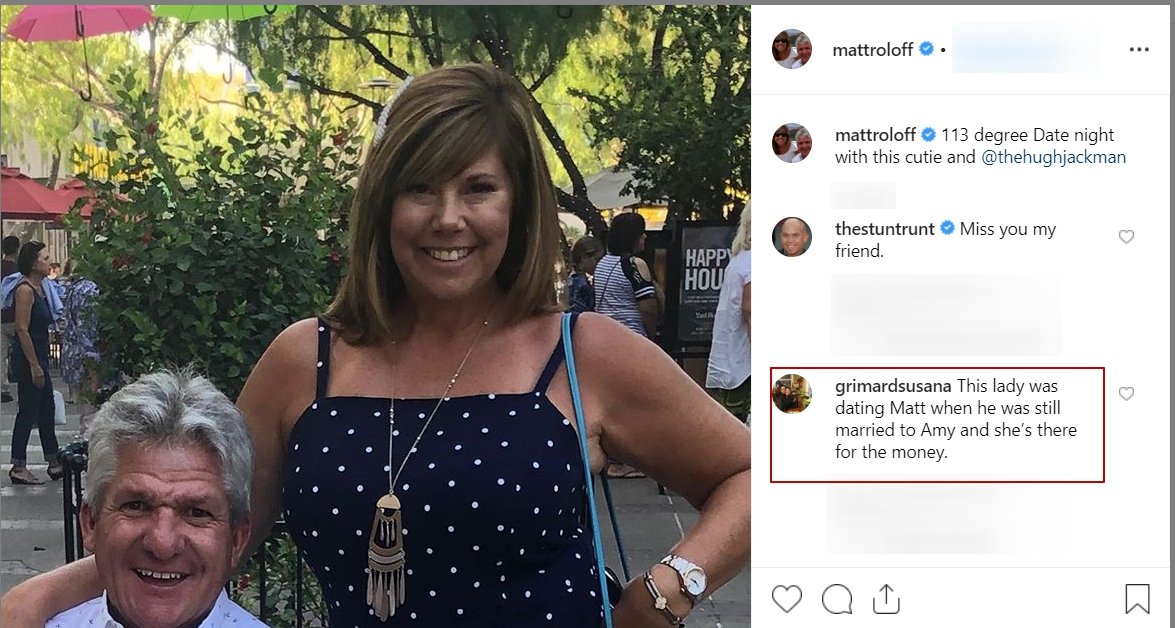 A fan's comment on a photo of Matt Roloff out with his girlfriend Caryn Chandler | Photo: Instagram/Matt Roloff
The reality star added:
"I saw messages, pictures, and other things that should not have been shared between people who just worked together and were still married to other people. I was devastated."
The reality star noted that she "should have said something right away" but couldn't because she couldn't believe her eyes. She also questioned why Matt would cheat on her during their marriage.

Matt Roloff's response to a fan who spoke ill of his girlfriend Caryn Chandler | Photo: Instagram/Matt Roloff
The former couple was married for 27-years before officially divorcing in April 2016. They are parents to twins Jeremy and Zach, 29, a daughter Molly, 25, and another son Jacob, 22.
Their reality show has been running since 2006.
In March, before her memoir was released, Amy uploaded a number of Facebook Live videos where she opened up about the end of her relationship with Matt. In the videos, she alleged that there had been "problems" in their marriage and that Matt was "involved" with Chandler before their divorce.
Featured in her videos was her friend Lisa Dixon.
Please fill in your e-mail so we can share with you our top stories!