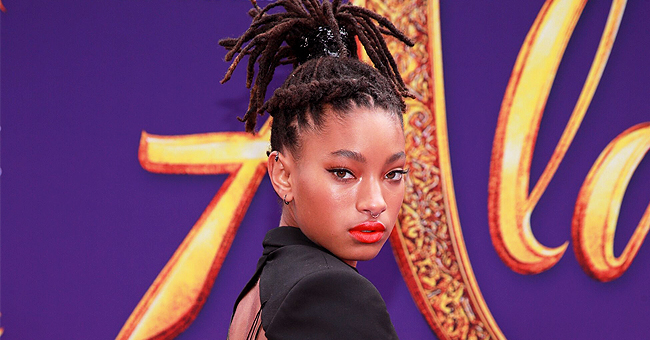 Willow Smith Stuns in Black & White Swimsuit as Boyfriend Joins Her Family Vacation

Will Smith's family were joined by Willow Smith's rumored boyfriend, Tyler Cole during their lavish vacation on a yacht. Photos reveal a bikini-clad Willow relaxing by the water with Tyler as her parents watch from inside the boat.
Willow Smith brought along her rumored boyfriend in her family vacation and photos reveal what they've never confirmed before. It's clear from their relaxing trip on board a yacht, the two share something special and Willow's parents approve.
WILLOW'S RUMORED BOYFRIEND GETS A SEAT ON THE FAMILY YACHT
It's been years since rumors linked Willow to fellow musician Tyler Cole, even before they collaborated on their 2016 track, "Afraid." The 18-year-old daughter of Will Smith and Jada Pinkett Smith never addressed the rumored romance nor did she deny it.
However, recent photos suggest there's more to them than they ever divulged. In fact, their relationship is solid enough for Tyler to be invited to the Smith family holiday.
The family of five including Jaden and Trey Smith plus Tyler were on a luxurious yacht sailing in Italian waters last weekend. From pics shared by The Daily Mail, it appeared like Willow and Tyler were getting some alone time by the water as the teen's parents watched from inside the yacht.
Willow wore a skimpy zebra-patterned two-piece as she soaked up some sun while her 21-year-old boyfriend watched her in casual purple summer wear. At one point, Tyler is seen on a jet ski though not with Willow.
FANS WERE UNCOMFORTABLE WITH WILLOW'S BIKINI
The photos elicited strange reactions from fans who questioned the apporpriateness of Willow's swimsuit especially in the presence of her father.
"How can she wear that string bikini around her dad? Wow, could've worn something a bit more decent," one commenter wrote. Another added, ""My dad wouldn't know where to look and I'd be mortified!"
Granted that Willow was wearing a tiny bikini, her slender frame distracts from any thoughts of decency. In fact, she once admitted her dad was glad she wasn't "curvy" because guys will pay attention to her brain more than her body.
THE TRIP COINCIDES WITH THE RELEASE OF WILLOW'S NEW MUSIC
The family vacation comes in the heels of Will's successful foray as the genie in the latest "Aladdin" remake. It also coincides with the release of Willow's self-titled album. The singer who rose to popularity at 10 years old when her song "Whip My Hair" hit the charts unleashed a new brand of music with third album which she herself produced along with Tyler. It boasts of mature themes such as female empowerment, relationships, and generational issues.
WILL TRIES TO SHAKE THINGS UP
The well-needed vacation is the perfect escape for the busy family. In fact, they were so relaxed that Will tried to shake things up a little. In a clip from their summer sail, the father-of-three urged a lounging Jaden and Willow to "do something that trends." His efforts didn't work on his kids who wouldn't move from their comfortable positions. No need to do anything though because that clip alone was destined to trend anyway.
Please fill in your e-mail so we can share with you our top stories!