Tina Lawson Shared Throwback Pic from Teen Years & She Looks like Solange
Tina Knowles-Lawson is proving that her daughters inherited her beauty after sharing a photo from her teenage years with fans on Instagram. The fashion designer and business said she looked like Solange back then.
Tina Knowles's daughters Beyoncé and Solange not only inherited her kindness, tenacity, and strength but also her beauty and poise.
The 65-year-old recently took to Instagram to share a throwback picture from her youth, and fans are amazed at how much she resembles her daughters. In the pic, a teenage Tina is seen wearing a mini pink dress with yellow details and no accessories on sight while standing in a corner.
"I am 15 and look just like Solange on this photo. I did my own haircut!" Knowles described the pic.
COMPLIMENTS FROM EVERYONE
Fans and friends took over the comment section to gush about young Tina.
Tamar Braxton wrote, "Still pretty tho," while actress Vanessa Calloway added, "Go head gurl!!! You look like both of your babies, and I love the haircut," and TV host Tanika Ray said, "Amazing pic!! And yes that is Solange!! Beautiful!"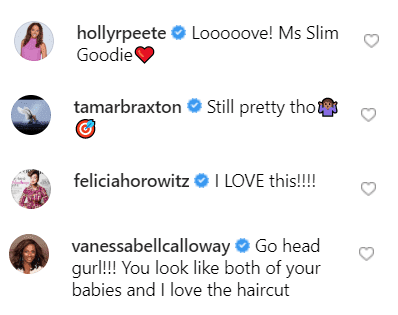 A fan chimed in to say:
"Beautiful, they all look's like you Mama Tina. Bey, Solange, and Julez, your genes Is strong."
And a second one added,
"ugh a continuous reminder of where they get it from!!! Mama Tina, you are and will always be THE blueprint."
TALKING ABOUT MOTHERHOOD
Tina, who shares Beyoncé and Solange with ex-husband Matthew Knowles, recently spoke about motherhood and some of the tricks she used on her girls while they were growing up to make them feel special.
Knowles-Lawson attended the Summit21, a two-day conference in Atlanta which celebrates black girls and women, and she was one of the invited speakers. On her time on stage, Tina talked, among other things, about raising Queen B and Solange.
"One thing I'm really happy I did was I gave each of my kids a day," she started. "As Solange got older, I would spend Wednesdays with her and help with homework and do those types of things and just devote that day to her, and then one day to Bey."
And continued:
"It really works because it makes them feel [good] you know. Because of kids, no matter how much you give them love and attention, it's never enough. I mean I'm sure, everybody who has kids knows, you can take them to Astroworld, to eat, and they'll still say, 'Well what else we gon' do.'"
Tina is known for having a very close relationship with each of her daughters, and she even revealed on Maria Shriver's "Meaningful Conversations" podcast that she has a group chat with Beyoncé, Solange, her niece Angie Beyincé, and former Destiny's Child member Kelly Rowland.  
"It's like I have four girls," Knowles-Lawson said. "And it's so funny because we are always on group chats."
Mrs. Tina is always the first in line to support and promote her daughter's works. She has raised two talented women, and for that, fans will always be in debt to her.