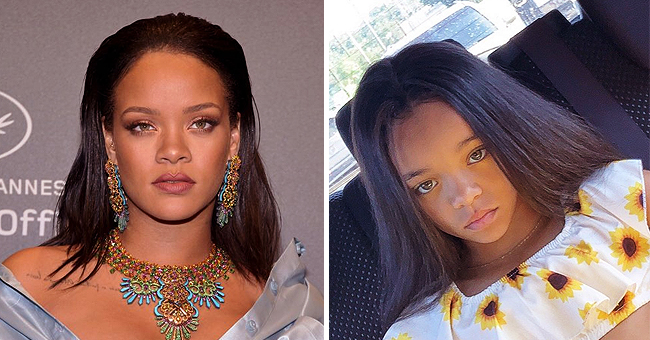 Instagram/badgalriri Getty Images
See Photo of Rihanna's Mini Look-Alike That Made Her 'Almost Drop My Phone'
Rihanna is amazed after discovering a little girl that could easily be her twin. The resemblance is so uncanny that some fans wondered if the singer was using an app filter, or if she was introducing her secret daughter to the world.
Rihanna has found her mini-me!
The Barbados native singer took to Instagram on Tuesday to share a photo of a six-year-old girl that looks exactly like her. In the pic, the girl named Ala'a is rocking a white crop top with a sunflower print and giving the camera a somber look just like the ones Rihanna uses on her photoshoots.
Ala'a and Rihanna share a pretty similar face shape and characteristics, including their eye color.
"Almost drop my phone. How?" Rihanna captioned the photo, clearly impressed by the resemblance.
FANS' REACTIONS
Fans and famous friends of the "Umbrella" singer took over the comment section to gush about the girl, and for some, it took a while to understand the situation, as they thought Rihanna was using an app filter to look young.
"I thought this was the start of the face app young challenge," wrote Fenty beauty makeup artist Priscilla Ono.
A fan added, "Wow!! You're so beautiful that the universe had to make copies of you."
And another joked, "Did you have a child without telling us?! Definitely your doppelganger."
Rihanna isn't a mother yet, but she recently revealed in a conversation with "Ocean's 8" co-star Sarah Paulson for Interview magazine, that she wants to become a mom "more than anything in life."
NURTURING HER RELATIONSHIP
The 31-year-old has been dating billionaire Hassan Jameel for a couple of years, and when asked if she's in love, RiRi replied: "Of course I am."
She's so serious about the relationship that she decided to make some changes in her life to include some free, personal days in her schedule.
"My career is my purpose, and it should never feel like anything other than a happy place. I've made little things a big deal, like going for a walk or going to the grocery store," she started.
And continued:
"I got into a new relationship, and it matters to me. It was like, 'I need to make time for this.' Just like I nurture my businesses, I need to nurture this as well. I'll shut things down for two days, three days at a time. On my calendar, we now have the infamous 'P,' which means personal days. This is a new thing."
A THRIVING CAREER
Rihanna's fans have been waiting for her 9th album to drop since her last release, "Anti" in 2016. However, the star has been busy working in her other creative endeavors: her Fenty Beauty line, a lingerie collection, and a new ready-to-wear line for the fashion behemoth LVMH.
"It's the reason why an album isn't being spat out like it used to," she confessed.
And added:
"I used to be in the studio, only the studio, for three months straight, and an album would come out. Now, it's like a carousel. I do fashion one day, lingerie the next, beauty the next, then music the next. It's like having a bunch of kids, and you need to take care of them all."
Although Rihanna promised her fans, known as The Navy, that she would release new music this year, she admitted there isn't a date set on stone for the release, but the wait will be worth it.
Please fill in your e-mail so we can share with you our top stories!