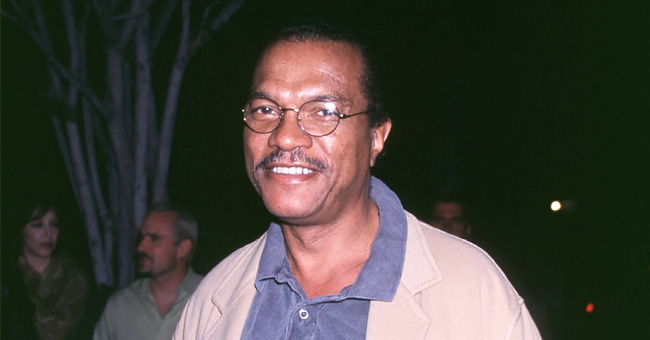 Getty images
Billy Dee Williams' Son Corey Says He Doesn't Need an Aging App in Recent Pic with Dad

Corey Dee Williams looks exactly like his "Star Wars" star dad Billy Dee Williams - only younger.
An Aging App has become the latest craze on social media with millions downloading it to see what they will look like when they are older.
Billy Dee William's son Corey doesn't need the app. All he has to do is look at his dad to see he's going to be an exceedingly handsome older gentleman.
"DO NOT ask me about Lando rumors... I can neither deny or confirm anything. I am clueless, so speculate as you will. Seriously." Corey Dee Williams
LANDO CALRISSIAN IS BACK AT 82
Corey's dad is best-know to "Star Wars" fans as Lando Calrissian, the dashing, suave space pirate who is a friend and rival of the unforgettable Han Solo, played by Harrison Ford.
Billy Dee joined the cast of the cult epic in "The Empire Strikes Back" and "Return of the Jedi", and is set to bring Lando back to life once again at 82.
Harrison Ford's character was killed off, and the beloved actress Carrie Fisher, Princess Leia, died in 2016.
NEW "STAR WARS" FILM SET TO PREMIERE IN 2019
Billy Dee's fans will be happy to know that the actor will be recreating an older Calrissian alongside Mark Hamill in "Star Wars: The Rise of Skywalker." The film is set to be released in December 2019 and is said to bring the saga to an epic conclusion.
BACK AT THE CONTROLS OF THE MILLENIUM FALCON
Since Harrison Ford's character Han Solo was killed off, Billy Dee will finally be taking back the commands of the mythical spaceship, the Millennium Falcon, which Lando had lost to Solo on a bet.
THE END OF AN ERA
This will certainly be the last time any of the original cast will be able to step back into the Star Wars universe.
Harrison Ford's character was killed off, and the beloved Carrie Fisher, Princess Leia, died in 2016.
Mark Hamill and Billy Dee Williams will be fighting the good fight on our screens one last time.
May the Force be with them!
PASSING ON THE TORCH
When Lukas Films decided to make "Solo: A Star Wars Story," about the origins of Han Solo, they picked actor Donald Glover to play the role of Lando Calrissian, Solo's lifelong friend, and rival.
"I guess what it is that I identify so much with Lando. I mean, Lando has been very much a part of my life for over 30 years ... I just never thought of anybody else being Lando. I just see myself as Lando," Billy Dee Williams said.
Glover got in touch with Billy Dee Williams, who played Lando in the original trilogy, to get inspiration for his performance.
Now, Billy Dee is talking back his character, and we can't wait to see him light up that big screen again.
Please fill in your e-mail so we can share with you our top stories!