Kim Kardashian "Shocked" by Misconduct Allegations against Photographer Marcus Hyde
Celebrity photographer Marcus Hyde was one of the latest male photographers slammed for alleged inappropriate behavior towards models. He has worked with celebrities like Ariana Grande, Kim Kardashian West, and even Kanye West. Now Kim K is finally speaking out on the controversy.
The photographer found himself on the receiving end of accusations from many female models for alleged sexually inappropriate behavior during photo shoots. According to claims, Hyde reportedly behaved unacceptably with some models and even pressured them into posing nude.
After model Sunnaya Nash posted screenshots of an alleged inappropriate interaction with Hyde on Instagram, the entire situation spiraled out of control. Instagram initially removed then reinstated the post before more models began coming forward with their stories. 
Kim Kardashian's Response to the Claims:
The reality TV star, Kim Kardashian has a long history with the photographer. She once considered him a close friend and even asked fans to pray for him after he had a car accident at the end of last year.
As the controversy surrounding Hyde escalated astronomically, she took to Instagram Stories on Tuesday afternoon to comment on the situation. In her message, she displayed support for all the women speaking out about their experiences. 
Please pray for my friend @MarcusHyde pic.twitter.com/QIctCk8uhv

— Kim Kardashian West (@KimKardashian) October 30, 2018
She explained agreed that the alleged behavior was "inexcusable" but clarified that her "own experiences have always been professional." She revealed she was "deeply shocked, saddened and disappointed" that he allegedly behaved so differently with other women.
"I stand in full support of every woman's right to not be harassed, asked or pressured to do anything they are not comfortable with," claimed Kim.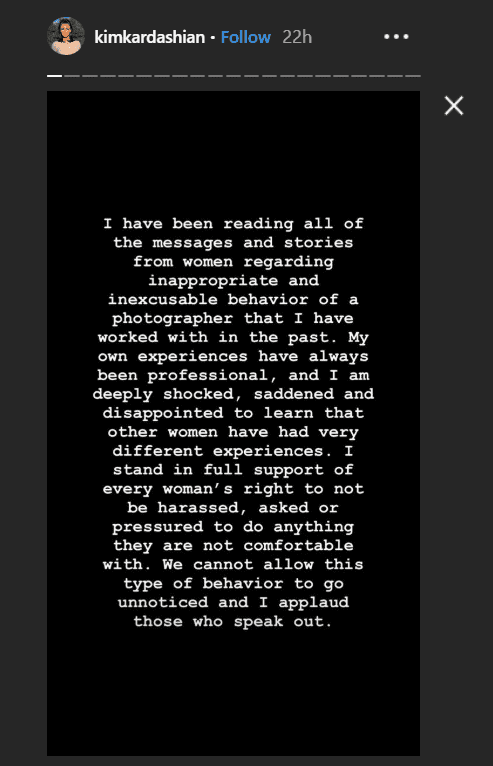 Kim went on to say, "We cannot allow this type of behavior to go unnoticed and I applaud those who speak out."
Kim and Kanye's Past Friendship with Marcus:
Both Kim and her husband Kanye West were vocal about their friendship with Marcus. He was known to attend everything from birthday parties to holidays and often captured precious family moments for them.
Marcus has worked with the whole Kardashian family on multiple occasions. In 2018, Kim and Kanye even donated $25,000 towards his medical bills after his near-fatal car crash.
Other stars coming forward:
Sunnaya might have come forward first but she apparently was not the only one to feel uncomfortable when working with Marcus.  Other celebrities such as Shay Mitchell and Bella Thorne followed her lead and spoke out about the situation.
Ariana Grande, who also worked with the photographer in the past, advised fans who may find themselves in similar situations to never do anything you do not want to and avoid working with anyone who makes you uncomfortable.
"If you want to, sick. but if you don't, please don't," continued Grande. "If they tell you you have to pay more money if you're clothed that's f--ked and i'm sorry that has happened to you. i promise there are so many respectful, nice, talented photographers out there."
After the story broke, Marcus deleted his Instagram account. He has remained silent on the matter and has yet to make any public statements on the claims.