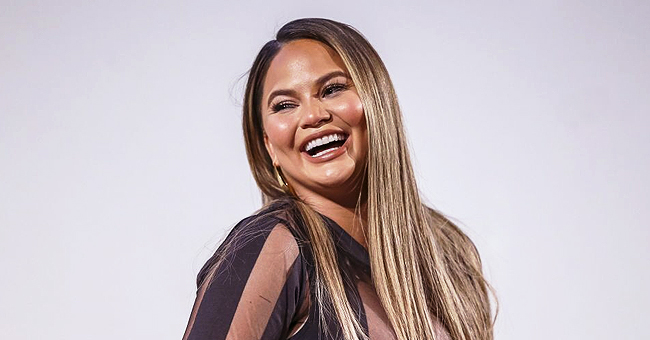 Getty Images
Watch Chrissy Teigen's Video of 14-Month-Old Son Miles Taking His 'First Real Steps'

Chrissy Teigen gleefully shared a video of her little son, Miles taking his very first steps with fans via her Instagram.
The joy of motherhood is not limited to birthing a child but undeniably includes watching the little child grow and achieve the different milestones that show healthy development.
Every experienced parent will understand Teigen's immense joy at being able to capture her baby's first definitive attempt at walking.
MILES MAKES HIS FIRST STEPS – ON TAPE!
Via her Instagram story, the famous model shared the fantastic video on Monday, July 22. Teigen let on her excitement as she captioned the video saying:
"I think I just got his first real steps!"
In the video clip, Miles is seen toddling from a piece of furniture toward his mother, who is holding her camera phone. The raid mother of two can be heard cheering the youngster on as he tentatively takes his first step.
"Good job!" she joyfully exclaimed before she erupted into a chant saying, "go walk, go walk."
That was as the little boy turned right back and made his way back to where he had started. How adorable!
MILES SAYS HIS FIRST WORD – YET ON TAPE!
It seems that the most popular of Teigen and Legend's posts online is that of their lovable children and the reason couldn't be more visible. It appears that Chrissy is particularly out to document nearly every tender moment she shares with baby Miles.
Also, via Instagram, the 33-year-old shared that the toddler has made his first word – "Yeah." In the video, while seated in a high chair, the cute little boy can be seen giving a "yeah" to every question Vilailuck, his grandma asked him.
Chrissy sweetly captioned the clip:
"when your first word is 'yeah!'" adding in a comment that Luna's had been a "no."
Miles is the youngest of two children born to Teigen and her widely acclaimed singer husband, John Legend. Their other child is three years old Luna, who is no less adorable than her baby brother.
The media recognizes the Legend couple as one of Hollywood's top famous, and this spills over into their personal life. They, however, don't shy away from the media and are known to share little peeks of time with their adorable family continuously.
The family of four only recently returned from their vacation to Italy and also as expected, documented the gorgeous spectacle of their time there on social media. If nothing else, sweet family pictures and videos like those are reasons, the pair are so widely famous on social media like they are.
Please fill in your e-mail so we can share with you our top stories!