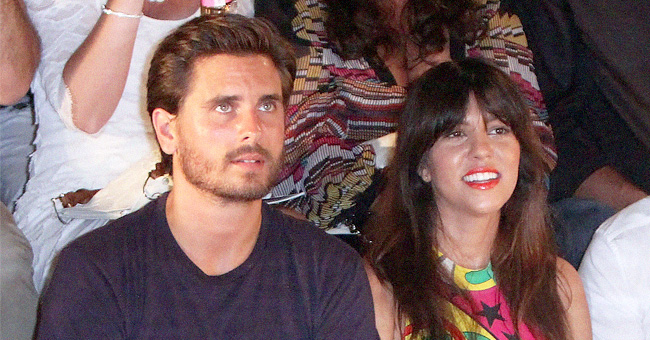 Getty Images
Kourtney Kardashian & Scott Disick's Love Story from Beginning to End
From meeting at a house party in 2006 to their eventual breakup, fans have watched Scott Disick and Kourtney Kardashian's relationship blossom and crash. The couple had been a fan favorite and some fans still want to see them reunite.
Fans of "Keeping Up with the Kardashians," both loved and hated Scott Disick and Kourtney Kardashian's relationship. They saw the births of their children, Scott's drunken stupors and even their on-again-off-again phase.
So when the couple split in July of 2015, many thought they would reunite again. However, fans were heartbroken to realize that it might truly be the end of this Hollywood duo when both Kourtney and Scott moved on with other people.
First Meeting:
Scott was 24 when he met 28-year-old Kourtney at a house party. The party was thrown by film producer Joe Francis.
"I introduced Kourtney and Scott at my house in Mexico," Josh revealed. "Scott came as the guest as a friend of mine, and they met in my master bedroom."
The pair immediately hit it off and began dating shortly after their first meeting.
First Appearance on TV
When the very first episode of Keeping Up With The Kardashians aired in October 2007, Kourtney and Scott's relationship was still in its beginning stages. Both appeared on the show.
In fact, their relationship contributed to heavily to the storyline of the first season. The season showed the couple experience a pregnancy scare very early in their relationship.
First Break Up:
In 2009, Scott and Kourtney broke up for the first time. Kourtney caught them texting a woman whose number he had saved as "My Wife."
Kourtney broke up with him and went on to start filming her spin-off show, Kourtney And Kim Take Miami. A few months later, however, they get back together.
First Child Together:
In December 2009, the couple welcomed their first child together into the world. Mason Dash Disick was born on December 14, 2009.
As expected Kourtney's pregnancy and labor are heavily featured on that season of Keeping Up With The Kardashian.
Scott's Drinking
Unfortunately, their love story hit another stumbling block when Scott's excessive drinking raised concerns. Kourtney threatened to keep Mason away from Scott unless he controlled his drinking.
"You're not going to be around Mason while you're working on yourself," she tells him in an episode of Kourtney And Khloe Take Miami. "There's not even a 1% chance ... I can't do this anymore. I love Mason more than I love you. And that's what it is."
Scott Proposes
Then in 2011 Scott makes an appearance on the new KUWTK spin-off, Kim And Kourtney Take New York. In the first season of the spinoff, fans saw Scott propose to Kourtney.
However, Kourtney refuses to marry him saying that she is not ready to commit to him in that way yet. By this point, they have been dating for four years.
Penelope is born:
On July 8, 2012, Penelope Scotland Disick was born. The second child and first daughter of Kourtney and Scott.
Is Scott Mason's Dad?
Everything seemed to be going perfectly for Kourtney and Scott until August 2013 when Model Michael Girgenti claimed he was actually Mason's dad. The claim turned out to be false and a DNA test proved that Scott was indeed Mason's father.
Scott's Mum and Dad Pass
2013 took a painful turn for Scott in November when his mum Bonnie died unexpectedly. She was only 63-years-old at the time of her death.
Kourtney attends the private funeral in Long Island, New York with him. Then just three months later, Scott's father, Jeffrey also passed away and Scott loses his way in life.
Pregnant Again & Scott Needs Rehab
Kourtney reveals to Scott in September 2014 that she's pregnant with their third child. However, Scott is still dealing with the loss of his parents and fails to come home after hearing the news.
In November, he checks into rehab but leaves the facility early. By the end of the year, they welcomed their son, ReignAston Disick into the world.
Scott Checks Into Rehab & They Break Up Again
In March the next year, Scott goes to rehab in Costa Rica. In a statement about his visit to rehab, Scott said:
"I realise my issues are bigger than me and I'm ready to truly remedy this struggle I continue to battle."
By June 2015, he is out of rehab. However, they split up for the second time after photos emerge of Scott partying on a yacht with a group of girls and his ex-girlfriend Chloe Bartoli.
Rumors of Them Dating Other People Surface:
By October 2015, fans began wondering what was happening with Kourtney and Scott. Pictures of Scott partying with 18-year-old Lindsay Vrckovnik surfaced and fans wondered if they were dating. However, both of them claimed they were "just friends".
In December the same year, the rumor mill claimed Kourtney and Justin Bieber were seeing each other. However, they also denied the claims.
Was Scott Trying to Get Kourtney Back?
After being apart for a significant amount of time, Scott was reportedly ready to win Kourtney back inNovember 2016. Us Weekly claimed he hoped their family trip to Cabo San Lucas, Mexico, with their children would help him win her back.
According to People magazine, a source close to both Kourtney and Scott claimed they were "very close and happy". Scott even posted pics of Kourtney on social media.
Back Together
Then in December 2016 E! News reported that they had finally reconciled. A source claimed,
"They are back together and giving their relationship a try again. Scott's mellowed out a lot and hasn't been partying."
Things Fall Apart Again:
Unfortunately, by February 2017, their relationship came to a screeching halt again after Scott was caught cuddling two models just hours after returning from his holiday in Costa Rica with Kourtney and her family.
Later that year, Scott admits he's a sex addict in an episode of Keeping Up With The Kardashians. In April 2017, Kourtney revealed that they were co-parenting their children even though they weren't together.
Scott Hides Woman in His Hotel Room
In an episode of KUWTK, Kim discovers that Scott is hiding a woman in his hotel room during a family trip to Dubai. In the episode, Kim cusses the woman before instructing security to escort her out.
Kourtney Moves On
Around the same time that Scott's drama was unfolding Kourtney was spotted with 23-year-old former boxer and model Younes Bendjima. According to reports, Scott was not happy with her moving on.
Scott Linked to Various Women
A few days later Kim threw water in Scott's face when she finds out he invited a woman called Chelsea on another family holiday. Then on the 17th of May 2017, Scott and 19-year-old Bella Thorne are seen having dinner together.
Then reports claimed Scott was cozying up to his ex, Chloe Bartoli. At the end of the month, Sofia Richie entered the scene.
Current Situation:
Since then, Kourtney, Scott, and Sofia have moved passed the drama. Scott and Sofia seemed to be in a serious, committed relationship and Kourtney reportedly approves of it. They were all seen vacationing together with the children.
Please fill in your e-mail so we can share with you our top stories!