Selma Blair Called an 'Inspiration' over a Photo of Her Shaved Head Amid Her MS Diagnosis
Selma Blair posted a photo on Instagram to mark a "banner day" and her new appearance with a shaved head has earned her massive respect on social media. 
The actress is viciously fighting Multiple Sclerosis and does not let it dim her spirits down. She recently completed one treatment for the chronic disease and shaved her head amid the process. 
Blair's new Instagram post marks the completion of her treatment as she got discharged from the hospital. 
Mentioning that she will be immunocompromised for the next three months, the actress wrote:
"Today is a banner day. I am being discharged from the care of an incredible team of nurses and techs and a visionary Dr. who believes in my healing as much as I do. This has been a process. And will continue to be one. I am immunocompromised for next three months at least. So no kisses please."
Standing next to her Alinker bike that aids walking, Blair looked determined and ready to leave her hospital room in the picture. 
Continuing her post, she added:
 "I wanted to make sure any complications that might arise here were my private space. And we got through brilliantly. I thank you all for your love and support and that extra dose of great with a @people cover. I see things so much more clearly now. And I am excited to share this journey when I am ready. For now, I have recovery. And a great @the_alinker_world so I gotta split. Bye!!!!!! This is the best gift I could give to Arthur."
We can only imagine how happy the actress must be to go back home to her beloved son, Arthur Saint Bleick, who she shares with ex-husband, Jason Belick.
Fans showered the actress with positive comments, saying that they are proud of her.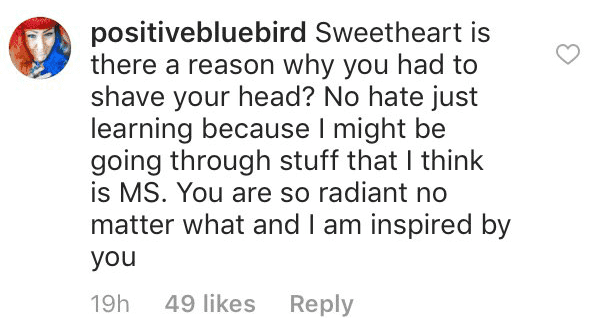 LIVING WITH MS
On October 20, 2018, the actress announced that she has been diagnosed with MS through an Instagram post. She received her diagnosis on August 16.
When the actress fell in front of Dr. Jason Berkley, the brother of her co-star Elizabeth Berkley, she went through an MRI test that revealed several lesions. 
According to Blair, she was probably suffering from the disease from the past 15 years but never got herself checked. 
After her diagnosis, the actress has been honest about how she feels and does not hesitate to speak up about it.
"I feel like throwing up all the time. Still, she makes a point of celebrating her victories, no matter how small. "I celebrate everything! If I take a shower, if I put on eyeliner," she told PEOPLE in an exclusive interview.