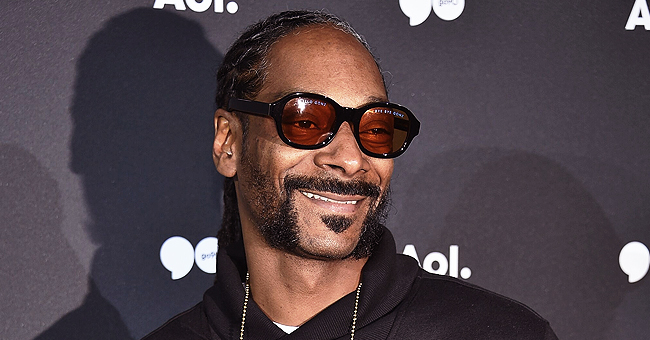 Getty Images
Snoop Dogg's Dad Looks so Much like His Great-Grandaughter in Pic with Grandson

Snoop Dogg's father who looks so much like him also shares an uncanny resemblance with his grandson and great-granddaughter. A photo that the 69-year-old shared is a testament to this.
As Snoop Dogg's family continues to multiply, his father, Vernell Varnado delights in it. In fact, a photo with his grandson and great-granddaughter reveals his pride in being their poppasnoop.
THREE GENERATIONS OF LIKENESS
Vernell and Snoop may have drifted apart when the rapper was growing up but they now enjoy being grandfathers together. Vernell has four grandchildren courtesy of Snoop, who has two grandchildren of his own.
Vernell left Snoop's mother, author Beverly Tate not long after they welcomed their only son, born Calvin Cordozar, who took on his stepfather's last name, Broadus
Last month, Vernell, who goes by the handle @poppasnoop on Instagram spread warmth on his feed when he posted a rare pic of him, Snoop's son, Corde Broadus aka Spank, and his daughter, Eleven.
The image was a stunning representation of the family's uncanny resemblance. Three generations sharing the same features, add to that Snoop who wasn't with them in the photo but could very well join them to complete the succession.
SNOOP'S RELATIONSHIP WITH HIS FATHER
Vernell left Snoop's mother, author Beverly Tate not long after they welcomed their only son, born Calvin Cordozar, who took on his stepfather's last name, Broadus.
It was only when the celebrated rapper reached high school that the Vietnam vet saw him again after years of communicating over the phone.
The 69-year-old invited Snoop to spend the summer with him in Detroit, around the same time he helped his son escape jail time stemming from several brushes with the law.
Snoop valued his relationship with his father whose music inclination rubbed off on him. Vernell used to sing gospel music with his family band, Sensational Varnado Brothers before settling for a life as a delivery man.
Snoop showed his appreciation for his father after achieving success in the 90s. He invited his pop to live with him in Southern California, prompting Vernell to leave Detroit and his job in the post office to be with his son.
SNOOP'S FAMILY TREE
That must have been the best decision Vernell made seeing how happy he is today to be with Snoop's family. Snoop has three children with his wife of more than 20 years, Shante Broadus who he married twice - the first time In 1997 and the second in 2008 after divorcing in 2004.
The formidable couple shares two sons who were born before they first wed, musician Corde, 24, and model/actor Cordell, 22 and they also have a daughter, Cori, born in 1999.
Snoop has a fourth child, Julian, who was born in 1998 to Laurie Hammond. The rapper was estranged from Julian until 2007 when he acknowledged him as his own.
The Broadus family tree has grown since then with the addition of two grandchildren courtesy of Snoop's eldest, Corde.
He has a four-year-old son, Zion with former girlfriend Jessica Kyzer and an 11-month-old daughter, Eleven, with his current girlfriend, Soraya.
He's expecting a third grandchild soon, with the impending birth of Cordell's first child with his girlfriend, Phia Barragan. The pair is expecting a girl according to the actor who made the announcement back in January.
THE WACKY BROADUS CLAN
Snoop has nothing but love for his family who graces his Instagram from time to time and who shares wacky moments with him on occasion.
One such moment was featured in a clip shared by his daughter where Snoop, Shante, Cori and Cordell bust some moves to fans' delight.
It was unclear what the occasion was but we're guessing it was a celebration for Cori who flaunted her family's craziness in the clip. Check it out below.
What a delight it is to see Snoop's family moments. He may be a successful musician but he is clearly as much a successful family man.
Please fill in your e-mail so we can share with you our top stories!