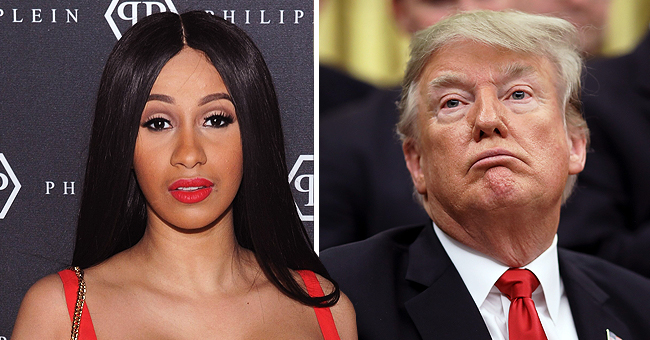 Getty Images
Cardi B Blasts Trump over Police Brutality against People of Color
Cardi B has been encouraging her followers to get educated about the candidates for the upcoming election, and in the middle of one of her recent rants on politics, she slammed President Donald Trump for his lack of empathy when it comes to police brutality against men of color.
Cardi B has never been shy of speaking her mind about the U.S politics, and in a recent Instagram Live, the 26-year-old rapper called out President Trump for his apparent lack of interest when it comes to police brutality, especially against black people.
"Every single time I see a black man get killed or mistreated by the police, I just keep saying like, 'what the [expletive]? Nobody gives a [expletive]. Nobody cares? Nobody cares?'" Cardi said. "And I stopped saying that because nobody do care! Nobody cares. He don't care. He don't care."
RALLYING FOR A CHANGE
The "Money" MC continued my comparing Trump's attitude to that of his predecessor, Barack Obama, whom Cardi feels at least made the country aware of his position on the matter.
"At least when Obama was president, he released a statement letting us know he feels like it's wrong. He feels it. He sees it," she said. "This guy - I know he seen it and he don't give one [expletive]."
And added:
"I feel like police brutality is going to keep going until he's [no longer] president. Until he's [no longer] president, nothing is going to be done about police brutality."
Cardi went as far as to comparing police brutality to misbehaving children that think they can get away with their shenanigans because no one will discipline them or punish them.
"That's what the cops are going to be doing: 'Oh, I can get away with killing a black man? I can get away with beating the [expletive] out of a black man? Then we're going to keep doing it.," she stated.
CARDI GETS PASSIONATE ABOUT POLITICS
The mother of one has been vocal about her support for Senator Bernie Sanders. She's also been rallying on social media for people to get educated about the upcoming 2020 elections and the candidates on the run.
"Please get educated about these candidates so we can get this [expletive] the [expletive] out because he don't give a shit. And shit could get worse," she concluded in her live session.
Cardi has also slammed people who believe she's trying to get involved in politics "for clout."
In a now-deleted Instagram video, the Grammy Award winner explained that she's using her privileged position to try and reach as many people as possible so that everyone is aware of their responsibility to vote.
"However, you wanna keep up bringing up I'm not taking advice from a stripper," she said. "Ok, when you get stuck with the same president that y'all complaining about every other day, then it's like oh you see, you should have listened to the stripper."
BERNIE SANDERS' RESPONSE
Unlike many of her followers and haters, who believe Cardi shouldn't get involved in politics, Sen. Bernie Sanders recently praised her for her interest in making the country a better place.
On his visit to Jimmy Kimmel's show, Sanders was asked about receiving Cardi's support, and he said:
"She is really smart, and she is deeply concerned about what is happening in this country. That's the truth. She comes from a humble background, and she wants to make sure that we can improve life for working people in this country."
Cardi shared the clip on Instagram saying her high school history teacher would be happy.
"Believe it or not guys, I was in advanced placement in high school for government and history. It was a subject that I learn fast cause I naturally love it! I even took more classes in college, but I dropped out cause money came first and I was also a chasing dirty a— men," she added in her caption.
"I want us this year to get more familiar with or candidates 'democratic my preference,'" she concluded. "Take a little bit of our time and open our eyes on what's going on in this country and how we can change it."
Please fill in your e-mail so we can share with you our top stories!