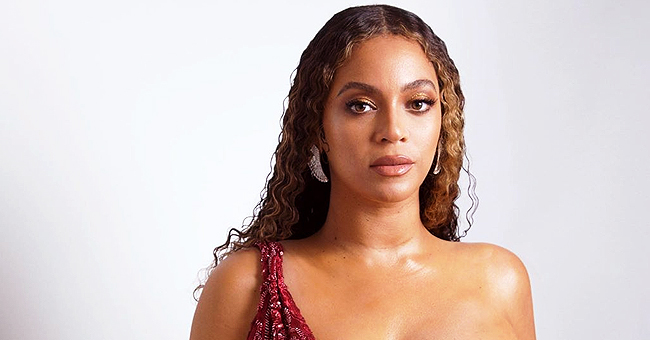 Instagram/beyonce
Beyoncé Shows up for Niece's Great Gatsby-themed Party in Sparkly Ruby Red Gown
Beyoncé is always dressed to impress, and as she took a break from her "Lion King" promotions to attend her niece's birthday party, the singer stole the spotlight in a body-hugging red gown that put her toned leg on display.
Beyoncé is currently basking in the success of Disney's remake of the "Lion King," where she voices Nala, and the release of her soundtrack for the movie, "Lion king: The Gift."
But over the weekend, the mother of three took a break from her tight schedule to join her husband Jay-Z at a Gatsby-themed birthday party for their 21-year-old niece Teanna Carter in New York City.
SHOWSTOPPING COUPLE
The power couple easily stole the spotlight. Beyoncé donned a one-shoulder custom red gown by Walter Collection that featured a hip-high slit and all-over embellishment, putting her toned leg on display.
She completed the look with feathery-tassels Jimmy Choo sandals, jewelry from Lorraine Schwartz and a matching fur shawl. Her curly hair fell on her back, and she rocked makeup in earth tones to enhance her natural beauty.
Jay-Z, on the other hand, looked dapper in a white tuxedo, matching silk scarf, black pants, and bowtie, and a white walking cane to add more dramatics to the outfit.
FANS' REACTIONS
Knowles took to Instagram to share a series of pics from the evening showing off their outfits, and the fans' response, as usual, was to gush about the powerful energy the couple exudes.
"THIS LOOK!!! Big divine feminine energy!!! Goddess vibes!!! Starlight shining so damn bright. I HAVE to stan!" one user commented.
Another added, "Ohh I love this look!!! Beyonce is bringing the human cartoon femme fatal Jessica Rabbit back to the future." And a third one raved:
"Lookin' like billionaires. Most powerful couple in the business period!! Go Yonce and Jay-Z!"
RECLAIMING HER FIGURE
Although the "Formation" singer looks terrific these days, she has been open about her struggle to shed weight and get back in form for Coachella after giving birth to her twins, Sir and Rumi, in 2017.
In a new video, the 37-year-old revealed she weighed 175lbs the day she started her preparations for Coachella. She recorded the scale and said the number was "every women's nightmare," adding that she had "a long way to go."
The clip is part of Queen B's new partnership with her friend and physiologist Marco Borges to promote the 22 Days Nutrition program, a plant-based diet that according to the clip, helped Beyoncé get back in shape just in time for her Coachella performance.
"I'm back on the stage after giving birth to twins. I was a woman that felt like my body was not mine," Beyoncé says in the clip.
MENTAL AND EMOTIONAL STRUGGLES
Knowles previously shared her road to Coachella on her Netflix documentary "Homecoming," where she revealed how tiresome the process was not only physically, but also mentally and emotionally as a new mom of twins.
"Just trying to figure out how to balance being a mother of a 6-year-old and of twins that need me — and giving myself creatively and physically, it was a lot to juggle," she confessed.
And added:
"It's not like before when I could rehearse for 15 hours straight. I have children. I have a husband. I have to take care of my body. I definitely pushed myself further than I knew I could. And I learned a very valuable lesson. I will never, never push myself that far again."
Eventually, her hard work paid off, and her performance was an unforgettable one.
Please fill in your e-mail so we can share with you our top stories!