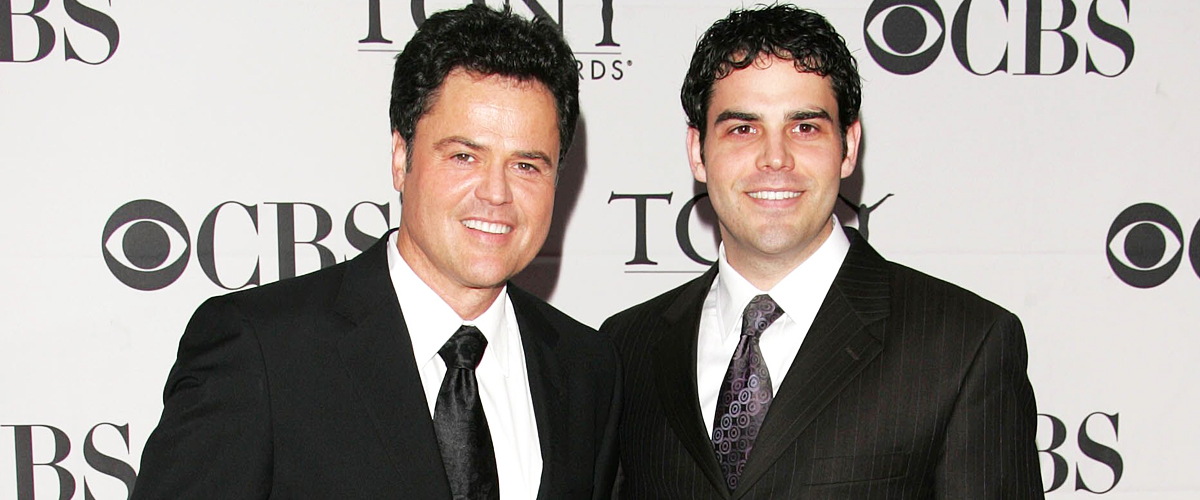 Getty Images
Donny Osmond's Fans 'Can't Believe' Son Donald's Age as He Wishes Him on His 40th Birthday

Donny Osmond might have a big family, but he never misses the chance to wish a loved one a happy birthday, especially when it comes to his children.
Recently, on July 31, the famous musician took to his official Instagram account to share a picture of his son Donald, who celebrated 40 years on earth.
Along with the snap, in which Donald can be seen sweetly smiling at the camera with the sea behind his back, Donny left a nice and funny birthday message.
PAYING TRIBUTE TO HIS ELDEST CHILD
The caption read:
"Happy 40th birthday to Don, the fearless leader of our #Osmond pack! I'm proud as can be to call you my son. If you're turning 40, that makes me… well, never mind. I hope you have a wonderful day with Jessi and the kids. We love you, Don!"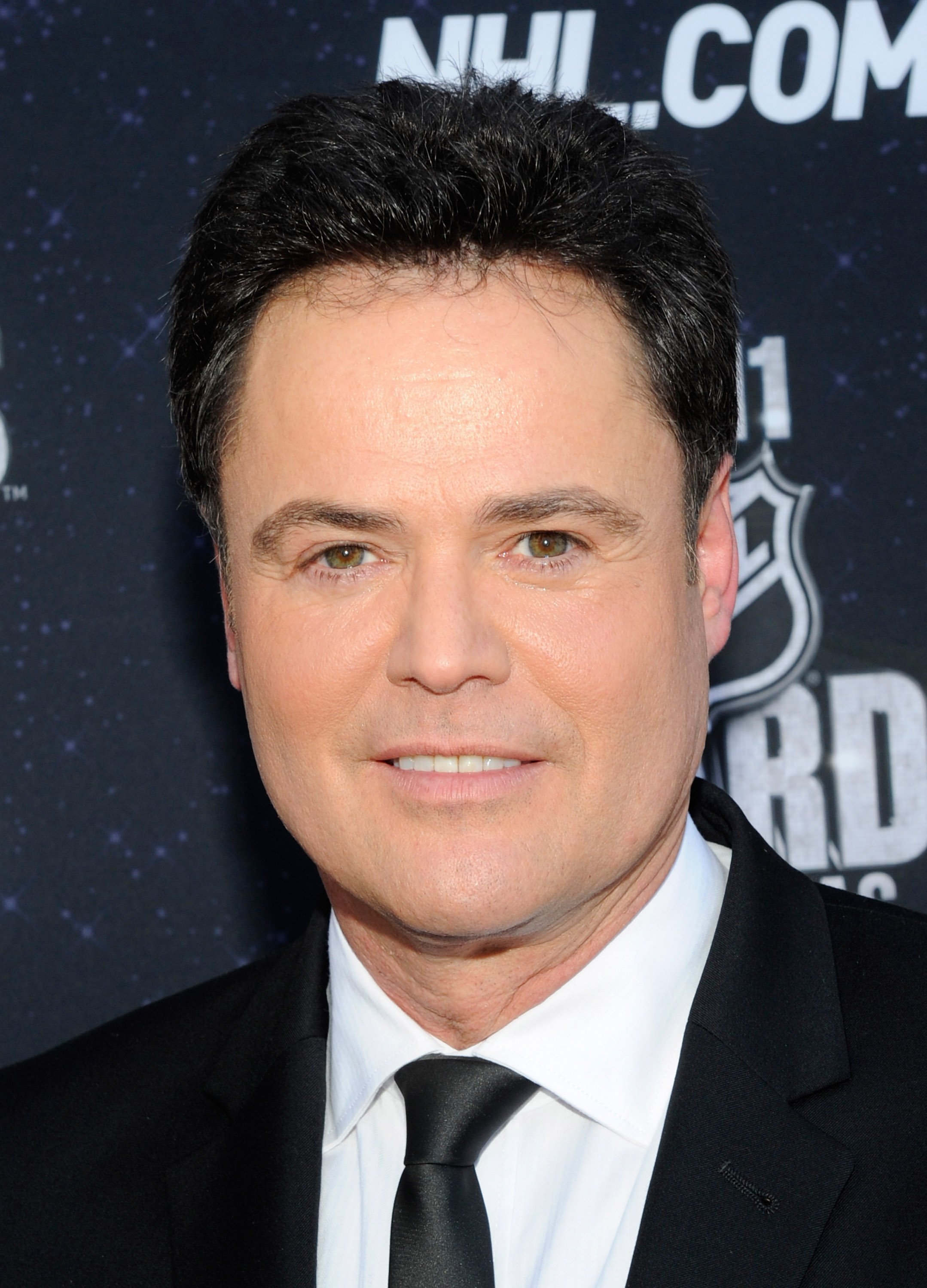 Donny Osmondat the 2011 NHL Awards at the Palms Casino Resort in Las Vegas, Nevada | Photo: Getty Images
Based on Donny's reaction, one could say that he still doesn't quite believe that he has a 40-year-old son, and he confirmed that suspicion while responding to an Instagram comment.
When a fan kindly said that it wasn't possible for him to have a son that age, the musician jokingly replied: "That's what I keep telling myself," while using a couple of laughing emojis.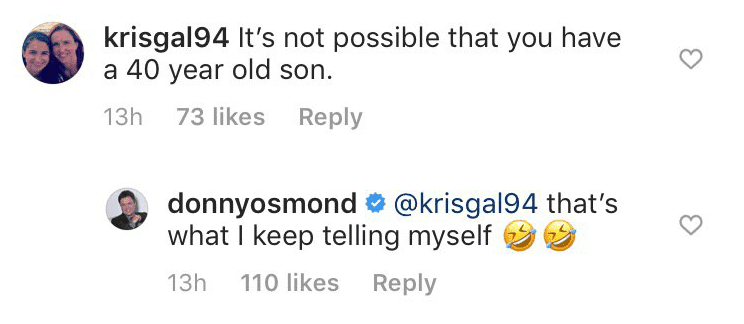 Photo: Instagram/donnyosmond
A TRIP DOWN MEMORY LANE
Another fan said that they look so much alike that they could very well be brothers, and that Donald hasn't aged that much. A user named Deborah Simon, however, went above and beyond.
Aside from wishing Donald a happy birthday, she also took a stroll down memory lane by remembering the day Donny and Debra Glenn, his wife, tied the knot at the age of 20, in 1978.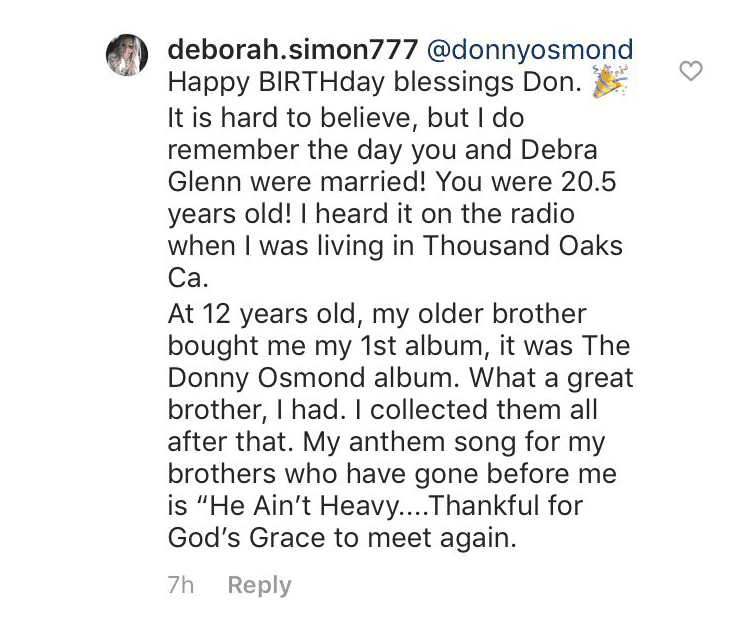 Photo: Instagram/donnyosmond
According to her, she learned of the ceremony through the news on the radio while living in Thousand Oaks, California, and started collecting his albums after her brother gave her "The Donny Osmond Album."
A couple of months ago, in February, Donny also wished his son Brandon Michael, who turned 34, a happy birthday through Instagram. In his honor, the singer shared a photo of himself shaking hands with the boy he raised with love.
Please fill in your e-mail so we can share with you our top stories!