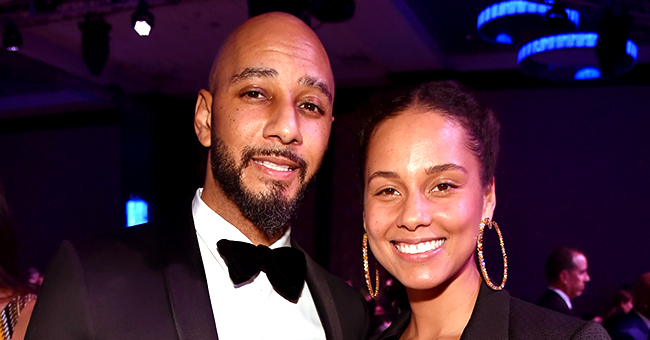 Getty Images
Alicia Keys Posts Sweet Message to Husband Swizz Beatz on Their 9-Year Anniversary

Alicia Keys and Swizz Beatz are celebrating their 9th wedding anniversary, and the "Raise A Man" singer made sure to express her heartfelt gratitude to her "biggest supporter" throughout their marriage.
Alicia shared a sweet photo of both of them locking lips, sharing how as time passes by, she gets more and more in love.
"I swear I have never been more in love with you! You are EVERYTHING. My best friend My lover My mindsharer My life partner My cheerleader My dream increaser My biggest supporter I could list 100 more."
Feeling like the lucky girl that she is, Alicia went on to say that she feels really blessed to be his wife and continues to be stunned by the power of love.
"I am SO blessed by your love Happy anniversary my king I'm so in awe of the power of love."
Crossing Paths Again
Swizz and Alicia met when they were teenagers, but it wasn't love-at-first-sight. In fact, Alicia didn't like him very much because he seemed "over-the-top."
"Everything with him is really over the top. I used to see him and think, 'He is so annoying.'"
However, decades later, she married him in 2010 and they share two children together, Egypt Daoud Dean and Genesis Ali Dean.
A Happy Blended Family
This came after Swizz separated from his first wife, Mashonda Tifrere, whom he has a son with named Kaseem Jr.
The blended family remains to be in good terms, with Tifrere even writing a book about their blended family entitled "Blend: The Secret to Co-Parenting and Creating a Balanced Family."
With Alicia's full support, the three of them have been able to co-exist and co-parent peacefully, for the sake of their children.
Before getting married to Tifrere, Beatz also fathered two other kits, Prince Nassir, 18, and Nicole, 10.
Whatever the past was, Swizz, Alicia, and Mashonda have been able to rise above it. In fact, they even go on blended family vacations together and it all seemed like a lot of fun.
An Announcement to Men
While he and Mashonda traveled together with Keys, he made sure he gave Alicia some undivided attention by showing men how they're supposed to treat their successful wives.
"Attention all MEN!! You shouldn't be jealous or upset if you have a Queen that's successful, Smarter or better than you! What you should do is thank the most high or step your game up! I can't stand when I see brothers jealous of the lady they're with that shit is very weak!!!!! #Realtalk Lady's keep doing you."
This and a whole lot more are the reasons why Alicia falls more and more in love with Swizz Beatz, and their 9th anniversary is just another milestone for them to celebrate.
Happy Anniversary, Deans!
Please fill in your e-mail so we can share with you our top stories!