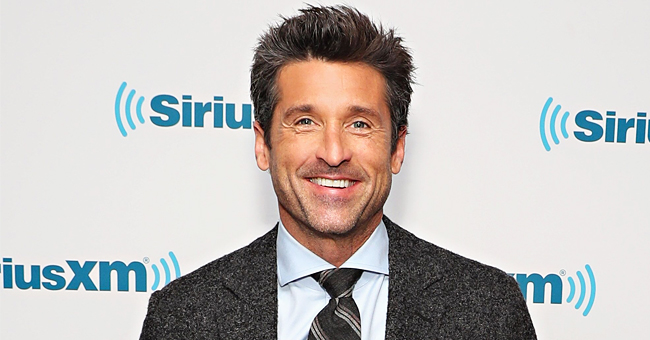 Getty Images
Patrick Dempsey of 'Grey's Anatomy' Steps out with Wife Jillian & Their Lookalike Kids in LA
Famous "Grey's Anatomy" star, Patrick Dempsey was every bit the family man as he graced the red carpet with his wife of two decades, Jillian Fink and their adorable children.
Dempsey's exit from the widely acclaimed medical series "Grey's Anatomy" in 2015 left his fans shattered. He, however, remains a famous face in Hollywood and so taken on filmmaking. His most recent work is executive producing the comedy-drama, "Art of Racing in the Rain."
The film premiere held on Thursday, August 1, in Los Angeles and Dempsey delighted fans when he attended the event with his family. The group of five looked stunning and picture-perfect impeccably dressed for the high-end occasion.
Dempsey wore a Brunello Cucinelli outfit which included a white shirt, grey plaid jacket, trousers, and black shoes. His wife of two decades, Jillian Fink was no less dashing; she wore floor-length dark blush dress.
The celebrity makeup artist brought the chic look to perfection with her blonde hair shoulder-length and parted in the middle, her face sporting sleek makeup.
The Dempsey children, Tallula, 17, the twin boys, Darby and Sullivan, 12, were no less perfect. Like her gorgeous mother, Tallula wore a floor-length multicolored dress and black sandals. Darby and Sullivan wore designer outfits and matching sneakers.
The group of five looked indeed perfect together, and the children's resemblance to their parents made the photos even more charming.
The movie premiere called for an indeed special appearance from the family because producing movies is one aspect of entertainment that Dempsey has always longed to engage in.
Although "The Art of Racing in the Rain" is yet to be released, it is a promising one. It follows Enzo (voiced by Kevin Costner), as it reflects on his relationship with his human family and the importance of his being with them.
Dempsey previously produced his 2011 film "Flypaper," a mini-series titled "The Truth About the Harry Quebert Affair," and documentaries including 2014's "The Peloton Project" and this year's "Hurley," about race car driver Hurley Haywood.
Dempsey is also reportedly set to star in the soon-to-be-released short series titled "Devils." The handsome star has a lot on his hands, but by the looks of things, he is well-experienced to know just how to juggle family life with his career.
If it includes more stunning red carpet appearances like this with his beautiful family, then there is no problem! Here's to seeing more of the Dempseys together like this!
Please fill in your e-mail so we can share with you our top stories!