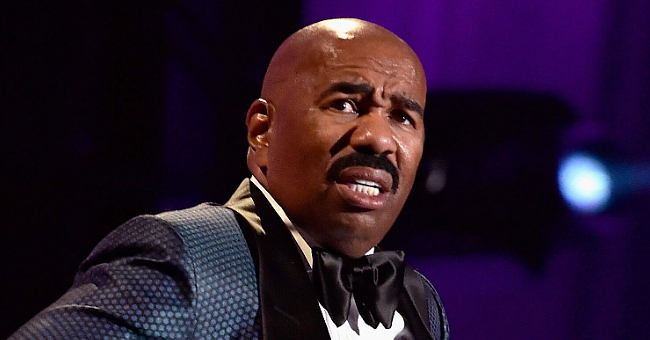 GettyImages
Sean 'Diddy' Combs and Rumored Girlfriend Lori Harvey Vacation in Italy with Her Parents Steve and Marjorie (Photos)
Sean Combs and Lori Harvey keep on fueling the rumors about their alleged romance after they were spotted having lunch with Lori's family in Italy. Combs is there vacationing with his children, while Lori is doing the same with her parents, Steve and Marjorie Harvey.
The internet still refuses to believe that 49-year-old Sean "Diddy" Combs and 22-year-old Lori Harvey might be a new couple, but new photos from a friendly family reunion in Nerano, Italy, seem to suggest they more than "just friends."
A FAMILY AFFAIR
Harvey is currently in Capri, Italy, vacationing with her parents and some of her siblings, while Diddy is there with his children. But over the weekend, Diddy joined the Harveys at an exclusive restaurant in Nerano and judging by the paparazzi photos; everyone was in a good mood.
Diddy and Marjorie Harvey shared videos on their respective Instagram accounts of the same bartender show, and later, paparazzi photos caught the music mogul having a chat with Steve, 62, who didn't seem bothered by the fact that his youngest step-daughter is dating a man twice her age.
Lori and Diddy were caught whispering to each other, laughing together, and getting super close while drinking champagne. So, although most fans wanted to believe Lori and Diddy are just family friends, the pics suggest a different kind of intimacy.
What makes the situation even more complicated, is that Lori allegedly dated Diddy's son Justin earlier this year. Although they never confirmed or denied that relationship.
FUELING DATING RUMORS
Rumors about Diddy and Lori first surfaced last March, when she was caught hanging out with the rapper at an after-party.
At the time, a spokesperson for Diddy told TMZ that Lori was there as a longtime family friend of the Combs, and denied there was something else going on between her and Diddy.
At the time of Kim Porter's passing, Lori took to Instagram to share a heartfelt tribute for the woman she called "Momma Kim."
Last month, the two were caught entering the same restaurant in Malibu, although they avoided being seen together. And a few weeks later, they were found taking a stroll around the Soho neighborhood in New York City while donning matching outfits.
MOVING ON FROM PAST RELATIONSHIPS
It is the first time Diddy has been romantically linked to someone after the death of Kim Porter, the mother of three of his children, and his split from longtime girlfriend, Cassie Ventura, late last year.
At the time of Kim' passing, Lori took to Instagram to share a heartfelt tribute for the woman she called "Momma Kim," writing:
"Having a hard time processing this one...you were such a beautiful person inside and out. Thank you for always being so sweet and loving to me. I'm so glad I told you how much I loved and missed you last time I saw you. Your energy was truly something special. An angel on earth and now in heaven. RIP Momma Kim."
Fans think it is disrespectful that Lori seems to be dating the man that has been grieving "Momma Kim's" loss for the past eight months while claiming she was his "soulmate."
Although Diddy and Lori haven't addressed the dating rumors, they seem to be happy around each other, and at the end of the day, that's all that should matter.
Please fill in your e-mail so we can share with you our top stories!