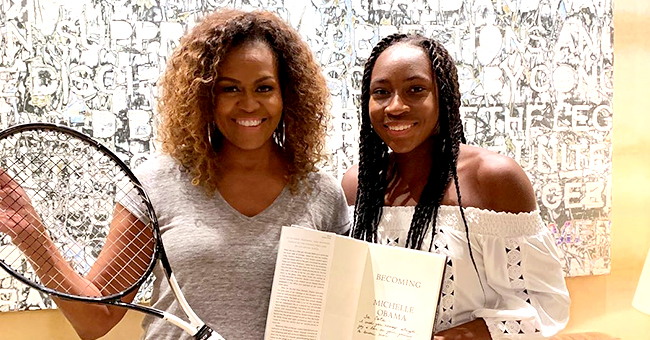 Instagram/cocogauff
Michelle Obama and Teenage Tennis Star Coco Gauff Exchange Autographs at the Citi Open in Washington (Photo)
Tennis rising star Cori "Coco" Gauff met former first lady Michelle Obama and was left "speechless" by the encounter.
The 15-year-old player and Obama exchanged their autographs and posed together for a memorable photo that they later shared praising each other.
As Coco Gauff visited Washington D.C to play in the City Open — where she won her first WTA doubles titles alongside partner Catherine McNally — the tennis star had the chance to meet one of her idols: Michelle Obama.
FIRST IMPRESSIONS
The former first lady first acknowledged Gauff last June, after her third-round comeback over Polona Hercog.
"Coco is terrific!" Obama tweeted alongside a clip of highlights from that game.
Following the tweet, Gauff told CNN that she was excited to receive Obama's attention since she's one of her idols. "It was just cool to see that she knows I exist," the teenager said.
Last Thursday, the pair had a chance to meet face to face finally.
MEETING WITH GREATNESS
Gauff first took to Twitter to post a photo of the hug she shared with Obama, explaining in her caption that she was left "speechless."
"I think there are some 15-year-olds, like me, who wouldn't know what to do at Wimbledon. Then you have a 15-year-old like Coco who knows what to do." - Serena Williams.
Later, it was Michelle who shared a photo posing alongside Coco, which shows they exchanged signed memorabilia to mark the encounter.
Gauff gifted Obama with one of her tennis racquets and Obama gave her a copy of her 2018 memoir book, "Becoming."
"Today I got to meet my idol @michelleobama," Coco wrote on Instagram. "Her words and wisdom on my journey will stay with me on the court over the course of my career. She is a true inspiration. I have never arrived. I am always becoming! Thank you for your time."
Obama, on the other hand, said that she was "thrilled" to visit Gauff, and continued:
"When we talk about the potential of our young people, we often think about it as some far-off promise, years or decades away. But the truth is they have so much to offer us right now—something we all saw a few weeks ago at Wimbledon. Coco is a wonderful young woman who's showing us that we don't have to wait to see what the next generation can do."
COCO'S RISING POPULARITY
Coco Gauff, who is still a high school student, became the youngest player to qualify for Wimbledon's main event and beat her idol and inspiration, Venus Williams in a historic game that proved the world what she's capable of.
Even 23-times Grand slam winner Serena Williams praised the girl, saying that she's a big fan and "I am so excited for her. Love her family. Gosh, I just couldn't feel more proud."
"I think there are some 15-year-olds, like me, who wouldn't know what to do at Wimbledon," Serena told reporters after winning the fourth round of Wimbledon. "Then you have a 15-year-old like Coco who knows what to do."
Gauff is now looking forward to playing in the U.S Open.
Please fill in your e-mail so we can share with you our top stories!