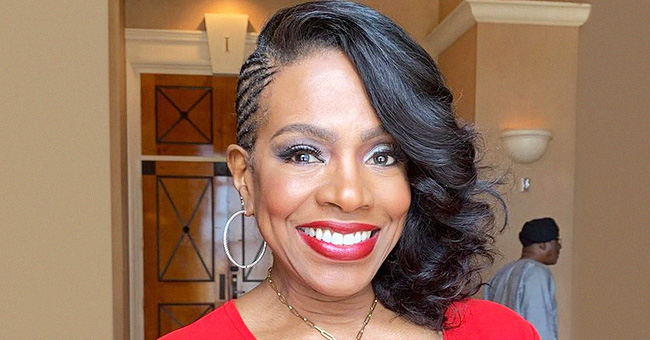 Instagram/diva3482
Sheryl Lee Ralph Shared a Throwback Photo of Her Wedding Day Featuring Her Star-Studded Bridesmaids
"Dreamgirls" star Sheryl Lee Ralph is celebrating 14 years of marital bliss with her husband, Senator Vincent Hughes.
To commemorate the occasion, Ralph has been sharing several pics form her wedding day, and fans were amazed after seeing one photo of her star-studded bridesmaid party.
July 30 was a special day for Sheryl Lee Ralph and Sen. Vincent Hughes, as they celebrated their 14th wedding anniversary. However, the couple couldn't be together on the day, as Ralph is currently in Vancouver filming a secret project.
STAR-STUDDED WEDDING
So, to make up for it, the 62-year-old actress took to Instagram to share several throwback pictures and stories from her wedding day, leaving fans in awe of her gorgeous dress, her sorority sisters, and the star-tier of her bridesmaids.
A photo of Ralph and Hughes surrounded by their eleven bridesmaids shows that Sheryl had the pleasure of having people like her "Dreamgirls" co-star Loretta Devine, Soap star Victoria Rowell, Judge Mablean Ephriam from "Divorce Court," actresses Niecy Nash, Jenifer Lewis and AJ Johnson, and the legendary singer Patti LaBelle as part of her bridal party.
"God bless my Bridesmaids who I am still in loving touch with to this day! Thank you all for standing with us 14 years ago!" Ralph captioned her star-studded photo.
FANS' REACTIONS TO THE A-LIST BRIDESMAIDS
Fans took over the comment section gushing about Sheryl's wedding, and one user even joked saying she could have sold tickets at the door with all of the stars in attendance
"That legendary bridal party!! Did you sell tickets at the door?! Because you could have! Lol woooow your wedding was the bomb.com!" the user wrote.
Another fan added, "You look utterly QUEENLY! What a gorgeous wedding party, such a great way to honor love and faithfulness."
And a third one pointed out,
"This looks like the class picture for the Academy of Black Experience."
A FUN ACNEDOTE WITH JENIFER LEWIS
Aside from pictures, Sheryl also shared a video telling a fun story from her wedding day that involves "Black-ish" star, Jenifer Lewis.
Ralph recalled that she was ready to get through the doors of the church when Lewis looked at her and said: "uh, Ralph, I know this is your wedding and your day. But I may never have one. And so when I come through those doors, it is all about me.'"
Sheryl was quick to add that she still loves Lewis no matter what, making it clear that it was all in good fun for them.
Lewis was quick to take to the comment section and reply to the accusation, saying at first that it was "all lies," and later admitting she did say that: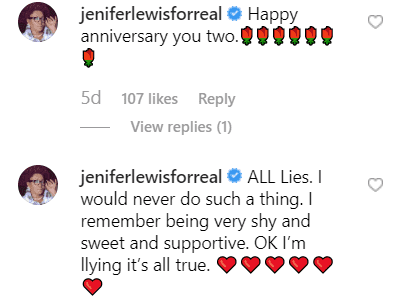 Jenifer Lewis comments on Sheyl Lee Ralph's Instagram video. | Source: Instagram/diva3482
THE SECRET TO A SUCCESSFUL UNION
Both Ralph and Hughes had been married once before they started dating in 2002. They also had two kids each from those previous relationships, so it was essential for them to have counseling to blend their families.
"When it comes to blending your family, you have to figure out who you are in the relationship," Sheryl told Essence.
"I'm not trying to be his children's mother, because they already have a mother, and they love her. Just like Vincent is not trying to be my children's father."
For Hughes, Sheryl is a blessing in his life, so they try to always have honest communication even in the most challenging times.
"This relationship and this love is a blessing, and I try to treat it that way," he admitted. "We thank God in prayer several times a day, both together and apart in prayer."
Please fill in your e-mail so we can share with you our top stories!