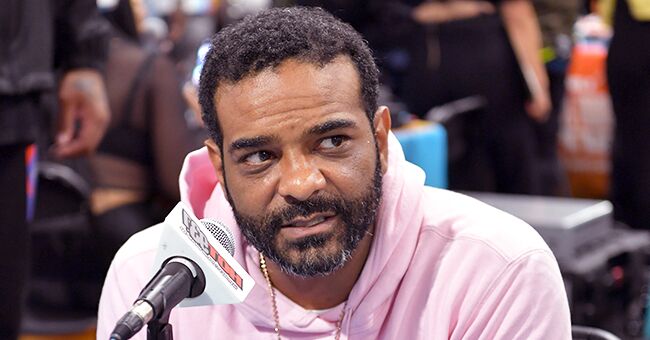 Getty images
Jim Jones and His Family Mourn the Loss of Their Pooch House
Rapper Jim Jones and his family are mourning the loss of a beloved family member.
Jim Jones posted a heartfelt tribute to his beloved dog, House, who passed away of unknown causes and has left the rapper and his family bereft,
Mama Jones and the rapper's fiancé, Chrissy Lampkin. also expressed their sorrow at House's passing on Instagram.
"My heart is broken ? rest in peace House. Thank you for all the love Loyalty and laughter you've brought into our lives #thrsweetestdogever" Chrissy Lampkin
JIM JONES: "I'M GONNA MISS U"
The rapper posted a series of adorable photos of House napping happily by his side and eating a watermelon with gusto.
Jones thanks House for all the joy he brought the family, and for his unswerving loyalty and devotion throughout the years.
"U fought a fight I don't think I ever could and u never complained ur love was overwhelming I can feel u Lickin my leg right now when I'm sleeping I'm f_____d up over this one house ur spirit is unmatched If I get to meet u again in th spiritual form maybe we can have a conversation and laugh at all th good times ?#HouseJones" he wrote.
The family is deeply affected by the passing of their beloved pet
MAMA JONES' ADMITS HOUSE'S LOSS "HURT SO BAD"
Jones mother, Nancy, best known to the fans as Mama Jones, posted a heartbreaking photo of the rapper in what looks like a veterinarians' office comforting a supine House in what looks like his last moments.
"Please make sure you all give my son me and my family prayers because this Hurt so bad straight to the heart! that God would heal us in timing! Because it hurt so bad! Rest in peace my Granddog House! He's resting this morning in peace my son was a good dad to House! He's missed so bad!" she wrote in her caption.
FIANCÉ CHRISSY LAMPKIN MOURNS HOUSE
Jones' longtime love and fiancé Chrissy Lampkin also spoke lovingly of House and his place in the family's heart. She thanked House for the laughter. love and loyalty he'd brought into their lives.
HOUSE WILL BE SORELY MISSED
The family is deeply affected by the passing of their beloved pet, and although no cause of death was announced. Jones' reference to House's uncomplainingly "fighting a fight I never could," hints at a long illness.
The Jones' family, including Joseph Guillermo Jones III, 15, are grieving their old friend. We wish them peace. Remember the good times. R.I.P. House.
JIM JONES PAYS TRIBUTE TO CHRISSY LAMPKIN
Jim Jones' longtime fiancé Chrissy Lampkin will be by his side to help him through this dark moment. He has often lauded her strength, and in a recent tribute on her 48th birthday, he described her as:
"A soldier that I love so much."
Jones and Lampkin have been in a relationship since 2004, and became engaged 8 years ago when Chrissy proposed to the rapper on the set of "Love & Hip Hop Atlanta." We are just waiting for them to set the date!
Please fill in your e-mail so we can share with you our top stories!