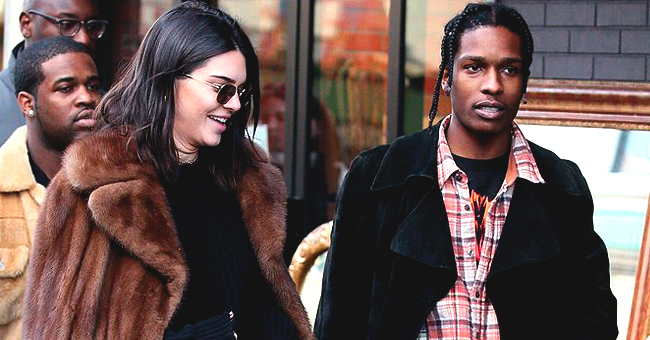 twitter.com/etnow
A$AP Rocky Spotted with Kendall Jenner at Kanye West's Sunday Service after His Release from a Swedish Jail
A$AP Rocky is back in the USA, but is he also back together with his old fame Kendall Jenner?
A$AP Rocky who arrived in the US on August 3, clearly had Kendall Jenner at the top of his must-see list.
A since-deleted fan video caught the rapper and the model at Kanye West's Sunday service on August 4 - just days after A$AP Rocky was released from prison in Sweden.
A$AP ROCKY AND KENDALL JENNER SEEN TOGETHER
The two, who are rumored to have had a relationship in the past, were seen walking side by side, going to the religious service.
Kendall neither confirmed nor denied the relationship, explaining:
"The amount of times I see people together for a couple months and they're together so hardcore and they show it and they flex it everywhere and a couple months later they break up or something happens. They have to explain themselves to everyone. I don't want to do all of that unless I'm completely certain in a relationship or it's been a while."
Rocky was released from custody and allowed to return to the USA to await the verdict scheduled for August 14.
KARDASHIAN CLAN SUPPORTED A$AP WHILE HE WAS IN PRISON
Another sign that A$AP may already be considered a part of the Kardashian/ Jenner family, is that Kanye was a very active advocate for the rapper, and even got President Trump to intervene on his behalf.
KIM KARDASHIAN THANKS TRUMP ON A$AP'S BEHALF
Kendall's big sister Kim, even tweeted the President to thank him for his support after A$AP was released from a Swedish prison and allowed to return to the US, even though the result of his trial for assault is still pending.
AN OLD FLAME REKINDLED WITH KENDALL?
Kendal and A$AP have a lot of history together and were romantically linked throughout 2017, and even though the model has since been said to have dated Blake Griffin, Harry Styles, and Ben Simmons, Jenner kept their apparent romance under wraps, their relationship was never declared "over."
Kendall, who has always been very discreet about her love interests is keeping characteristically quiet about the speculation.
Could the several months the rapper spent in prison make them aware of the intensity of their feelings for each other? Is the flame rekindled? Only time will tell since Kendall and A$AP are keeping mum.
A$AP ROCKER RELEASED BUT WAITING VERDICT
Rapper A$AP Rocky spent several months in a Swedish prison under what he complained were "inhumane" conditions after he was arrested in Stockholm for assault after a street brawl.
According to the Swedish prosecution, Rocky, 30, and two other men assaulted the victim by kicking and beating him with a whole or part of a glass bottle.
Rocky pleaded not guilty to the charges, and the trial began on July 30 Two of the witnesses against Rocky gave their statements by video link, claiming to be afraid to be present at the court.
The trial ended on August 2, 2019, and Rocky was released from custody and allowed to return to the USA to await the verdict scheduled for August 14.
Please fill in your e-mail so we can share with you our top stories!