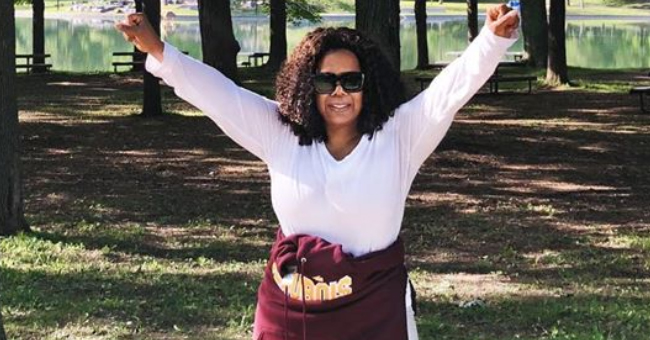 instagram.com/oprah
Oprah Gets a Helping Hand from Bradley Cooper with Her Bike While in Sicily for the Annual Google Camp
Oprah Winfrey got a helping hand from Bradley Cooper while riding a bike at Google Camp in Sicily.
If you were one of the 300 A-list celebrities at an extravagant event thrown by Google, Google Camp, you would have been in Salina, a little volcanic island off the coast of Sicily.
Among the celebrated guests was media mogul Oprah Winfrey, who was snapped having a great time with another famous guest.
GOOGLE CAMP TACKLES CLIMATE CHANGE
The movers and shakers were there to talk about how to tackle climate change during a three-day event, but they still found time for a little fun and games.
Oprah was photographed getting a helping hand with her bicycle by none other than Bradley Cooper, whose directorial debut "A Star Is Born" garnered an impressive 8 nominations at the 2019 Academy Awards.
Cooper and Oprah are old friends, and she has interviewed him several times on her show.
TAKING A BIKE RIDE IN PICTURESQUE SALINAS
Oprah and Cooper were obviously out for a ride on their bikes, for which the famed talk show host wore an elegant all-white outfit and a safety helmet. Cooper thoughtfully steadied the bike as Oprah got on, before jumping on his own vehicle and pedaling along.
FROM A BIKE RIDE TO A BOAT RIDE
Cooper and Oprah were seen riding their bikes, and later loading them onto a boat, obviously on their way to another beauty spot on the island. Cooper wore dark sunglasses, a grey T-shirt.
Cooper and Oprah are old friends, and she has interviewed him several times on her show.
GOOGLE SPEND OVER $20 MILLION ON VIP GUESTS
Google is rumored to have spent over $20 million on the extravagant affair, which included entertainment and transport by private jet for their 300 guests.
Making the list were Katy Perry, Orlando Bloom, Stella McCartney, Diane Von Furstenberg, Gayle King, Nick Jonas, Priyanka Chopraod and many more.
Former President Barack Obama is also said to have attended, as was Prince Harry, but their presence has not been confirmed.
The lucky 300 got to cruise around Sicily in luxury yachts and watch Chris Martin perform in ancient ruins on the island.
Presumably, in between their entertainment, the celebrities also discussed how to tackle climate change and use their money and influence as a positive force for change.
OPRAH WINFREY HELPS SURVIVORS OF MAUI FIRE
Oprah Winfrey was instrumental in helping many Maui residents escape a brush fire that threatened their lives by giving them access to her Hawaiian property.
Residents in the afflicted Maalaea and Kihei areas tweeted Oprah and asked her to give them access to the private code to the gate into her property, allowing people to seek refuge there.
Oprah responded immediately, informing authorities that her private road was already opened and accessible to any who needed to use it.
Please fill in your e-mail so we can share with you our top stories!