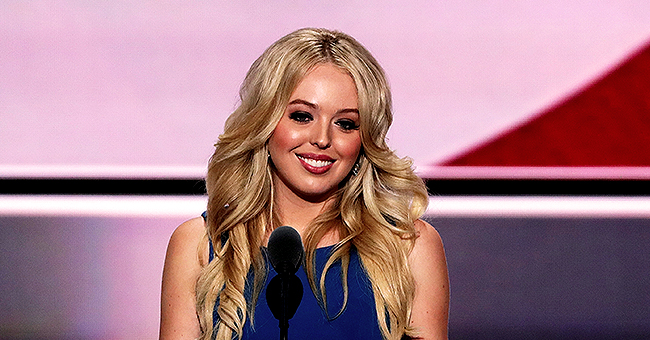 Getty Images
Tiffany Trump and Mom Marla Maples Enjoy Their Mallorca Vacation (Photos)

Tiffany Trump and her mother, Marla Maples, are in Spain on vacation and are having a really good time.
The pair posted moments of their time in the Spanish city of Mallorca, with Tiffany, in particular, looking dashing as she flaunted her curves in a printed robe.
The pair is indeed having so much fun together and shared snapshots of themselves on with their followers on Instagram.
The 25-year-old Tiffany posted a cute picture of herself wearing a red printed kimono dress. She accessorized the sweet look with a hat that matched her blonde hair, and also had a black band.
She completed her outfit with a black sunshade and black Yves Saint Lauren bag. Tiffany captioned her post with a flower emoji.
Marla Maples on her part posted a short gif of herself and Tiffany at the former mansion of Archduke Luis Salvado. The gif had the words, "Movements of Light, Air & Time written on it.
The caption to her post was longer than that of her daughter, as she explained that time was still for a moment, as she and Tiffany loved the mysteries of the enchanted island of Mallorca.
Marla Maples ended her caption by saying the former mansion was full of breathtaking views and gardens, before going on to add several hashtags.
Fans of the pair were in full admiration of their posts and showed this with their loving comments.
Being daughter and ex-wife of the most powerful President in the world does come with so much attention, and the pair has been the cynosure of most eyes in the Spanish city.
Their visit to Son Marroig, the old mansion of Archduke Luis Salvado proved to be a great experience for both of them. Marla, 55, and her daughter love cats, and it wasn't surprising to find them in search of a hiding cat.
Marla posted Instagram stories of her daughter's search for a cat hiding in the beautiful gardens of the mansion.
Marla and Tiffany arrived Spain separately, as the former arrived a week ahead, with her friend, Cat Faith, while Tiffany arrived after spending time with her boyfriend, Michael Boulos in the Greek Island of Mykonos.
Please fill in your e-mail so we can share with you our top stories!