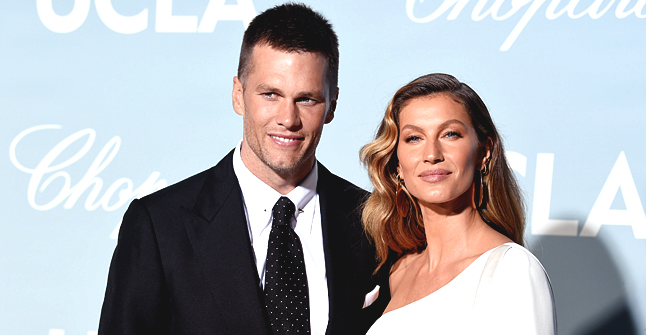 Getty Images
Tom Brady Praises Wife Gisele Bündchen Saying She 'Helped Him Grow' in a New Interview
NFL Legend, Tom Brady, has revealed in an exclusive interview that owes all his success to wife, Gisele. He told the world about how she has been a pillar of strength and made him grow over the years.
The quarterback talked about his leading lady, Gisele Bündchen, and how she showed him the true meaning of the regular saying "there are two sides to a coin "
In his Men's Health September issue feature, Brady opens up about how the model grew up much different from him and how her life's experiences have made her quite the liberal in her opinions and realities. He began by saying:
"Gisele's life has been very nontraditional. From leaving home at 14, to living in New York at 17, unable to speak English ".
According to the 42-year-old, Gisele's non- traditional perspectives on life have helped him grow and has been taught him to draw strength from even the worst of situations.
"In her mind, there are no boundaries. Why can't you do that? Why do you have to go to school? Why can't you just leave and live in a different country?" In her reality, you can, he said."
It's safe to say Gisele is the football star's guardian angel, watching over him even when the going gets tough.
Gisele had helped Tom overcome even the trickiest of situations, like when he had to accept that their 9-year-old son, Benny isn't that big of a sports fan. According to Brady, he "likes different things."
Tom explained that it was a tough one to accept, mainly because he felt Benny should love sports just like his son from his previous relationship, Jack, does.
Unfortunately, that wasn't the case, and Gisele had to make him understand that children are unique in their ways.
OTHER TRUTHS WE LEARNED FROM TOM BRADY'S INTERVIEW
Brady trains in the Bahamas every summer as an intense part of his training.
His favorite junk food is chocolate, and he does sometimes have a cheat day.
He trains his brain as much as his body.
Brady believes that every star athlete doesn't have to be like him. Everyone is unique in their way.
Gisele has been a loving wife, reliable partner, and excellent parent to their kids. Tom remains thankful for her consistency and strength throughout ten years of their union.
Please fill in your e-mail so we can share with you our top stories!