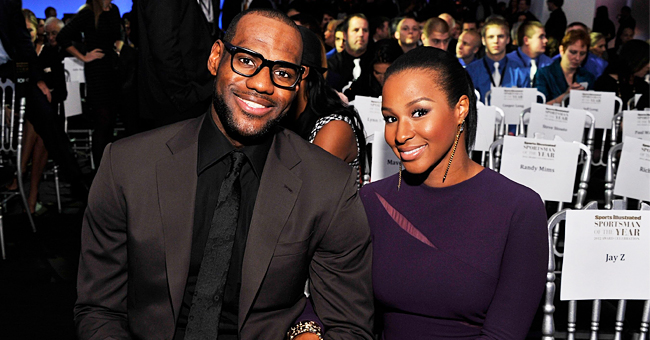 Getty images
LeBron James' Wife Calls Daughter Zhuri Her 'Brown Skin Girl' in Blue & White Dress
LeBron James' daughter Zhuri is becoming quite a celebrity online, thanks to her doting parents.
LeBron James' wife Savannah shared an adorable photo of their daughter Zhuri on Instagram looking just like a proper little princess in the prettiest dress ever.
The fans couldn't get over the beauty and absolute cuteness of the three-year-old, and the post garnered over 150,000 likes and lots of comments.
"My little brown skin girl?? #ZhuriNova?" Savannah James
THE CUTEST PRINCESS
The photo shows Zhuri wearing the loveliest pale blue princess dress, with a lacy overskirt, and tiny white puff sleeves.
Her hair was done up in three braids, tied up with crystal clear bobbles, and her little hand is raised as if in greeting.
LeBron and Savannah Brinson share three children: LeBron Jr., 14, Bryce, 12, and of course, Zhuri.
FANS ADORE ZHURI'S PRINCESS LOOK
Savannah's 1,1 million followers couldn't stop gushing about Zhuri's beauty, and how much she looks like her gorgeous mother.
"What a beautiful lil princess...???"
FANS CLAMOUR FOR ZHURI TO GET HER OWN ACCOUNT
In fact, Zhuri is so popular with her mother and father's fans that many have suggested that the celebrity couple create an account all of her own for the three-year-old.
"Love her!!! Zhuri needs her own insta account ( ofcourse managed by @mrs_savannahrj & @kingjames?) she is hilarious!"
LEBRON JAMES' BABY GIRL
Zhuri is the apple of her famous dad's eye - after all, she isn't just the youngest, she is the only girl. LeBron and Savannah Brinson share three children: LeBron Jr., 14, Bryce, 12, and of course, Zhuri.
The couple were high school sweethearts and have kept their love alive, and built a beautiful family together. We can't wait to see more of Zhuri, so we hope the James family does get her her own Instagram account!
LEBRON JAMES AND FAMILY AT "SMALLFOOT" PREMIERE
LeBron James and his family attended the premiere of the animated film "Smallfoot."
This Warner Brothers production tells the story of a friendly Yeti who is desperate to prove to the other Yetis that the legendary "smallfoot" - a human - really exists.
The family enjoyed the movie enormously, especially since LeBron gave voice to one of the animated characters.
Fans of the player will be delighted to know that he is set to star in "Space Jam 2," an upcoming 2021 live-action/animated sports comedy film that is a sequel to the 1996 hit "Space Jam" which starred Michael Jordan.
Please fill in your e-mail so we can share with you our top stories!