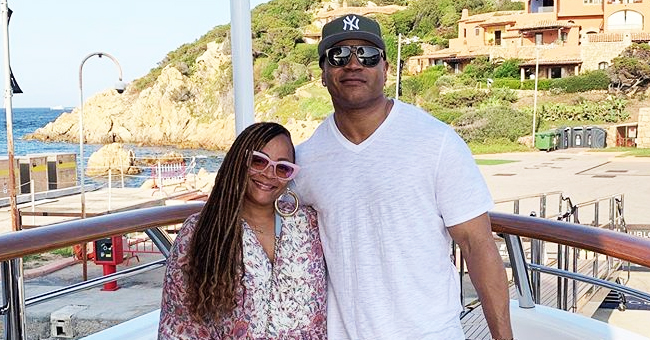 instagram.com/sislovespurple/
LL Cool J and Wife Simone Celebrate 24 Years of Marriage on a Yacht in Italy

LL Cool J and Simone Smith celebrate their 24th anniversary in style aboard a luxury yacht.
Rapper LL Cool J and his wife, jewelry designer Simone Smith, celebrated 24 years of marital bliss on August 7 in a very special setting.
The couple is toasting their long-lived marriage aboard a luxury yacht off the Amalfi coast of Italy as guests of close friends Magic and Cookie Johnson.
A SWEET CELEBRATION AMONG FRIENDS
Simone posted a photo of the celebration on Instagram that shows the happy couple at dinner aboard the yacht with their friends.
Simone added a moving caption to the post, in which she thanked Magic and Cookie, and gave a shout out to LL whom she called her soul mate.
"LORD you have been better than GOOD!! Today my husband @llcoolj and I, my soulmate and the man I loved since I was 17 years old celebrated 24 years of marriage in Italy on a yacht," she wrote.
LL, 51, and Simone, 49, married in 1995, and share four children - Najee, Italia, Samaria, and Nina.
AN ANNIVERSARY IN PORTOFINO
The yacht was docked in what just happens to be one of the most beautiful spots in the whole of the spectacular Amalfi Coast, Portofino, which gave the Smiths a stunning background for their anniversary snaps.
SIMONE SMITH'S AMAZING FIGHT FOR LIFE
But it hasn't always been easy. LL and Simone are doubly thankful for every day they share since she was diagnosed with a rare type of bone cancer - stage 3 chondrosarcoma—in her right tibia in 2004.
Simone beat her cancer and has since been active, along with her husband, in campaigns supporting the American Cancer Society.
24 YEARS AND COUNTING
LL, 51, and Simone, 49, married in 1995, and share four children - Najee, Italia, Samaria, and Nina.
We join their many friends, family, and fans in wishing them many more happy years together. LL and Simone, you are an inspiration to us all!
Happy Anniversary!
LL COOL J REVEALS HOW HE MET WIFE SIMONE
Rapper LL Cool J spilled the beans during an interview on "Jimmy Kimmel Live," about how he met his wife Simone.
LL revealed that he was driving down the block in his mother's car in 1987 when he stopped to say hello to a friend. The man asked him if he wanted to meet his cousin, and LL was about to decline when he saw the 17-year-old Simone.
"I looked over and said 'Oh yeah, I'll meet your cousin.'" he said.
He was just 19, and after dating for eight years, the two were married in 1995. They have just celebrated 24 years of marriage, and 32 years of love.
Please fill in your e-mail so we can share with you our top stories!