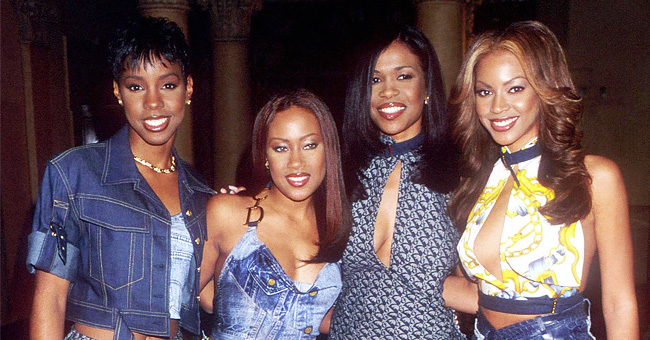 Getty Images
No, No, No: The Biggest Scandals of Destiny's Child
The Destiny's Child: You think you know who they were but how much do you really know about them? Before the advent of the group "Destiny's Child" that we all know and love, there was a larger group called "Girl's Tyme."
This group was comprised of six very young girls: Beyonce Knowles, Kelly Rowland, LaTavia Roberson, LeToya Luckett, Tamar Davis, and sisters, Nikki and Nina Taylor.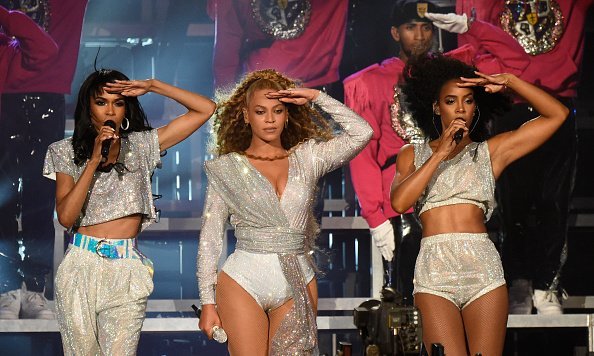 Michelle, Beyonce and Kelly of Destiny's Child perform onstage during the 2018 Coachella Valley Music And Arts Festival | Photo: Getty Images
GIRL'S TYME
Beyonce reportedly met rapper LaTavia while she was auditioning for the group and the two immediately hit it off. Later on, in 1990, Kelly Rowland relocated to the Knowles family house due to family issues and was adopted as a surrogate daughter.
In 1992, the group was to make their debut in "Star Search," a big talent show on National TV at the time. They reportedly lost because, according to Beyonce, they were rapping instead of singing.
After their loss, Beyonce's father, Matthew Knowles voluntarily stepped up to manage the group after which he reduced the original lineup to just four girls with the removal of Nikki and Nina Taylor and the addition of LaToya Luckett in 1993.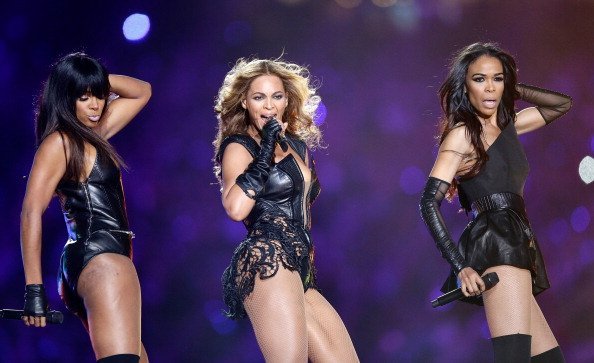 Kelly Rowland, Beyonce and Michelle Williams perform during the Pepsi Super Bowl | Photo: Getty Images
THE DOLLS
In 1995, the group's name changed from "Girl's Tyme" to "The Dolls." They struggled to make a breakthrough and reportedly landed a deal with Elektra record label.
However, before they could release an album, they were dropped, reportedly because Beyonce's father rubbed a record executive the wrong way.
Later that year, Matthew Knowles quit his job, a move that proved fatal as he and Beyonce's mother, Tina Knowles, went broke while pursuing a record deal. To make matters worse, the couple was hit with a $38,345 tax lien, and Tina was accused of bouncing checks.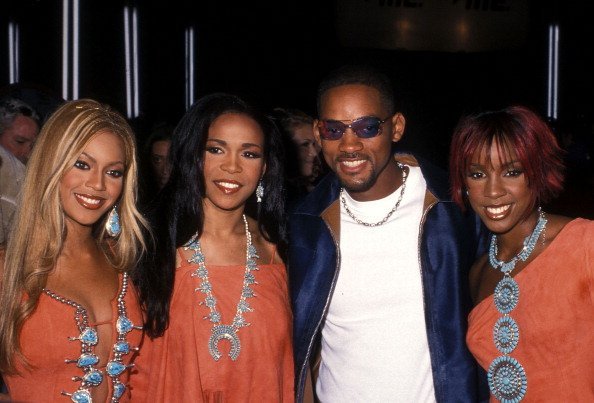 Beyonce Knowles, Michelle Williams and Kelly Rowland of Destiny's Child and actor Will Smith attend the 18th Annual MTV Video Music Awards | Photo: Getty Images
This led the couple filing for bankruptcy and forced Tina to sell their family home and move Beyonce, her sister, Solange and surrogate daughter, Kelly Rowland, into a small townhouse.
According to sources, Tina and Matthew were always pushing for Beyonce to be the big star of the four. LaTavia's aunt, Yvonne Boyd in a statement alleged that Tina always chastised the barely known group members when she spoke on behalf of the girls group at award shows.
"When LaTavia would take over, it upset Tina," she began. "'Oh no,' she would say, Beyonce is the leader, and she should be the one doing the talking.'"
In 1999, LeToya and LaTavia allegedly began fighting with Beyonce and Kelly over Matthew's style of management. The pair reportedly had questions about their respective paychecks and felt they were not being given adequate attention both on record and on stage.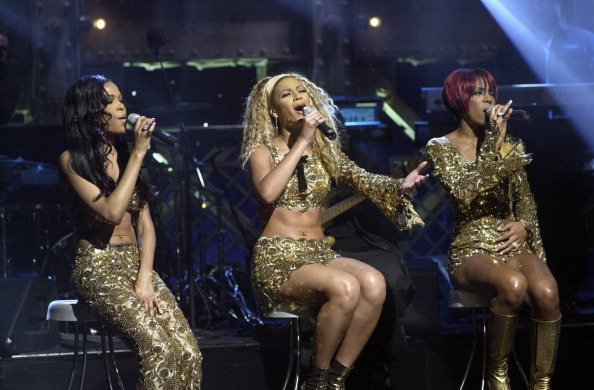 Musical guests Destiny's Child's Michelle Williams, Beyonce Knowles, Kelly Rowland perform onstage | Photo: Getty Images
Later that year, the disgruntled duo decided they'd had enough and legally declared they were "disaffirming" Matthew as their manager. However, they made no moves to leave the group.
Their decision was met with hostility as Beyonce reportedly got so angry she considered going solo; Tina later mildly suggested that she instead replace both LaTavia and LeToya with two new members.
THE STEALTHY REPLACEMENT
In January 2000, feeling betrayed, Beyonce penned a scornful letter to LeToya and LaTavia:
"Approximately every three weeks or less there is drama caused by one or both of you, I don't deserve this!" she wrote.
Spurred by righteous anger, she went ahead to officially quit the group, writing an official letter to the president of the record label who supported her decision.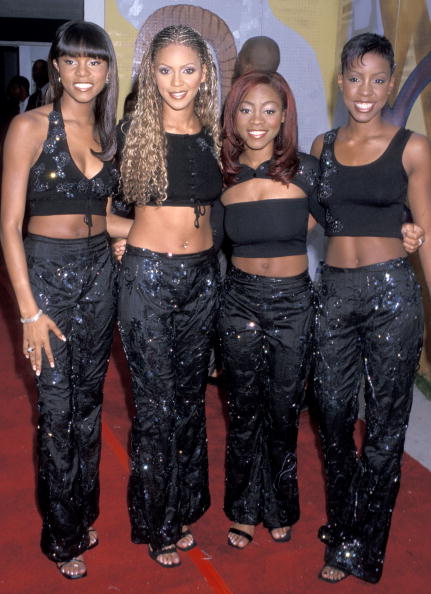 LeToya Luckett, Beyonce Knowles, LaTavia Robertson and Kelly Rowland | Photo: Getty Images
Attempting to salvage the group, Tina met with then aspiring singer Temitra Michelle Williams and Kelly suggested the addition of Farrah Franklin, who had been an extra from their "Bills, Bills, Bills" video.
Both women were hurriedly and secretly admitted because Kelly and Beyonce wanted two new girls to lip-sync to LaTavia and LeToya's parts in the video of their hit song "Say My Name," which was said to have been inspired by Beyonce's tumultuous relationship with unfaithful boyfriend, Lyndall Locke.
THE CHANGES
After Temitra was accepted into the group, Matthew changed her name to her middle name, Michelle, because according to him, the record label executives believed that "Temitra" was "too ethnic."
Things got weirder when Tina approached Farrah and requested she tan and dye her hair red so she would appear more like LaTavia.
FARRAH'S AMBITIONS
After spending three months in the group, Farrah began to exhibit ambitious streaks. She supposedly desired to be the lead singer on more than one count. She also expressed disapproval that Solange always traveled alongside the group claiming that the costs incurred reflected on her paycheck.
In July 2000, Farrah's ambition took on an ugly shade as she began to lash out and refused to travel with the group to Australia for a concert.
This was met with anger from Beyonce as she threatened to dismiss Farrah from the group should she refuse to travel with them. Farrah shirked the dangers and refused to show up at the airport, and that was where her journey ended.
This left the group with the trio we all recognize as "Destiny's Child" today. The trio consisted of Beyonce, Kelly, and Michelle.
BEYONCE'S QUEEN COMPLEX
In that same year, Beyonce reportedly developed a colossal ego and even went to the extent of ignoring her mother, instead choosing to flirt with her male fans. Her action earned her a smack across the face as Tina refused to accept that sort of behavior from her.
THE FINAL SPLIT
In 2004, the group disbanded amicably after successfully recording their final album titled "Destiny Fulfilled."
.
Please fill in your e-mail so we can share with you our top stories!