Cyntoia Brown Married Christian Artist Jaime Long While in Prison: Report
Cyntoia Brown, the woman who spent 15 years in jail after killing a man who had solicited her for sex when she was 16, is married to a Christian singer and ready to start her life as a wife now that she's walking free.
Brown, now 31, reformed her life inside prison. In the fifteen years she served behind bars, Brown earned a GED and an associate degree.
She started the GLITTER Project to help young girls, and she also tied the knot with Christian hip-hop artist Jaime Long, according to a report by the Daily Mail.
Freed inmate Cyntoia Brown marries recording artist J. Long https://t.co/40WjNBFNkC pic.twitter.com/Xi3RibdT0O

— WOKV News (@WOKVNews) August 12, 2019
NEW LIFE AS A MARRIED WOMAN
News of Brown's marital status was first shared by book publisher Atria Books in a press release to announce their deal to publish Cyntoia's memoir, "Free Cyntoia: My Search for Redemption in the American Prison System," later this year.
In 2017, Cyntoia's story started to get attention amid the rise of the #MeToo movement, after several artists, including Rihanna, Kim Kardashian, and LeBron James rallied for her freedom.
In the book, described as a "coming-of-age memoir set against the shocking backdrop of a life behind bars" Cyntoia will allegedly share details on "an unlikely romance, and an unprecedented outpouring of support from social media advocates and A-list celebrities which ultimately lead to clemency and her release from prison."
Cyntoia Brown Has Been Freed From Prison in Tennessee https://t.co/zJMK1oeTBe

— ELLE Magazine (US) (@ELLEmagazine) August 12, 2019
Although is not clear how Brown and Long met or for how long they've been married, Daily Mail reports that the singer had his own encounter with the law in 2004, when police arrested him for assaulting a public servant in Texas.
Cyntoia and Jaime, who also goes by the artistic name J. Long, couldn't enjoy conjugal visits because they were prohibited in Tennessee state prisons. 
Nine pictures on what is allegedly J. Long's Instagram, shows the couple smiling at each other as Cyntoia shows off her ring. 
MORE ABOUT J. LONG
Long, from La Marque, Texas, comes from a family of talented musicians.
Cyntoia Brown receives full clemency. She'll use her freedom to help other young girls like her.https://t.co/4XFpJCpIwm pic.twitter.com/BlCBdK1QpO

— Upworthy (@Upworthy) January 7, 2019
His uncle, Huey Long, was a vocalist and guitarist in The Ink Spots, a successful black group from the '30s and '40s. His grandfather, Curtis Long, played the guitar for artists like B.B. King and Bobby Blue Bland.
Long started his career in 2009, with the release of his first single "Girl Listen." He caught the attention of the group Pretty Ricky and signed with them as the fourth member of the band in 2010. However, he parted ways with the group two years later.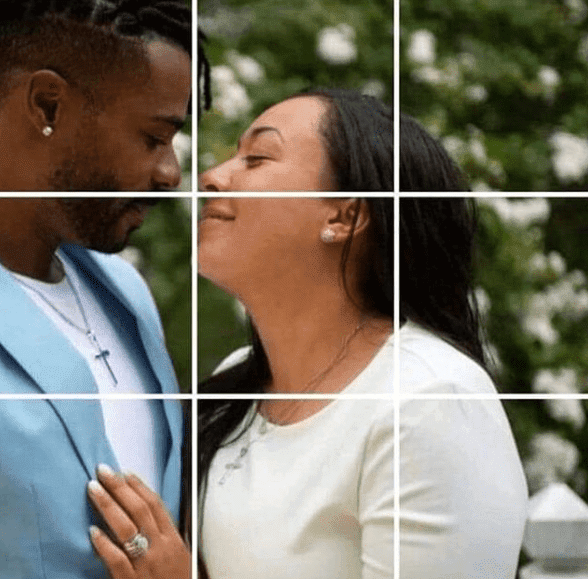 In a 2016 interview with Evolve, J. Long revealed that he was working at the studio to release new music, and when asked what he saw for his future, he replied:
"I see myself still making music. Evolving as an artist and a man. Touring more and connecting more with my fans."
Cyntoia Brown is free! After over 14 years of serving a life sentence, Cyntoia is finally home.

This victory belongs to Cyntoia, her community and to the thousands of people including local organizers and advocates who stepped in to demand justice. #CyntoiaBrown pic.twitter.com/jwaWG6qtuK

— ColorOfChange (@ColorOfChange) August 7, 2019
CYNTOIA'S CRIME
Cyntoia Brown was just 16 years old when she shot 43-year-old real estate agent Johnny Allen in the back of the head while they were in bed at his home.
Having escaped from her adoptive family, Brown eventually met a man known as "Cut Throat" that sexually assaulted her and forced her into sex trafficking. She met Allen at a local drive-in restaurant in Nashville, where he picked her up to have intercourse with her.
Brown said Allen's behavior made her nervous and explained that while they were laying in bed, he kept reaching to the side of the bed and she thought he would pull out a gun and shoot her. So she shot him first with a gun she had in her purse.
Brown fled the scene with two of Allen's riffles, $172 and his truck.
The prosecution based their case on the assumption that Brown murdered Allen to steal from him. She was eventually sentenced to life in prison without parole.
CLEMENCY FOR BROWN
In 2017, Cyntoia's story started to get attention amid the rise of the #MeToo movement, after several artists, including Rihanna, Kim Kardashian, and LeBron James rallied for her freedom using the hashtag  #FreeCyntoiaBrown.
The system has failed. It's heart breaking to see a young girl sex trafficked then when she has the courage to fight back is jailed for life! We have to do better & do what's right. I've called my attorneys yesterday to see what can be done to fix this. #FreeCyntoiaBrown pic.twitter.com/73y26mLp7u

— Kim Kardashian West (@KimKardashian) November 21, 2017
Earlier this year, Tennessee Governor Bill Haslam granted Cyntoia clemency after an emotional hearing seven months earlier where she promised to make use of her freedom to help other young women that could be in similar positions as she was as a teenager.
"I am thankful for all the support, prayers and encouragement I have received," Brown said in a statement after hearing the news. "We truly serve a God of second chances and new beginnings."
She was released from prison last week but has to remain under parole supervision for ten years, attend regular counseling sessions, maintain a job, and keep herself out of trouble with the law.