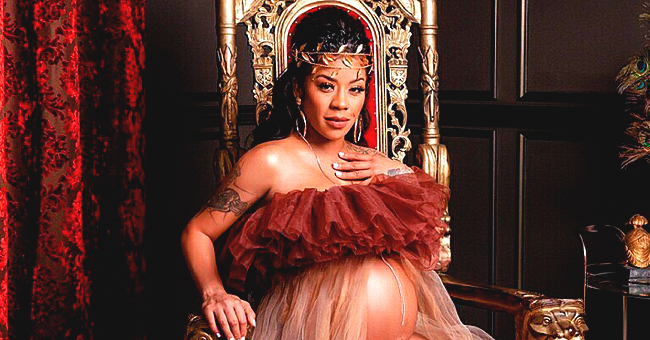 instagram.com/keyshiacole
Keyshia Cole Bares Baby Bump in New Photo from Her Maternity Shoot

Despite welcoming her baby over a week ago, Keyshia Cole couldn't help sharing a new photo from her maternity shoot, and the pic is all shades of adorable.
Cole, a new mother-of-two, is on cloud nine and we're not surprised.
The "Heaven Sent" singer took to Instagram over the weekend with a photo of herself sitting in a regal chair like the queen she is.
Cole rocked a tulle outfit that featured a covering for her cleavage but bared her baby bump and legs. She highlighted the outfit with gold accessories, including a crown and hoop earrings.
In her caption, the platinum-selling artist explained why she decided to share the picture even though she'd since welcomed her son:
"Ok, I KNO BABY BOY IS HERE NOW!!!!! But I just HAD TO POST THIS PIC!! It's sooo dang on cute."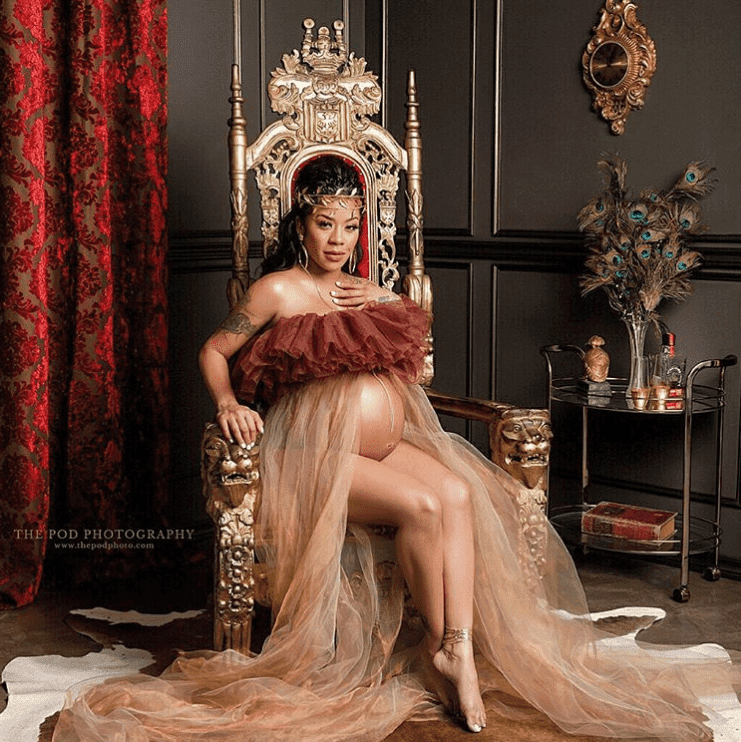 Keyshia Cole's maternity shoot pic. |Photo: Instagram/Keyshia Cole
THE BIG MOMENT
Cole, 37, and her boyfriend, Niko Khale, 23, welcomed their first child together on August 1 at 11:11 pm, the same time Cole was born. The R&B singer has a nine-year-old son – Daniel "DJ" Gibson Jr. – with her ex, Daniel Gibson.
It was DJ that cuddled his new baby brother in the announcement pic Cole shared to Instagram. "Big Brother vibes," she captioned the shot that was followed by a brief clip from her hospital room.
BEFORE THE BABY
In the days leading up to the baby's arrival, Cole and Khale kept fans updated with cute pictures of family moments.
In an adorable portrait of the family with their dog, Khale and DJ, who looked dapper in white, flanked Cole, who wore a mint green two-piece set that bared her bump.
NEW PARENT NERVES
The "Keyshia Cole: All In" reality star gushed in the caption:
"Tomorrow is the day. Omg. We will soon have one more to add to the big picture. Family first. I'm nervous, but I'm ready!!!! It's like Christmas, getting one of the greatest gifts of all time! And I'm happy you'll all get to see soooooooon!!!!"
"My beautiful family. Baby boy almost here!" added Khale, who posted the same picture on his Instagram page. "I'm nervous, excited, & impatient. We welcome him to the world TOMORROW. Countdown is real."
Cole and Khale also had at least two parties to celebrate the impending arrival of their little one. There was an elaborate yacht baby shower featuring family and friends, and another low-key one which appeared to be strictly for family and close friends.
Fans will get to see everything about Cole's journey to parenthood a second time around when she and Khale's reality show special airs later this year on BET.
Please fill in your e-mail so we can share with you our top stories!