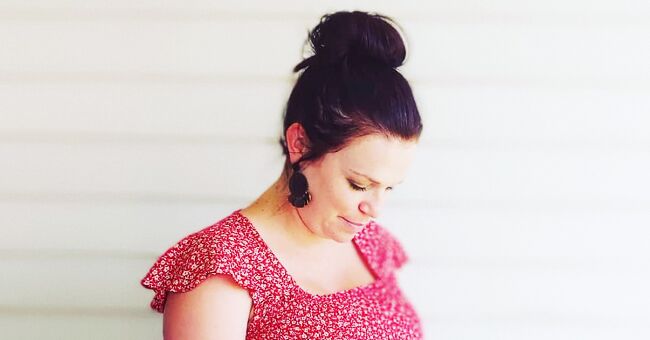 instagram.com/madison_rose11
'Sister Wives' Star Maddie Brown Responds to Fan's Advice to Give Birth to Second Baby at a Hospital
Maddie Brown recently posted an Instagram photo of her growing baby bump, where trolls rudely criticized her preferred method of giving birth – that, she did not tolerate.
Maddie Brown isn't one to let others tell her what to do, and she clearly showed that by clapping back at followers who so rudely commented on her Instagram post. The "Sister Wives" star shared a photo of her baby bump, which she captioned:
"38 weeks and some change. Officially on baby watch I guess."
Brown posed sideways in an all-black ensemble for the photo, which emphasized her big baby bump carrying her second child with husband, Caleb Brush.
Followers of the actress had a few remarks about her birthing method left by the comment section.
"Hope you are going to a hospital this time. A much more enjoyable experience for you and baby! Much love from Texas," one rude comment read. Brown replied: "I think an enjoyable experience is birthing how I want to birth."

Instagram.com/Madison_rose11
Another person also stuck their head in Brown's business and said she hoped the actress was "getting an epidural this time." Brown responded by merely asking, "Why?"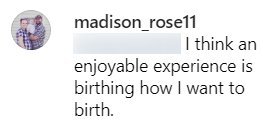 Instagram.com/Madison_rose11
On the flip side, some fans expressed their support for the pregnant mom by wishing Brown smooth labor despite her choice of birthing method. One fan wrote:
"Hope you have an easier time – however you and the baby do it."

Instagram.com/Madison_rose11
"You may not feel that you look like Wonder Woman right now, but you do! This is the most awesome, powerful & amazing privilege we have as women. Wishing you a safe delivery of your baby," another said.

Instagram.com/Madison_rose11
Brown is having a baby girl after giving birth to a boy in 2017. She and her husband revealed the gender through an explosion of pink confetti in April. Admittedly, both husband and wife were startled upon learning their baby's gender.
Brush spoke to PEOPLE and revealed that he thought it their second child would be another boy. As he was surprised to know otherwise, he asked the ultrasound tech to check it three more times.
"I am really excited and nervous to have a little girl," he added.
The couple got married in 2016 and had their son, Axel James in May of the following year. As of the moment, their three-year-old son is too young to grasp the idea of being a big brother.
However, the news will be perfect for Axel as he will have a new playmate.
Please fill in your e-mail so we can share with you our top stories!