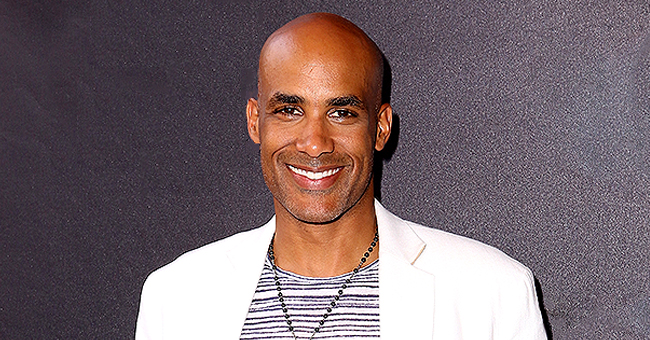 Getty images
Boris Kodjoe Shares Photo of Himself, Brother, Daughter & Niece, Showing Their Resemblance
Boris Kodjoe has a brother, and he is just as hot as he is...
Boris Kodjoe shared a photo of his brother and best friend Patrick alongside his daughter and his niece, celebrating the values of family and brotherhood.
The photo also shows that Patrick and Boris are as alike as twins - though they are not - and that makes them a devastating combination.
BORIS AND PATRICK KODJOE - BROTHERS AND PARTNERS
The Austrian-born actor and his brother have a lot more in common than their almost identical looks. They are both athletes who had brilliant careers in tennis and basketball - and doting fathers to their children.
The two are partners in World of ALFA, a company which offers men custom-tailored clothing at affordable prices.
"Soul Food" actor Boris Kodjoe is as close as a twin to his younger brother Patrick.
INSEPARABLE BROTHERS AND BEST FRIENDS
The brothers are as close as twins, and curiously enough, both have a boy and a girl each and are married to women named Nicole.
"My relationship with my brother is great, he's like my twin so he was always uplifting and supporting. Being in a new environment in the states you forget about it," Boris said.
PATRICK IS THE BACKBONE OF THE BUSINESS
While Boris concentrates on his acting and modeling career (which includes being the face of World of Alfa) Patrick spends his time traveling the world, building partnerships in the fashion, textile, and manufacturing industries.
"We leveled the playing field by making custom-made clothing affordable. People were conditioned to accept whatever was in stores even if it didn't fit right or wasn't quite the right color. When they discovered that they could design clothes to their liking, they were hooked. Word of mouth has been our best marketing tool," Patrick said.
THE KODJOE BROTHERS AND THE COMMUNITY
Patrick takes his responsibilities as a role model seriously and was one of the speakers on the UNCF Empower Me Tour, a program created to motivate young people toward academic excellence, and to take responsibility for their own lives and choices.
"Young people are constantly bombarded with the wrong messages. We want to give them the right messages about how to dress, how to carry yourself, and how to communicate. Everyone has the power to control how they present themselves," Patrick said.
The Kodjoe boys are certainly an inspiration, with their family values and drive for success, and their business also helps by offering media training for professional sports teams.
BROTHERS TOGETHER FOREVER
"Soul Food" actor Boris Kodjoe is as close as a twin to his younger brother Patrick. And it isn't just because they are almost identical.
The two have been each other's support and inspiration throughout their lives, and their lives are curiously similar.
Both were star athletes, Boris in tennis, and Patrick in basketball, before sports injuries ended their ambitions for a professional career.
It was their friendship and mutual support that steered them through the challenges of life in a new country and having to forge a new career for themselves.
These two men are an inspiration to siblings everywhere.
Please fill in your e-mail so we can share with you our top stories!