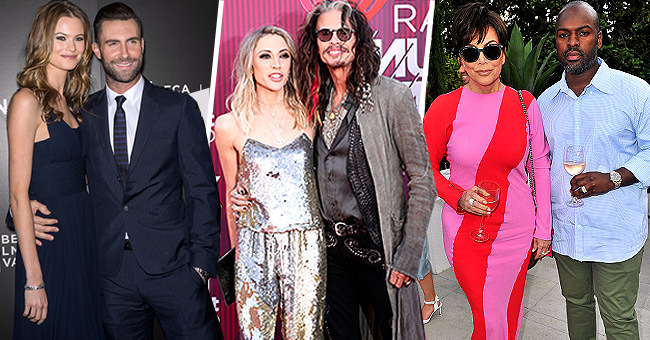 Getty Images.
Age Is Just a Number: Ten Celebrity Couples with Major Age Differences
In their search for love, the following celebrity couples showed that age is but a number. With differences in age ranging from 9 to 40 years, these celebs are as happy in love as the first day they met.
ADAM LEVINE & BEHATI PRINSLOO
Adam Levine became a household name when Maroon 5 brought out their first hit, "Songs About Jane" in the early 2000s, while Behati had success as Victoria's Secret model since 2006.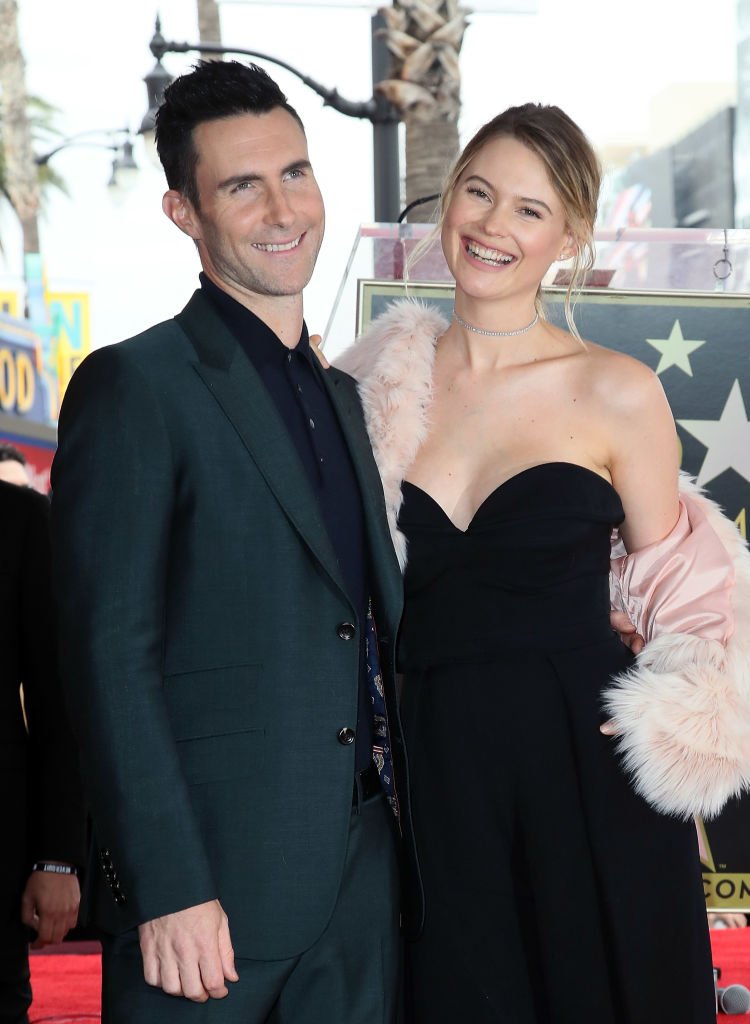 Adam Levine (L) and wife model Behati Prinsloo attend his being honored with a Star on the Hollywood Walk of Fame on February 10, 2017, in Hollywood, California. | Source: Getty Images.
Their respective careers brought them together when Adam wanted a model to star in a music video for their song "Animals." Even though Behati never got to the making of the video, the pair started dating.
The singer popped the question in July 2013, and they got married a year later in Los Cabos, Mexico.
With an age difference of nine years, the couple welcomed their first child and daughter, Dusty Rose on September 21, 2016, while their second daughter, Gio Grace came into the world on February 15, 2018.
FELICITY HUFFMAN & WILLIAM H. MACY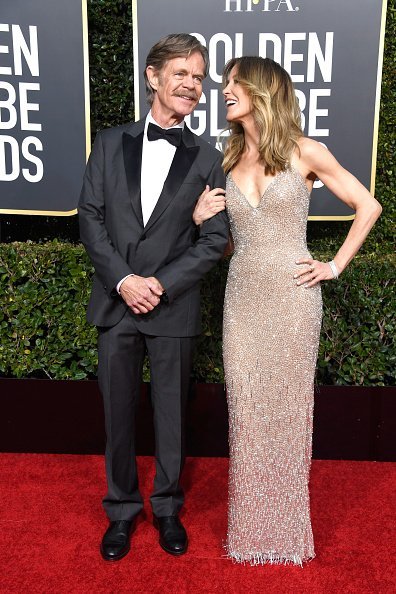 William H. Macy (L) and Felicity Huffman attend the 76th Annual Golden Globe Awards at The Beverly Hilton Hotel on January 6, 2019, in Beverly Hills, California. | Source: Getty Images.
With William 12 years Felicity's senior, the couple dated on and off for 15 years before she started taking his marriage proposals seriously.
Out of fear of losing William for good, she finally decided to accept his proposal after a breakup that lasted almost five years.
They initially met at New York's Atlantic Theater Company during the early 1980s and finally tied the knot on September 6, 1997. Three years later Felicity and William had their first child, Sophia Grace, followed by their second daughter, Georgia Grace in 2002.
NEIL YOUNG & DARYL HANNAH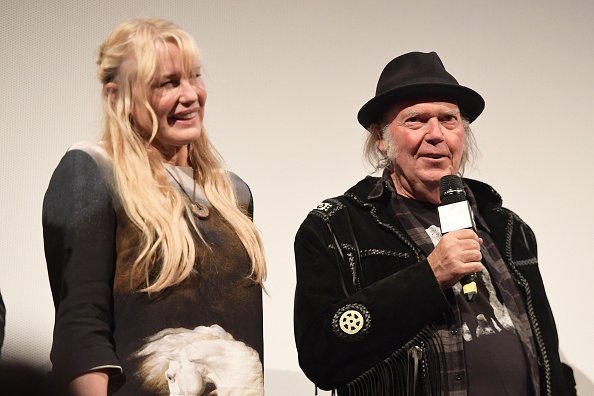 Daryl Hannah and Neil Young attend the "Paradox" Premiere 2018 SXSW Conference and Festivals at Paramount Theatre on March 15, 2018, in Austin, Texas. | Source: Getty Images.
Actress/director Daryl and Canadian singer-songwriter Neil's 15 year age difference didn't keep them from falling in love either.
The couple got together after Neil divorced from the singer-songwriter Pegi in 2014. Daryl made her directorial debut in the film "Paradox" wherein Neil starred, and they have been together ever since.
ELLEN DEGENERES & PORTIA DE ROSSI
When Portia and Ellen first met in 2000, their fifteen year age gap couldn't contend with their feelings for each other.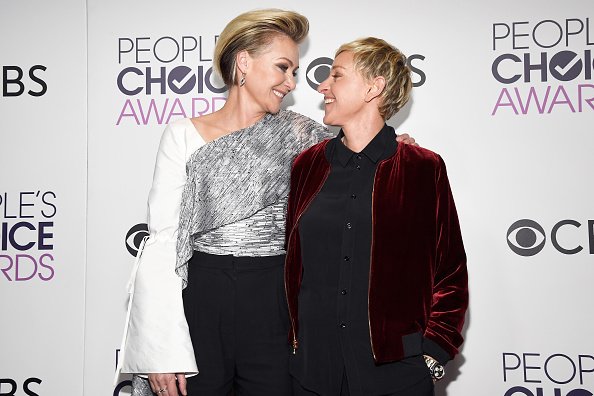 Ellen Degeneres and actress Portia De Rossi pose in the press room during the People's Choice Awards 2017 at Microsoft Theater on January 18, 2017, in Los Angeles, California. | Source: Getty Images.
While Ellen had publically come out as gay by then, Portia hadn't. Even though Portia had her eye on Ellen, it took four years before they reconnected at the Shrine Auditorium in Los Angeles for VH1's 2004 Big Awards.
The couple moved in together during 2005 and got married in 2008 after California's Supreme Court legalized same-sex marriages.
MARY-KATE OLSEN & OLIVIER SARKOZY
Mary-Kate and her sister, Ashley, rose to Hollywood fame as one of the most successful child stars in the 1990s. Having grown up since then, Mary-Kate built a fashion empire with her sister and fell in love with Olivier seventeen years older than her.
She first started dating the French banker in the spring of 2012. Three years later the couple got married during an intimate Manhattan ceremony.
HARRISON FORD & CALISTA FLOCKHART
Television viewers first got introduced to Calista when she starred in the legal drama "Ally McBeal," while Harrison Ford forged a successful acting career for himself.
Their meeting at the Golden Globes in 2002 turned into a relationship they initially kept quiet, as Harrison hadn't divorced his second wife, Melissa Mathison yet.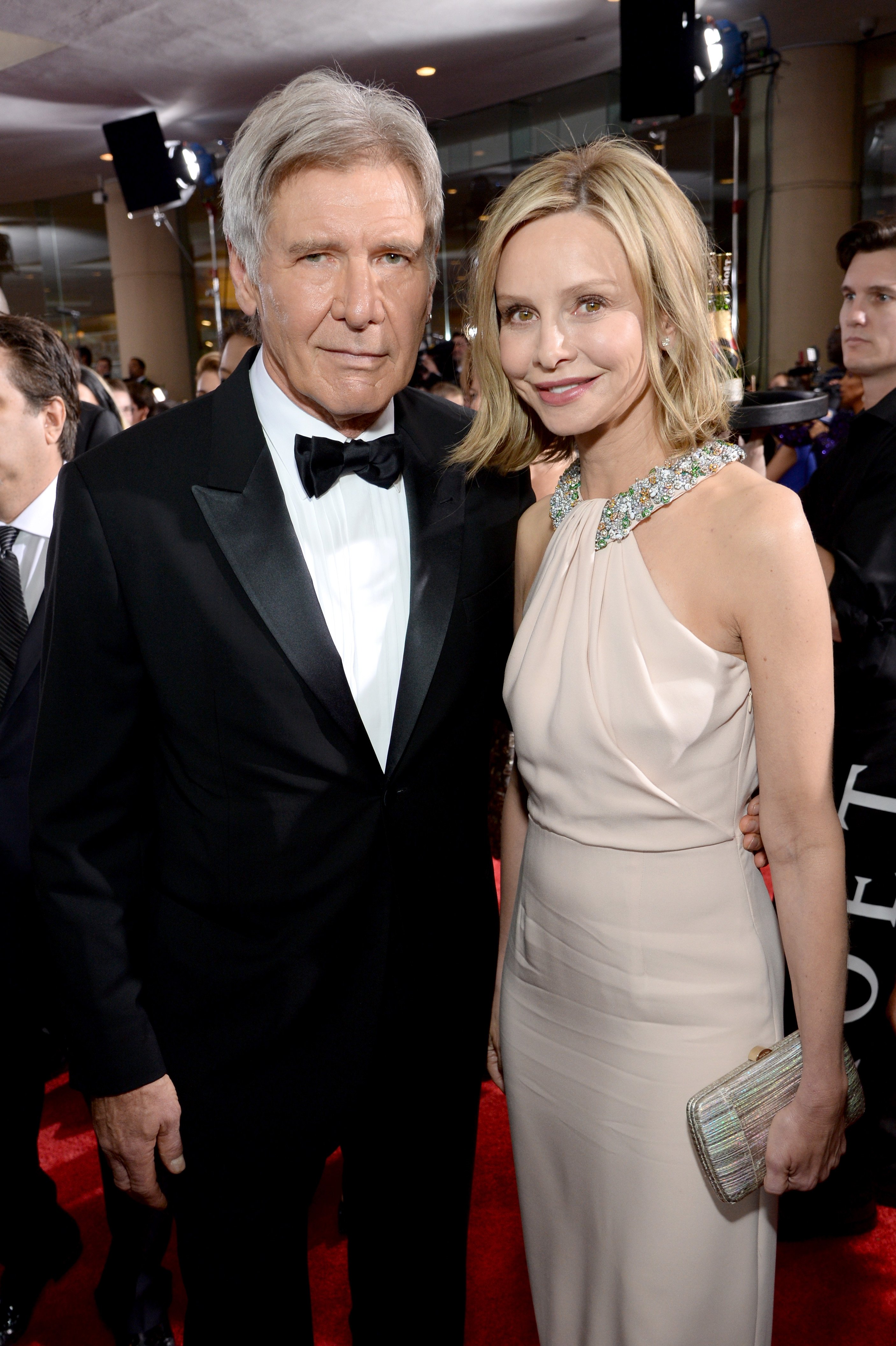 Harrison Ford (L) and Calista Flockhart attend the 72nd Annual Golden Globe Awards at The Beverly Hilton Hotel on January 11, 2015, in Beverly Hills, California. | Source: Getty Images.
Despite their 22 year age difference, the couple dated for over seven years before Harrison proposed to Calista in 2009 during the Valentine's Day weekend. After a short engagement, they got hitched in June 2009 in Santa Fe while Harrison filmed "Cowboys and Aliens."
BRUCE WILLIS & EMMA HEMING WILLIS
Their 23 year age difference didn't factor into Bruce's decision to marry Emma on March 21, 2009, in Turks & Caicos at his Parrot Cay home.
Ten years later the couple celebrated their anniversary by renewing their wedding vows during a ceremony on the beach.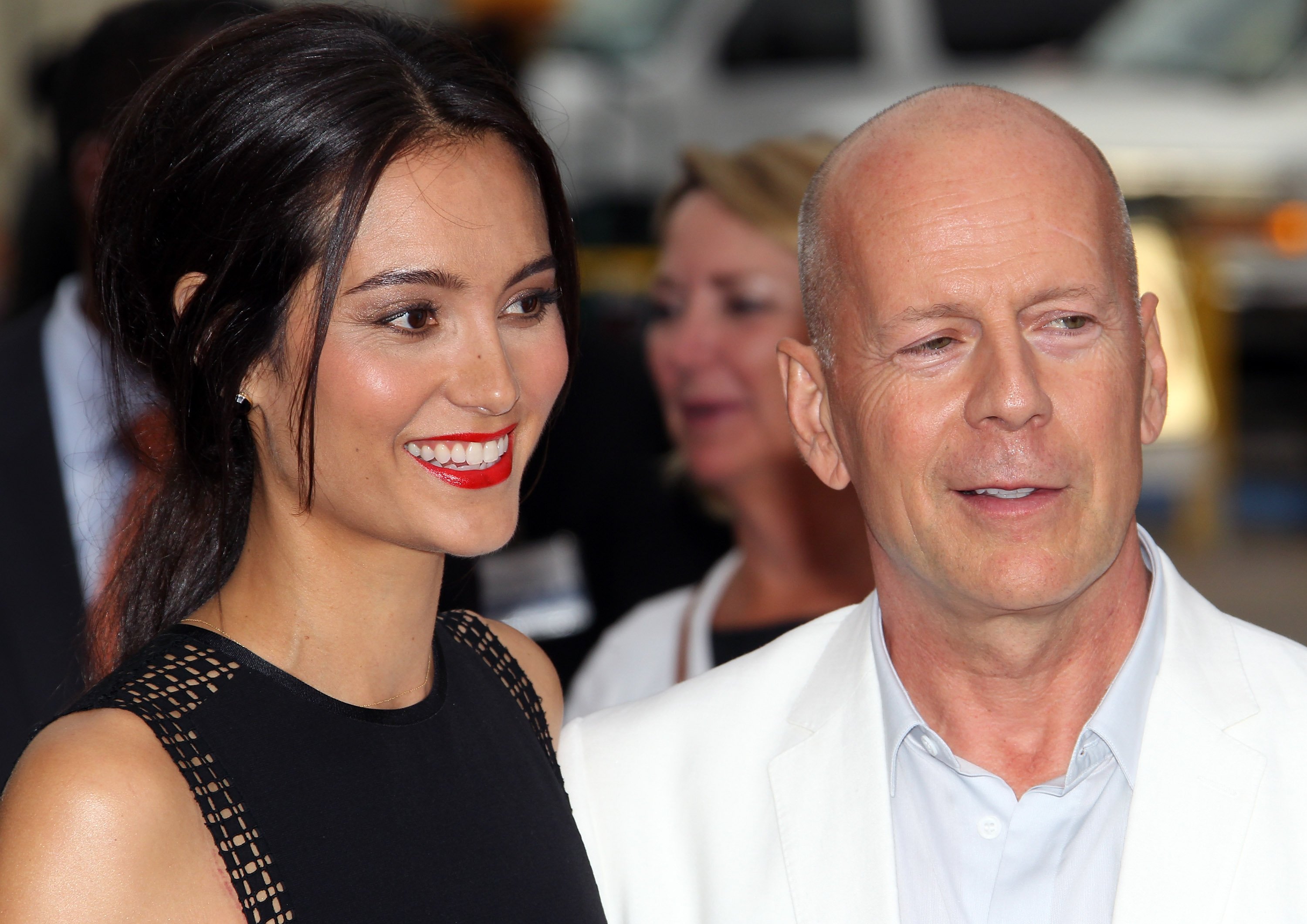 Emma Heming Willis (L) and husband actor Bruce Willis attend the premiere of Summit Entertainment's "RED 2" at Westwood Village on July 11, 2013, in Los Angeles, California. | Source: Getty Images.
MICHAEL DOUGLAS & CATHERINE ZETA-JONES
The two actor's love story dated back to 1996 when they met at the Deauville Film Festival. Catherine promoted her film "The Mask of Zorro," while Michael went to promote his movie, "A Perfect Murder."
The actress got told that Michael wanted to meet her. Despite her nervousness and Michael's cheesy pick-up line (he said to her that he would father her children on their first date), the couple fell in love.
While the couple shares a September 25 birthday, they also have an age gap of 25 years, which didn't stop them from getting engaged at Michael's Aspen home on 1999's New Year's Eve.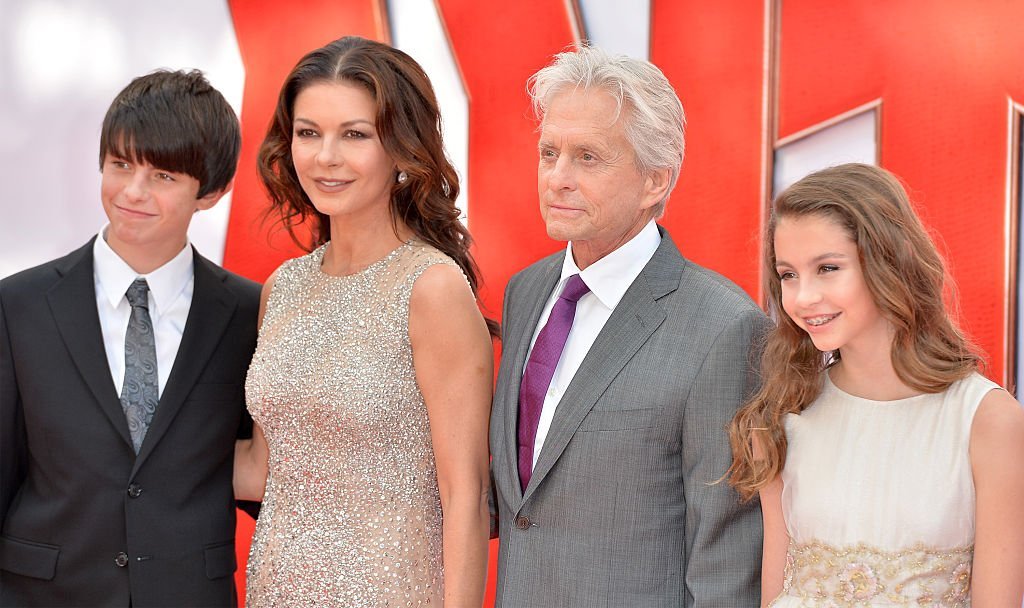 Catherine Zeta Jones and actor Michael Douglas with their children Dylan and Carys as they attend the European Premiere of Marvel's "Ant-Man" at the Odeon Leicester Square on July 8, 2015, in London, England. | Source: Getty Images.
By then Catherine had already fallen pregnant with their first child and welcomed their son, Dylan in August 2000. Three months later, the couple got married in what tabloids called "the wedding of the year."
Their New York City wedding at the Plaza Hotel drew some of Hollywood's biggest stars that included Sean Connery, Jennifer Aniston, Danny Devito, Whoopi Goldberg, Russell Crow, Tom Hanks, Anthony Hopkins, Goldie Hawn, Brad Pitt, Jack Nicholson, and Steven Spielberg.
Their evening ceremony reportedly cost $1,5 million, while her David Emanual gown alone came in at $250,000. Three years later the couple had their second child and daughter, Carys, born on Easter Sunday in 2003.
KRIS JENNER & COREY GAMBLE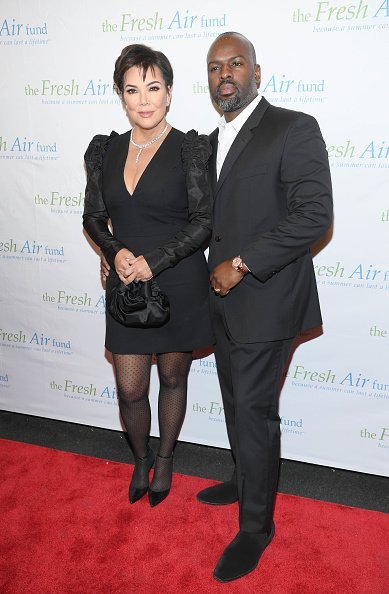 Kris Jenner and Corey Gamble attend The Fresh Air Fund Annual Spring Benefit at The Ziegfeld Ballroom on May 22, 2019, in New York City. | Source: Getty Images.
With an age difference of 25 years, the Kardashian's struggled to accept Kris's relationship with Corey when they began dating in 2014.
But Kris is in no hurry to get married. Although their "age is just a number," Kris told Ellen DeGeneres in 2017 that she doesn't want to change up their relationship for the sake of marriage.
"You know, I've done that twice, and it didn't work out so well," she said. "So I don't know — you never know. I'm going to take a page out of Goldie [Hawn] and Kurt [Russell]'s book. Or Kourtney [Kardashian]'s book. I think as long as things are going so well, why ruffle it up?" she said.
ALEC & HILARIA BALDWIN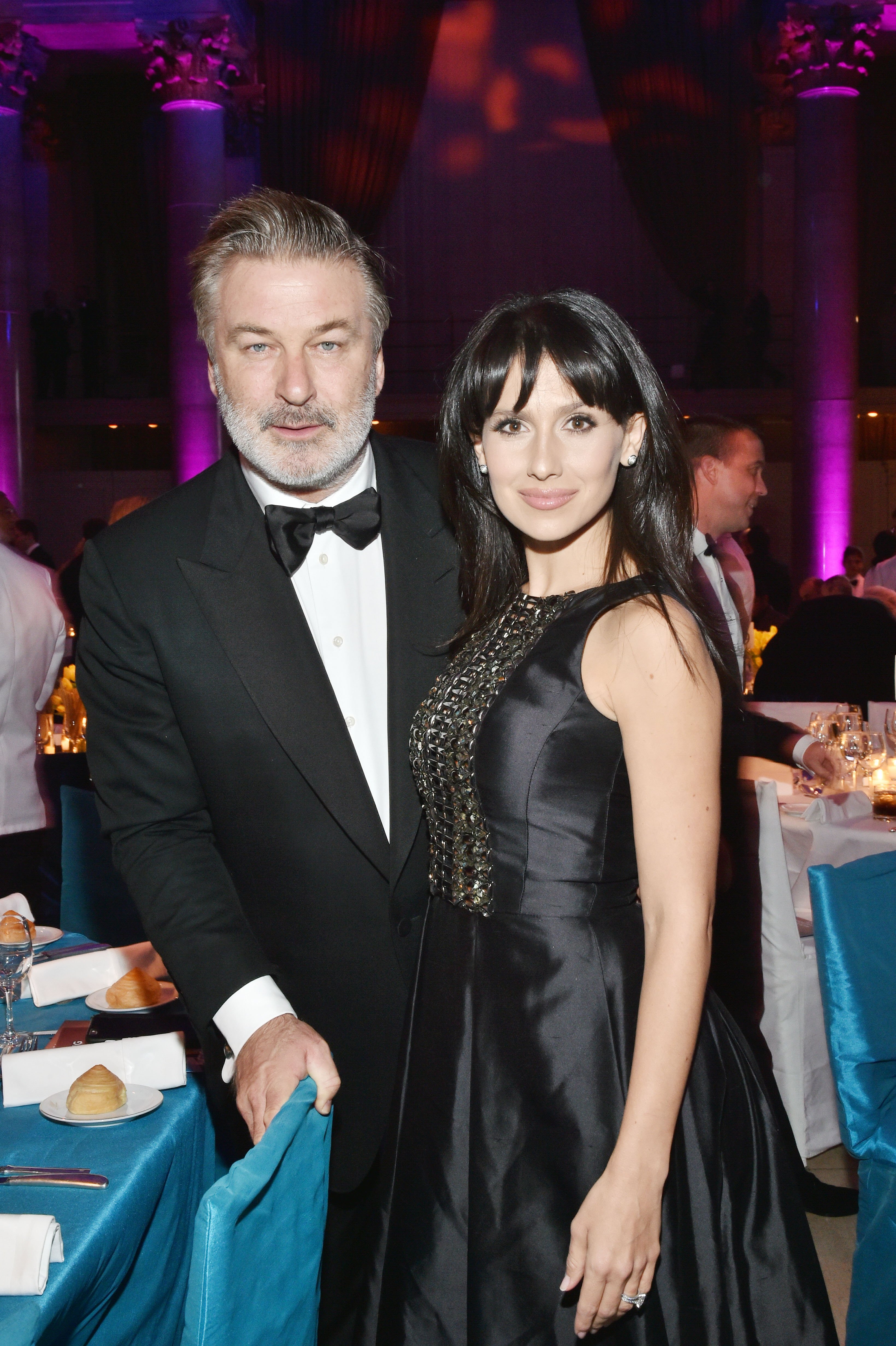 Alec Baldwin (L) and Hilaria Baldwin (R) attend Elton John AIDS Foundation's 14th Annual An Enduring Vision Benefit at Cipriani Wall Street on November 2, 2015, in New York City. | Source: Getty Images.
When Alec Baldwin walked into Pure Food and Wine on Irving Place in 2011, he noticed Hilaria and not their 26 year age difference and fell in love.
After their wedding at the Basilica of St. Patrick's Old Cathedral in New York on June 29, 2012, the couple had four children.
On August 23, 2013, Hilaria gave birth to their daughter, Carmen, followed by their son, Rafael two years later on June 17, 2015. Hot on Rafael's heels followed his brother, Leonardo born on September 12, 2016, while Romeo came into the world on May 17, 2018.
STEVEN TYLER & AIMEE ANN PRESTON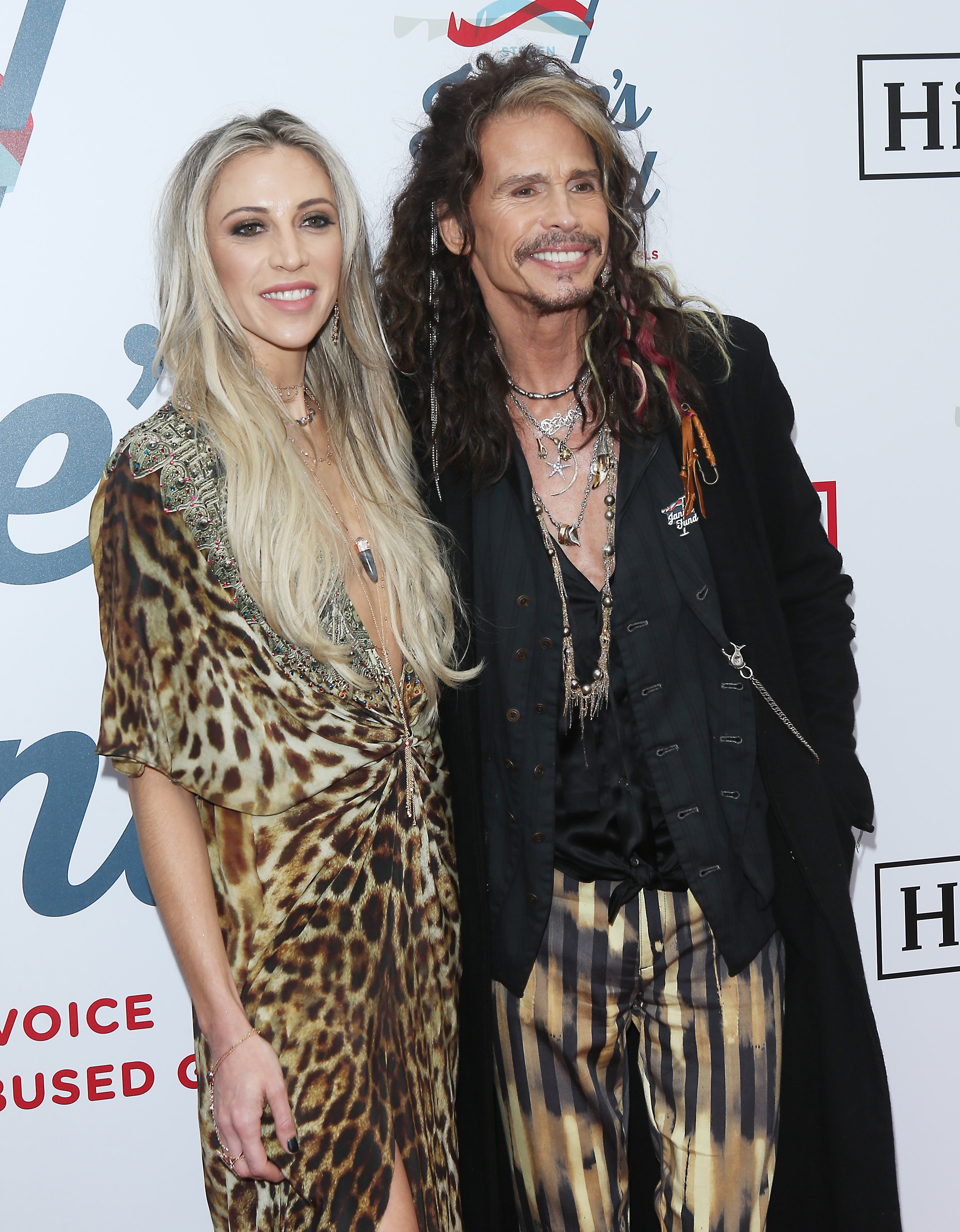 Steven Tyler and Aimee Preston attend Steven Tyler's GRAMMY Awards viewing party benefiting Janie's Fund held at Raleigh Studios on February 10, 2019, in Los Angeles, California. | Source: Getty Images.
Aimee and Steven's relationship started at work. The Aerosmith singer hired Aimee as his personal assistant in 2012, and two years later their personal relationship came to light.
"They're not exactly dating, but it's not a strictly professional relationship either, it's in the early stages. She has been working with him for a few years now," a source told the Daily Mail on March 2014.
Their massive age difference of 40 years had no impact on their relationship, and the pair moved in together early in 2016.
Perhaps one of the most famous couples that share a substantial difference in age is President Donald Trump and First Lady Melania. While Melania had previously shared that they had great chemistry since the moment they met in 1988, she also revealed a trick President Trump used to romance her.
Please fill in your e-mail so we can share with you our top stories!