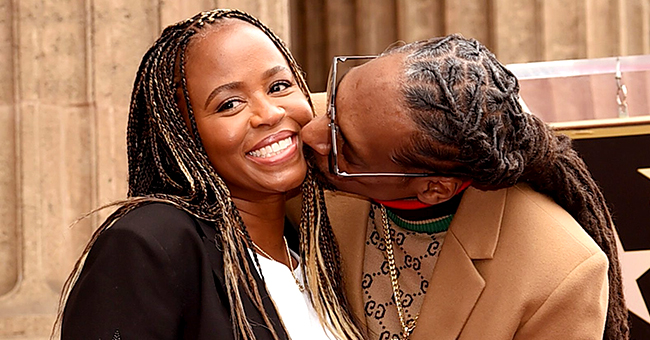 Getty Images
Snoop Dogg's Wife Shows off Smooth Dance Moves to Song She Dedicated to Him
Snoop Dogg's wife, Shante Broadus, proves once again that age is just a number as she dances to a song dedicated to her husband.
In a new Instagram video, she posted, Shante Broadus danced to a song she dedicated to Snoop, much to the amusement of their fans.
Through the years, Mrs. Broadus has been posting sweet tributes to her husband, and it's been lovely to see.
Strong Love for Music
Thanks to their common love for music, the couple has bonded through music and dance multiple times, especially in their more than two decades of marriage.
In fact, earlier this year, they sang along to "Why I Love You So Much" by Monica Brown, as they lounged in a car.
Although it hasn't always been easy for the couple in their 21 years of marriage, it's been great seeing them overcome all the challenges that have come their way.
Snoop Dogg and Shante are considered Hollywood royalty, but they didn't exactly have a smooth marriage.
Shante and Snoop Dogg's Long History
Meeting in high school, they've stayed together since then. They share three children together, Corde, Cordell, and Cori.
They wed on June 14, 1997, at the Ritz Carlton Hotel in Marina del Ray, before Snoop reached his peak as hip-hop great.
By 2004, though, Snoop was filing for divorce from Shante due to the many happenings in his life at the time.
Family Over Everything
Realizing his mistakes, he came rushing back to his family, blaming the many demands of the entertainment industry for distracting him from what truly mattered.
God is good… I understand that I need my wife and my kids in my life. So, I threw the papers away. I don't want to get a divorce. So if you hear about a divorce, it'll be my wife divorcing me; it won't be me divorcing her," he shared.
Through it all, they've remained strong as a couple, and they continue to build a stronger foundation for their marriage and their family in general.
Please fill in your e-mail so we can share with you our top stories!