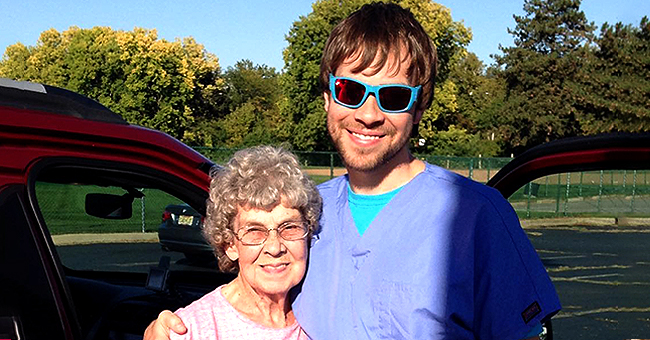 instagram.com/grandmajoysroadtrip
Brad Ryan Crowdfunds to Help Grandma Joy, 89, See All 61 National Parks across America
A grandson got to experience hiking when he was in college and when he told his grandmother she shared her regret of not having traveled enough. To honor her wish, he started raising funds so they could travel together.
Brad Ryan's grandmother Joy Ryan, 89, is a resident of a small town in Duncan Falls, Ohio, who hadn't traveled much in all her years. In winter, she and her husband took a trip to Okatibbee Lake in Central Florida.
However, they drove away from the coasts and never took the scenic route. That meant she never saw the ocean, mountains, sand dunes, or any major rivers.
BRAD TRAVELS FOR THE FIRST TIME
Brad hadn't traveled much either until he went to college. After going on a hiking trip on the Appalachian Trail in 2009 he came home and told his grandmother all about it.
Hearing about what he saw she shared her regret for not having traveled enough. At the time she 85 years old and had been a widow for 20 years.
AN INCIDENT URGES HIM TO TO FULFILL HIS WISH
Brad wanted to help her but he was only truly moved to do so when a veterinary school classmate committed suicide. That shook him up and he finally lived up to his wish by taking his grandmother on an "impromptu three-day trip in 2015 to the Great Smoky Mountains National Park."
Meeting fellow travelers who shared their own similar stories of regret spurred Brad to spend more time with his grandmother. He decided he wanted to keep taking her to all 61 National Parks.
BRAD STARTS RAISING FUNDS TO TRAVEL WITH JOY
Not having the funds, he created the "Grandma Joy's Road Trip" GoFundMe page and within 28 days, they were able to go to 21 US National Parks.
The pair has since traveled to the Cuyahoga Valley National Park and had a road trip south from Virginia to Florida to see four different parks.
A month and a half ago, they went to the Acadia National Park in Maine and reached 29 National Parks and 38 states. The pair have seen grizzly bears, a moose, and other wildlife animals.
HIS NEW OUTLOOK SINCE THEY STARTED TRAVELING
For someone who spent most of her life in one place, she now has a favorite animal - prairie dogs. The trip wasn't only enriching for Joy but also her grandson who started seeing the sights through his her eyes.
He explained:
"At her age, she's very cognizant that at every moment, she's probably seeing something for the first and last time, and that has dramatically changed the way I live my life as well."
Brad now works as a wildlife vet at the Smithsonian's National Zoo in Washington, D.C. but their travels aren't over and next up are Hawaii and Alaska.
A BOY SAVED BY A DOG
In another heartwarming tale, Lauren Salmon, 33, from Kent, England decided to adopt a six-legged puppy for her son Luke, 15.
The mother adopted the dog with two extra legs to show support to her son who was being bullied at school because of his psoriasis.
The Labrador mix was named Roo because she hops around on her back paws. Salmon said: "Luke feels like the odd one out because of his condition, and now he's got a best friend to match."
Please fill in your e-mail so we can share with you our top stories!