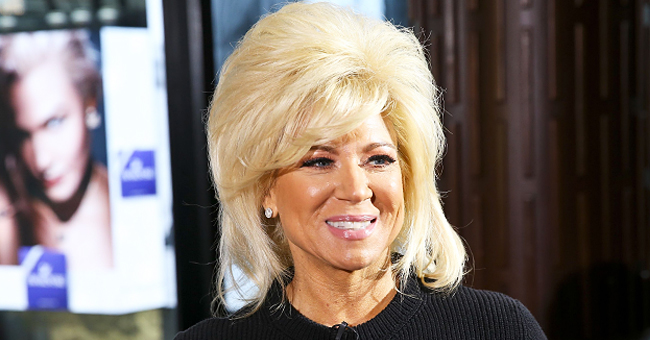 Getty images
Theresa Caputo's Only Daughter Victoria Is All Grown up and Building a Career in the Beauty Industry
Theresa Caputo has a beautiful daughter who is making a name for herself in the Beauty Industry.
Theresa Caputo is a 52-year-old woman best known for portraying a medium on the reality TV series titled "Long Island Medium" which airs on TLC.
She has two children, Larry Caputo Jr. and Victoria Caputo, from her union with ex-husband, Larry Caputo whom she married in 1989 and divorced in 2018.
Theresa's daughter, Victoria, recently posted a picture of herself with her mother on her Instagram page. The photo featured the duo standing close together with their backs to a swimming pool, wearing bright smiles.
The years have been kind to Theresa as she looked beautiful with her short blond hair wearing an armless peach-coloured top and sweatpants that reached just below her knee, she topped it off with a chic white pair of sneakers.
Victoria also looked just as great with a short sleeve multi-coloured top and black pants. She captioned the post:
"We love the start of summer nights and @maryfrancisbrand apparel."
The post generated a lot of complimentary comments from her fans in the comment section.
The 24-year-old beautician recently announced via her Instagram page that she was engaged, with pictures of her rings and her fiancée. The post was accompanied by a lengthy caption which left no doubts as to how far in love she has fallen.
Her fiancée, Michael Mastrandrea, also took to his Instagram page to document the emotional moment, he also had a heartwarming caption to go with the posts:
"Last night I got to propose to my best friend. Victoria, you're the most beautiful girl in the world, and I'm so honoured and blessed to call you mine. Can't wait to live this life with you babe, I love you."
Theresa was not left out as she also had this to say on her Instagram page:
"So this HAPPENED! Victoria's ENGAGED, congratulations to my beautiful baby and her future husband Michael. Let the planning begin!"
Victoria currently follows her dream of being a makeup artist and hairstylist. She attended Cactus Academy of Paul Mitchell where she studied Cosmetology and graduated in 2015.
Victoria's mom, Theresa, whose show still airs on TLC, reportedly admitted at a time that she didn't always know she was a medium.
And though she attributed the wakening of her gift through the aid of a spiritual healer, she also admitted that she'd been able to sense spirits since she was just a child. However, she didn't learn how to communicate with said spirits until she was in her 20's.
She's authored three books since her career as a medium took off with the most recent release titled: "Good Grief: Heal Your Soul, Honor Your Loved Ones, and Learn to Live Again."
Please fill in your e-mail so we can share with you our top stories!