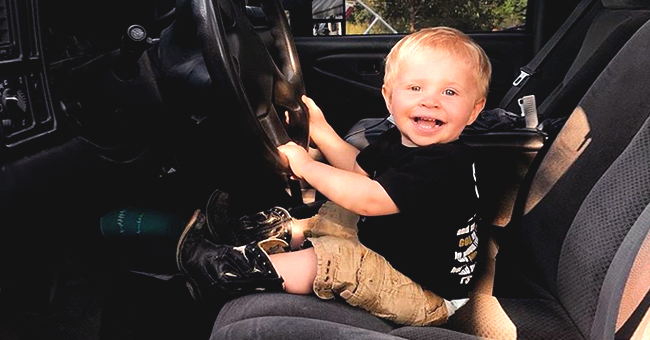 instagram.com/austinandjoyforsyth
Joy-Anna Duggar's Son Gideon Sits in a Truck Wearing Tiny Cowboy Boots in New Photos

Anna-Joy Duggar recently took to her official Instagram account to share two very sweet pictures of her son, Gideon, sitting on the driver's seat of a truck.
In the photos, the little boy can be seen holding onto the wheel while looking curiously to the side, and directly at the camera, showing off his pair of adorable cowboy boots.
In the caption that accompanied the snap, Anna-Joy claimed that her son will be driving his own truck in 12 and a half years and that time is flying by way too fast.

Photo: Instagram/austinandjoyforsyth
A MOTHER'S PRIDE AND JOY
It is never easy for a mother to see her baby grow up and become a man or a woman. For them, they will always be their babies, no matter how old they are.
Joy-Anna realizes this and knows that she must cherish the time she has with Gideon, who seems to be turning into a fine young man before her very own eyes.
JOY-ANNA'S MISCARRIAGE
Sadly, Gideon was supposed to have a little sister as Joy-Anna announced her second pregnancy back in May through the Duggar family's official blog.
However, the 21-year-old, who is married to Austin Forsyth, let her fans and followers know that she had lost the baby in early late June by posting a black-and-white photo of herself and Austin.
She wrote:
"Today marks one week since we heard these words… 'So this is your baby's heart (pointing to the ultrasound screen). I don't hear a heartbeat or see any movement.' We had gone in for our 20-week ultrasound and gender reveal. It was a baby girl."
TURNING TO GOD FOR COMFORT
Despite the terrible loss, the couple still named the baby girl, calling her Annabell Elise. In the heartfelt post, Anna-Joy explained that Annabell meant "God has favored me" and Elise meant "God satisfies."
The parents shed many tears over the terrible loss but claimed to have found "unexplainable peace and comfort" in God and the fact that the first thing their baby saw upon opening her eyes was the face of Jesus.
Please fill in your e-mail so we can share with you our top stories!