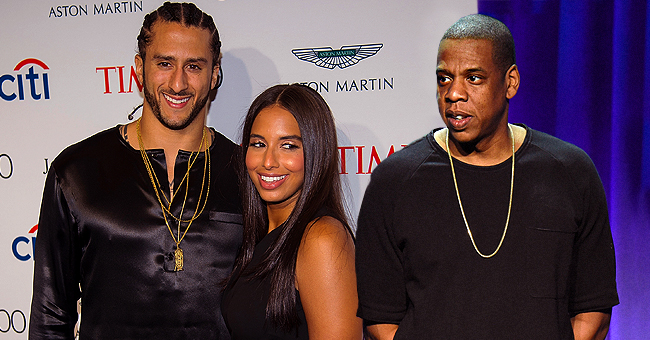 GettyImages
Colin Kaepernick's Girlfriend Nessa Sounds off on Jay-Z's Roc Nation Deal with NFL

Nessa Diab slammed Jay-Z's partnership with the NFL as a "sell-out."
Jay-Z has reportedly agreed to a partnership with the NFL which is being described as an "entertainment and social justice partnership," which will make the rapper's Roc Nation a co-producer of the Super Bowl halftime show.
But Colin Kaepernick's longtime girlfriend Nessa Diab is outraged and has slammed Jay-Z for collaborating with an organization that had blackballed the player.
COLIN KAEPERNICK WAS NOT INVOLVED IN JAY Z INITIATIVE
Nessa was indignant after media reported that Jay-Z had consulted with Colin before agreeing to the partnership with the NFL.
This apparent lapse has shocked fans who though Jay-Z was a supporter of Colin's and his fight to end police violence against the black community.
Jay-Z avoided the issue of whether or not he was including the athlete ln the initiative
COLIN KAEPERNICK TAKES THE KNEE
Colin protested police violence by publicly taking the knee while the National Anthem was played before the start of NFL games, and his public display led to him being blackballed by the league.
JAY-Z WAS ONCE A COLIN KAEPERNICK SUPPORTER
At the time that Colin was being pressured by the NFL, Jay-Z came out as a supporter of the player, even wearing his jersey during a 2017 appearance on Saturday Night Live.
JAY-Z CLAIMS HE SPOKE TO COLIN KAEPERNICK
At the press conference during which the deal between the NFL Roc Nation was announced, Jay-Z and NFL Commissioner Roger Goodell claimed they had spoken to Colin Kaepernick.
This, Nessa claims, is a lie. Neither of the men or the organizations contacted Colin about the initiative.
In fact, Jay-Z avoided the issue of whether or not he was including the athlete in the project by saying:
"I'm not his boss. I can't just bring him into something. That's for him to say [...] We all do different things. We all work differently for the same results. I don't knock what he's doing, and hopefully he doesn't knock what I'm doing," Jay-Z said.
For Nessa, and many of Colin's supporters, Jay-Z is taking a business opportunity and wrapping it up as a social justice initiative to make it more palatable for those who remember that the NFL destroyed the career of a black athlete who was fighting for justice.
NIKE EMBRACES COLIN KAEPERNICK'S LEGACY
Nike's advertisement starring former NFL star, Colin Kaepernick has been nominated for an Emmy Award.
Kaepernick's career came to an abrupt halt three years ago after his refusal to participate as the national anthem was sung. in the course of a football match.
Kaepernick knelt, as a protest to the growing epidemic of police violence against the black community, and was blackballed by the league for it.
Now he is back as the star in Nike's "120 seconds" commercial termed "Dream Crazy."
In the ad, Kaepernick challenges every individual to "Dream Crazy,"
"Believe in something, even if it costs you everything," he said, and he did.
Please fill in your e-mail so we can share with you our top stories!