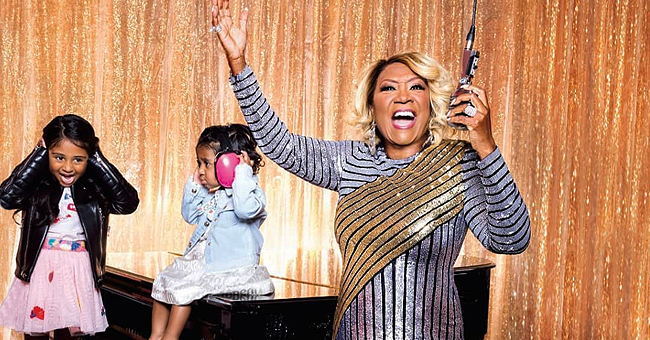 Instagram/mspattilabelle
Patti Labelle Says Her Granddaughters Love to Hear Her Sing 'Lady Marmalade'

Patti LaBelle enjoys singing, most notably to her adorable granddaughters. Some of her favourite songs to sing to the little girls are "Twinkle, Twinkle, Little Star;" "Somewhere Over the Rainbow;" and "Somebody Loves You, Baby."
In an interview with People, the music mogul stated that her granddaughters prefer to listen to "Lady Marmalade," her megahit from 1975 rather than nursery rhymes.
"Oh, the little baby 2-year-old is singing, 'Gitchi, gitchi, ya, ya, da, da,' about a hooker, okay?" LaBelle said with a big smile on her face.
A video which was taken during a photoshoot with PEOPLE shows Gia, requesting for her grandmother's music (Lady Marmalade). Even her more youthful sister Leyla enjoyed the music as she moved happily while having a diaper change.
Gia and Leyla are the daughters of Zuri Edwards and his wife, Lona. Zuri, who is Patti's manager, is the product of the singer and her ex-husband, Armstead Edwards' relationship.
LaBelle loves spending quality time with her granddaughters, and of course, show them off on her Instagram page frequently. Gia also loves to spend time with her "Glamma."
LaBelle recently posted beautiful pictures of her granddaughters wearing Halloween costumes on her Instagram page. The little cuties both dressed as wonder woman in the adorable photo.
"My beautiful granddaughters @Gia_Edwards and Leyla rocked their #Halloween costumes! My little wonder girls." wrote the proud grandmother.
LaBelle explained to PEOPLE how soft she is with her granddaughters. According to her, their happiness is the only thing she wants.
"Any day that they come to my house, they take my jewelry, they play with everything, they break things, and I thought that I would have a fit. I don't mind! I let the kids get away with things that I would never let anybody get away with. I would let them make a fool of me on holidays."
She also boasted about Gia, saying that the 4-year-old inherited her talents.
She said,
"She likes to dance, and she plays like she's on stage with the little pretend mic. She'll hold the mic and sing, 'Patti, Patti!' I think she's making me lighter and happier and feeling like a young girl again."
It is hard to believe that Patti and her son had a falling out in 2016 when the singer started having a relationship with her younger drummer.
Zuri was not pleased with the relationship back then, but the mother and child are now on good terms.
Please fill in your e-mail so we can share with you our top stories!