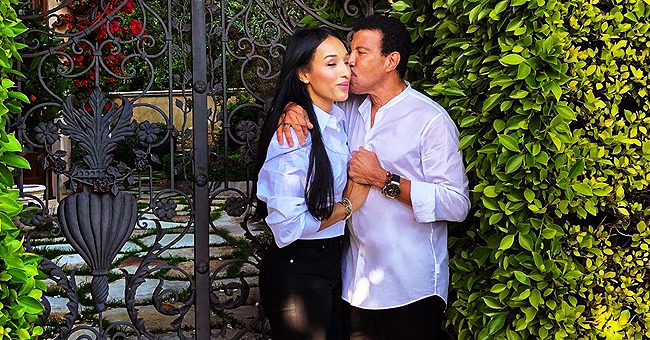 Getty Images
Meet the Woman Who Has Lionel Richie's Heart — His Much Younger Girlfriend Lisa Parigi

Who is the woman who has won the heart of 80s balladeer and heart-throb Lionel Richie?
Lisa Parigi is the iconic singer Lionel Richie's much younger girlfriend, but that is not all she is.
She is a strong confident woman, a she is a successful businesswoman in her own right and doesn't need a ring on her finger to validate her relationship with her man.
"Lionel has been there twice and it was definitely tough for him. I don't need a ring to validate my relationship with him." Lisa Parigi
LISA PARIGI IS ALWAYS AT LIONEL RICHIE'S SIDE
Parigi and Richie have been together since 2012, and every landmark event of the singer's life has been with her by his side,
When Richie was honored for his contribution to music and culture at the 40th Annual Kennedy Centre Honors, Parigi was there in a breathtaking ivory gown, making the man of the hour proud.
The two have been together for 7 years now, and look as in love as ever.
LIONEL RITCHIE'S BITTER EXPERIENCE WITH MARRIAGE
Parigi calmly admits that she has no expectations of marriage - and needs none. She revealed that Ritchie was deeply hurt by two bitter divorces.
First from his school sweetheart Brenda Harvey Richie, and then from Diane Alexander that left his life in a shambles.
ALWAYS CLOSE EVEN WHEN APART
But Parigi reveals that the emotional commitment between her and Ritchie is solid and passionate.
Even though Ritchie travels extensively on tour, he carries with him the same candles, pillows, and flowers as Parigi has at home, to keep himself close to her.
LISA PARIGI - EXOTIC BEAUTY
Parigi is of Swiss, Chinese, and Carribean ancestry and speaks four languages. She is a successful model and runs a lifestyle blog, Dream.Design.Discover.
She also has her own candle business called The Estate Collection, and whenever possible, she accompanies Ritchie on his world tours.
The two have been together for 7 years now, and look as in love as ever. We wish them all happiness and joy in their love.
LIONEL RITCHIE GLOBAL AMBASSADOR TO PRINCE'S TRUST
Lionel Richie has received yet another great honor - and responsibility - from the hands of Charles Prince of Wales in Barbados on March 19, 2019.
Ritchie was appointed as the global ambassador for The Prince's Trust International.
The Prince's Trust International is an extension of The Prince's Trust, a charitable organization that helps young people between the ages 13 to 30, improve their lives.
The International chapter of the charity was created in 2015 and focuses on helping young people from Australia, India, Canada, Jordan, Malta, Pakistan and Barbados.
What an honor for Lionel Richie and what a wonderful opportunity to help others.
Please fill in your e-mail so we can share with you our top stories!