Joseline Hernandez's Fans Defend Her from Critics Slamming Daughter Bonnie Bella's Hair in New Pic
Joseline Hernandez just got her daughter back, and critics are already slamming her for the toddler's hair. The reality star's fans are not having it, though, and matched the naysayers word for word.
Joseline was separated from her daughter Bonnie Bella for almost two weeks, so it's no surprise that the excited mom has been sharing more pictures with the little girl.
Yesterday, the "Love and Hip Hop: Atlanta" alum posted an adorable pic of Bonnie holding a Rubik's cube and looking confused.
Still To Come: It appears Joseline and Stevie are also working out their differences after a picture emerged
While little Bonnie was all shades of cuteness in the photo, some social media users chose to focus on her hair, which was styled in two puffs.
"I'm not trying to be rude, but all that money and u can't get her hair done," one Instagram user wrote. "What the hell is going on."
"Steebie had her hair so cute braided up," added another, implying that Bonnie's dad Stevie J took better care of her hair while he had sole custody recently.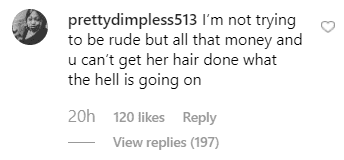 Joseline's supporters wasted no time coming for the critics and defended her in the comment section as well.
"I see nothing wrong with this child's hair," a fan observed.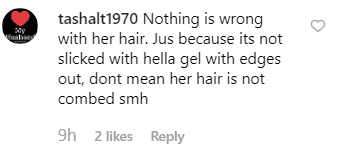 Another pointed out that Bonnie's hair only looked the way it did because it's natural:
"Grown ppl on here talking about so her hair. Her hair is done. This is what natural hair does. …or would y'all prefer she gel her hair dish and ruin it. Simmer down!!!"
"Why [are] people talking 'bout getting her hair done," a third fan retorted. "She's a child poof balls are just fine."

Joseline is no stranger to getting dragged over her parenting skills, so this latest episode is nothing new. Besides, the joy of reuniting with her daughter is sure to overshadow any social media unpleasantness.
Earlier this month, a judge granted Stevie temporary sole custody after Joseline reportedly violated their initial custody agreement that gave the music producer visitation rights.
Joseline allegedly took Bonnie to Los Angeles on the day Stevie was supposed to pick her up in Miami.
Stevie took the matter to court where a judge granted him physical custody of Bonnie and even issued an arrest warrant for Joseline in the case that she refused to give up the two-year-old.
During his time with Bonnie, Stevie made sure to document some adorable father-daughter moments on social media, including one video of him asking her to pronounce his name the way her mother used to.
Meanwhile, it appears Joseline and Stevie are also working out their differences after a picture emerged of the two having lunch with friends and their significant others.
Hopefully, the exes can get on the same page about doing only what is best for their child, Bonnie Bella.